How 'And Just Like That' Paid Tribute to Willie Garson in His Final Episode as Stanford
And Just Like That... Episode 4 is now streaming on HBO Max, and sees (spoiler alert) Stanford Blatch (played by Willie Garson) leave for Japan to go on tour with one of the acts he manages.
This seems to be the final appearance of Garson in the show, as the episode ends with the Sex and the City sequel series paying tribute to the actor who died of pancreatic cancer on September 21, aged 57.
In the lead up to this Willie Garson tribute, Miranda actor Cynthia Nixon spoke to Newsweek about her former colleague, telling us when she learned that he was ill and how "important" it was for him to say goodbye to his character.
Garson's other And Just Like That... co-stars have also spoken to the press to pay tribute to the Stanford actor.
How And Just Like That... paid tribute to Willie Garson
Per an interview with the show creator, the initial plan was to give Stanford a substantial storyline in the show. "We had a whole journey that we weren't able to do," Michael Patrick King told The Hollywood Reporter, "but what he did is fantastic."
As it is, Stanford's Sex and the City journey ends with Episode 4, in which he heads to Japan—and tells Anthony (Mario Cantone) in a letter that he wants a divorce.
At the end of Episode 4, the series pays its tribute to Garson. After the first set of credits, the shows airs a title card that reads, "in memory of our beloved Willie Garson."
In a roundtable with journalists including Newsweek, Cynthia Nixon said that she only learned that the actor was ill mid-way through filming. She said: "So yes, the death of Willie Garson was obviously completely unlooked for, unknown.
"Sarah Jessica [Parker] was the only one that knew he was sick when we were filming until things became undeniable, and then we were told, and then we were able to shoot with him.
"Thankfully, [we filmed with him] not just before we knew he was sick, but after, so that it could be something that we could discuss and, and listen to him about. I know that was very important for us, and I think it was actually important for him to not be hiding that from us anymore."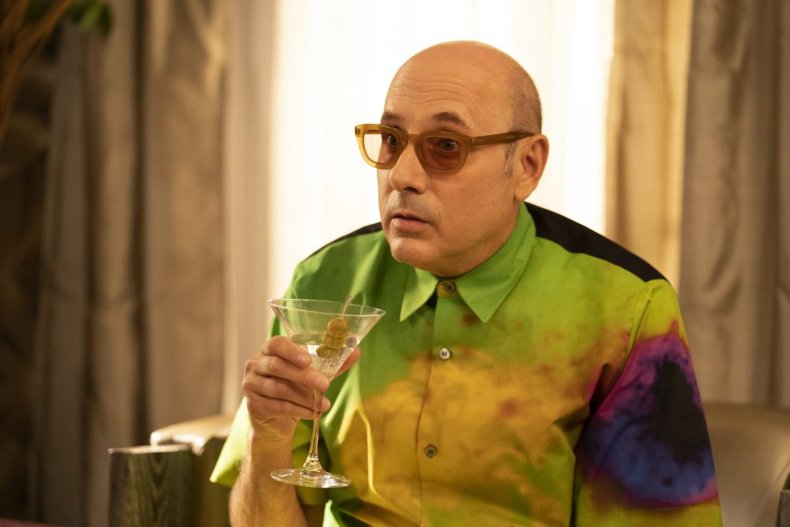 Parker detailed exactly when she knew and when Garson told the rest of the cast in a Vulture interview. "I knew before we started shooting that Willie was sick," the Carrie actor said. "He asked me to keep that confidential, and I honored that."
"We were a vaccine-mandated show, but nonetheless, a lot of our scenes were with a lot of background players, and I had great concerns about Willie staying as healthy as he could while shooting."
Per Parker, Garson asked her to tell Nixon and Kristin Davis the day before they filmed the funeral of Mr. Big (Chris Noth). He then told the rest of the cast during the shooting of the funeral. "That day was excruciating, to be in a fictional world of the loss of a life, but in the real world, of somebody that you knew was sick—that was his last day working with us."
Among the other And Just Like That... cast members to pay tribute to Garson was his on-screen husband Mario Cantone. The Anthony actor told Gilbert Gottfried on his podcast: "I miss him. He made me laugh so hard. He was a great TV husband... He was loved, and he was brilliant and hilarious. He was everything. I miss him a lot."
And Just Like That... airs Thursdays on HBO Max