Bill Barr Under Fire From DoJ Alumni as Michael Flynn Case Prompts Calls to Resign
Former Department of Justice employees feel angry and sick over the handling of the Michael Flynn case, high-profile alumni have told Newsweek.
Attorney General William Barr's critics have called on him to resign after his department moved to drop its charges against Flynn, a retired three star general and former national security adviser to President Donald Trump.
Flynn had pleaded guilty to lying to FBI agents working under the probe into Russian interference in the 2016 election.
He later tried to withdraw his plea stating he had been the victim of misconduct by investigators. Flynn said he did not realize at the time he was under federal surveillance during the discussions in question.
Representatives for Flynn have suggested there was a scheme to "set him up," implicating former President Barack Obama the alleged plot.
The Department of Justice now says it does not believe that a 2017 interview with Flynn, in which he was asked about conversations with Russia's then U.S. Ambassador Sergey Kislyak, "was conducted with a legitimate investigative basis."
Nick Akerman, a former federal prosecutor who served on the Watergate prosecution team, told Newsweek he feels dropping the case is tantamount to a pardon but without Trump having to undertake the political criticism he might face from giving one.
"It makes me feel sick, absolutely sick. This is truly outrageous. The action of dismissing this case is so outrageous and flagrant," Akerman said.
"The whole thing is just such a transparent undermining of the rule of law. The only explanation is that it's done for the presidency of Donald Trump."
He believes the issue should be seen in "the bigger picture," and linked it to Trump's alleged obstruction of the Mueller probe.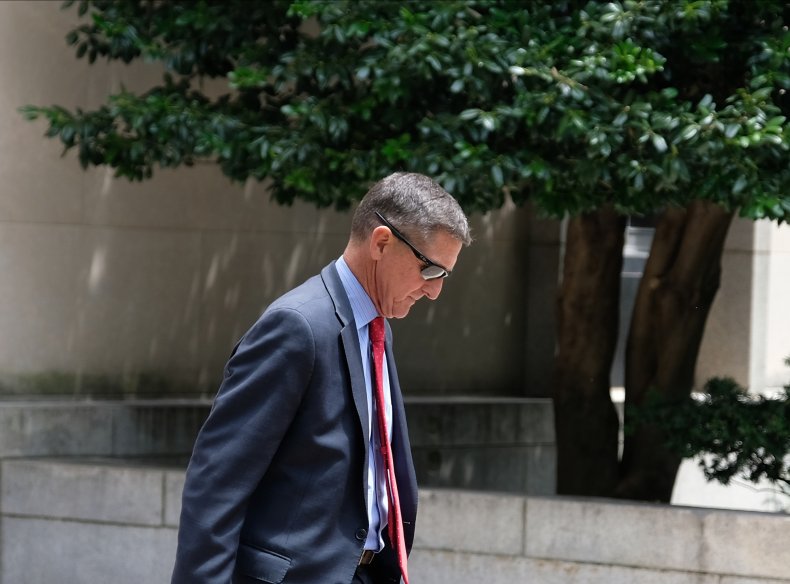 Michael Bromwich, a former Department of Justice Inspector General who served from 1994 to 1999 during the Clinton administration, said the department's actions were a "shattering blow" for many of those who previously worked there.
"It is one of the great institutions in this country. It has a reputation for independence," he told Newsweek.
"This development has come as a shattering blow for those of us who spent years in the Justice Department. It has provoked great concern and frankly anger from those of us who have worked there."
Commenting on Barr specifically, Bromwich said: "He clearly does not respect the institutions that have been created to provide checks and balances."
Akerman and Bromwich are among more than 2,000 former Justice Department employees to sign a letter accusing Barr of having "assaulted the rule of law."
On the department's move to dismiss the charges against Flynn, the letter said: "Make no mistake: The Department's action is extraordinarily rare, if not unprecedented."
On Barr, it added: "We continue to believe that it would be best for the integrity of the Justice Department and for our democracy for Attorney General Barr to step aside. In the meantime, we call on Congress to hold the Attorney General accountable."
Speaking to CBS News, Barr defended the department's actions and denied that he was acting on behalf of the president's interests.
"People sometimes plead to things that turn out not to be crimes...And the Department of Justice is not persuaded that this was material to any legitimate counterintelligence investigation. So it was not a crime," Barr said.
He added: "I'm doing the law's bidding. I'm doing my duty under the law, as I see it."
The Department of Justice's plans to drop the case against Flynn stalled after Judge Emmet Gael Sullivan of the U.S. District Court for D.C. said he would schedule a period for briefs from outside parties that wish to comment. Flynn's representation has objected.
Newsweek has contacted the Department of Justice, the White House, and Flynn's lawyer Sidney Powell for comment.