Justice Scalia Under Fire After Comments on Affirmative Action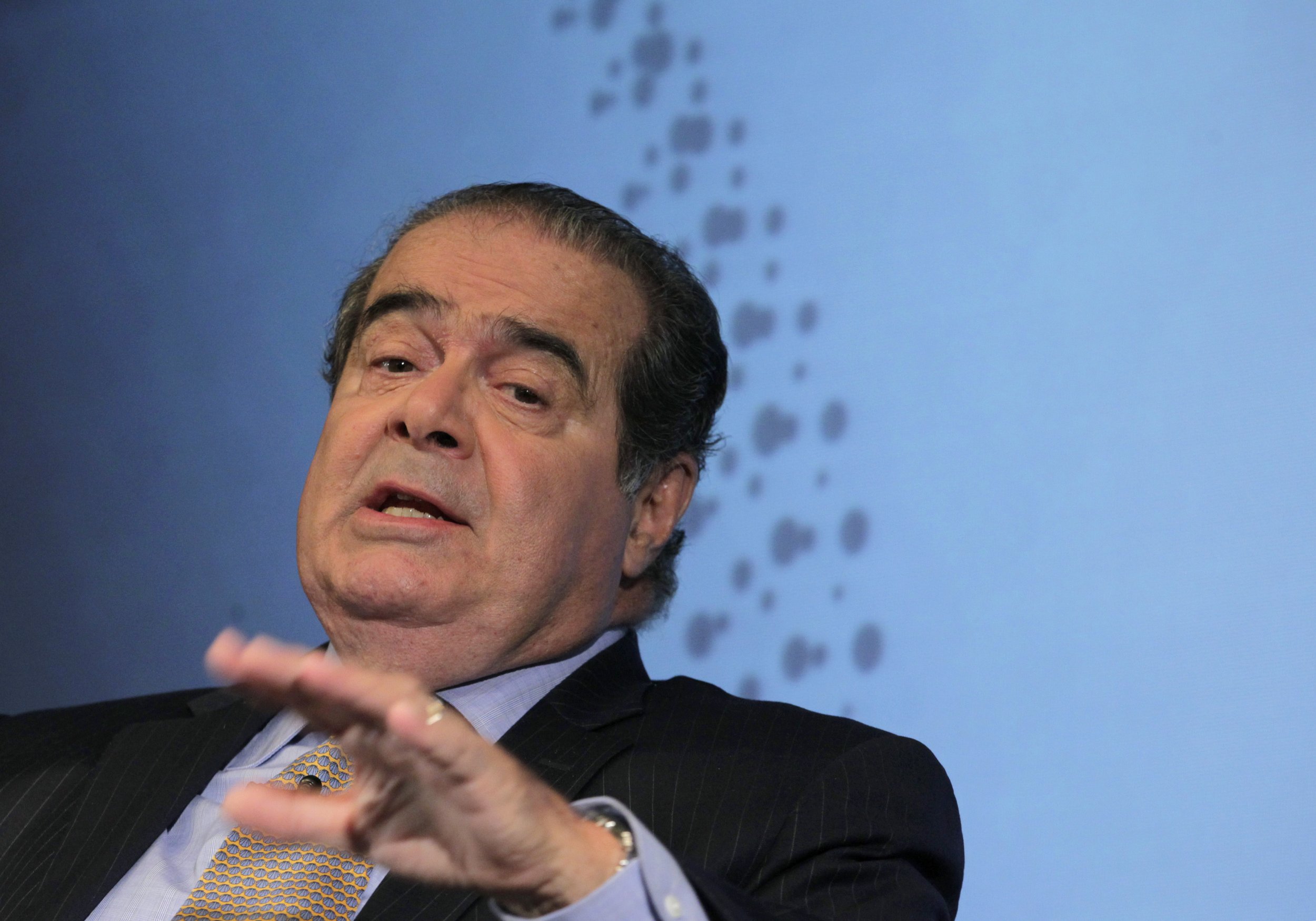 As the Supreme Court prepares to decide Fisher v. University of Texas, a case that could set a landmark precedent on affirmative action in college admissions, Justice Antonin Scalia has come under fire for suggesting that black college students could benefit more from attending "slower-track" schools.
During oral arguments on Wednesday, Scalia said: "There are those who contend that it does not benefit African-Americans to get them into the University of Texas, where they do not do well, as opposed to having them go to a less-advanced school, a slower-track school where they do well…. I'm just not impressed by the fact that the United of Texas may have fewer [African-American students]. Maybe it ought to have fewer.… I don't think it stands to reason that it's a good for the University of Texas to admit as many blacks as possible."
Senate Minority Leader Harry Reid (D-Nev.) on Thursday reportedly said on the Senate floor that Scalia's comments were "racist in application, if not intent.… I don't know about his intent, but it is deeply disturbing to hear a Supreme Court justice endorse racist ideas from the bench of the nation's highest court." Reid then compared Scalia's comments to recent remarks by Republican presidential candidate Donald Trump about Muslims, saying, "The only difference between the ideas endorsed by Trump and Scalia is that Scalia has a robe and a lifetime appointment."
The case involves Abigail Fisher, to whom the University of Texas at Austin denied admission in 2008. Fisher sued the school, saying she was denied admission because she is white. District and appellate courts ruled that the school's admissions process did not violate the 14th Amendment. She appealed, and the Supreme Court considered the case in 2012 before sending it back to the appellate court. That court again ruled in favor of the school and Fisher again appealed.
The high court is weighing the case as college students across the country are protesting how schools and administrators react to racial issues. At the University of Missouri, student protests led to the president and chancellor stepping down last month; at Yale University, an administrator recently resigned after an email she sent defending insensitive Halloween costumes as free speech caused unrest; students at Princeton University have protested Woodrow Wilson's legacy on campus because they say he had a history of racism; and students at Columbia University, George Washington University, Ithaca College and elsewhere have also protested.
In arguments on Wednesday, Gregory Garre, a lawyer for the University of Texas, defended the school's admissions practices as necessary in order to foster diversity. "The university's holistic admissions process considers race in a limited manner consistent with prior Supreme Court rulings," the school said in a statement.
That "holistic" process is in addition to a university admissions program that guarantees admission to applicants in the top 10 percent of their high school classes. Fisher was denied through the "holistic" process.
U.S. Solicitor General Donald Verrilli also argued on Wednesday, as an amicus curiae in support of the university. Bert Rein argued on behalf of Fisher.
The justices are expected to announce their ruling on the case by the end of June, according to Reuters.