Canadian Prime Minister Justin Trudeau managed to narrowly hold onto power on Monday, winning a minority government after an incredibly tight election race.
As expected, the Liberal leader lost his majority government, however, with Canadians' confidence in his leadership left shaken following a series of scandals, including the emergence of photos and video showing Trudeau wearing blackface and brownface several years ago.
By early Tuesday morning, the Liberals had either seen victory or were leading in 157 electoral districts, according to Canada's national broadcaster CBC. Trudeau's party would have needed to secure 170 seats to win a majority government.
The graphic below, provided by Statista, illustrates the results of the 2019 Canadian federal election.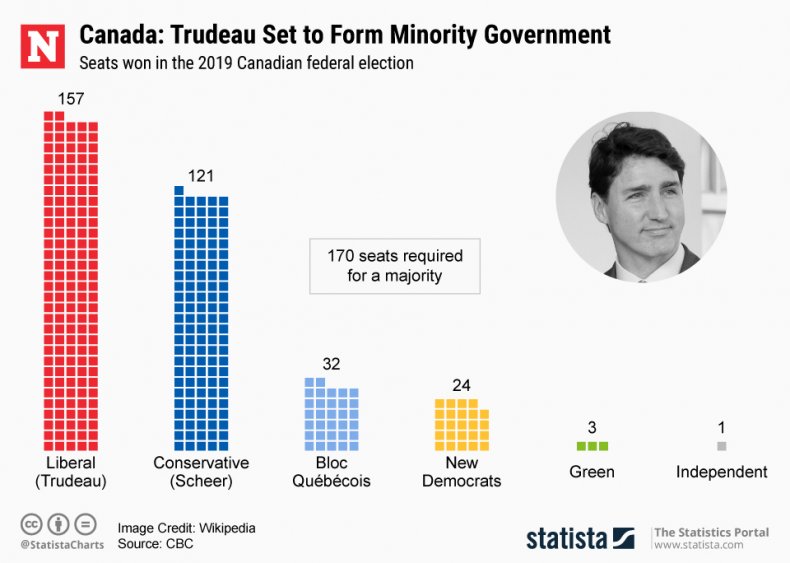 While Canadians might have had mixed feelings about Trudeau securing a second term, in the neighboring United States, President Donald Trump appeared to be satisfied with the Liberal leader's victory.
"Congratulations to Justin Trudeau on a wonderful and hard fought victory," Trump said in a tweet early Tuesday morning. "Canada is well served."
"I look forward to working with you toward the betterment of both of our countries!" the president added.
Trump's offer of congratulations came despite an oft-tumultuous relationship between the two world leaders, marked by tense trade negotiations and tariffs.
In June 2018, the relationship between the two leaders grew particularly fraught, with Trump labelling Trudeau "dishonest" and "weak" after the prime minister said Canadians would not be "pushed around" by the U.S., following Trump's tariffs on Canada's aluminum and steel.
Meanwhile, Trump's own trade adviser, Peter Navarro, said there was a "special place in hell" for Trudeau following the dispute—a remark he later apologized for.
While Trudeau could have played up his handling of trade talks with the U.S. throughout the course of his election campaign, the Canadian leader appeared to steer largely clear of the topic-at least until a week before election day, that is.
In an article questioning why Trudeau did not make more of his handling of negotiations with the U.S., The Globe and Mail's Lawrence Martin noted that Trudeau had touted his bilateral efforts in a speech on October 14.
Speaking in Windsor, Ontario, Trudeau reportedly touted his ability to "stand up to Donald Trump and his punitive tariffs on steel and aluminum."
"We were able to stand up when he wanted to tear up a trade deal that Windsor, indeed all Canadians, rely on," Trudeau said.
The Canadian Prime Minister's decision to issue a sharp reminder of his willingness to "stand up" to Trump just a week before election day could be a sign of what's to come.
Emboldened by a second term, albeit with a minority government, it is possible that standing up to Trump is something the U.S. will see more of from Trudeau.
One American who will likely be celebrating Trudeau's election victory is former President Barack Obama, who offered the Canadian PM a last-minute endorsement just days before Monday's vote.
"I was proud to work with Justin Trudeau as President. He's a hard-working, effective leader who takes on big issues like climate change," Obama tweeted out last Wednesday.
"The world needs his progressive leadership now, and I hope our neighbors to the north support him for another term," the former U.S. leader said.
Trudeau has won that support, though his minority government means that he will be forced to work closely with other parties to govern.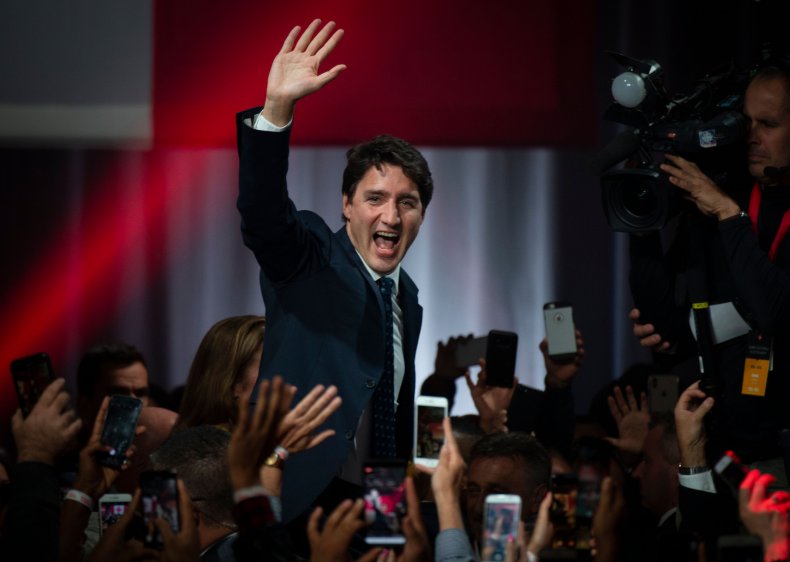 This article was updated to include an infographic.