Brothers, 10 and 14, Turn Selves in Over Beating Death of Philadelphia Man
A pair of brothers younger than 15 have surrendered to Philadelphia police in the deadly attack on a 73-year-old man who was beaten by a group of minors, police said.
A spokesman for the Philadelphia Police Department confirmed to Newsweek that the brothers, ages 14 and 10, turned themselves in Monday to the department's Homicide Unit. Their surrender is the latest in the death of James Lambert, 73, whose fatal beating was captured on surveillance video.
"Currently, there are no formal charges; updates will be sent as they become available," Miguel Torres, department spokesman, said in an email.
The Philadelphia District Attorney's Office confirmed the two juveniles turned themselves in before declining to comment further, spokesman Dustin Slaughter told Newsweek.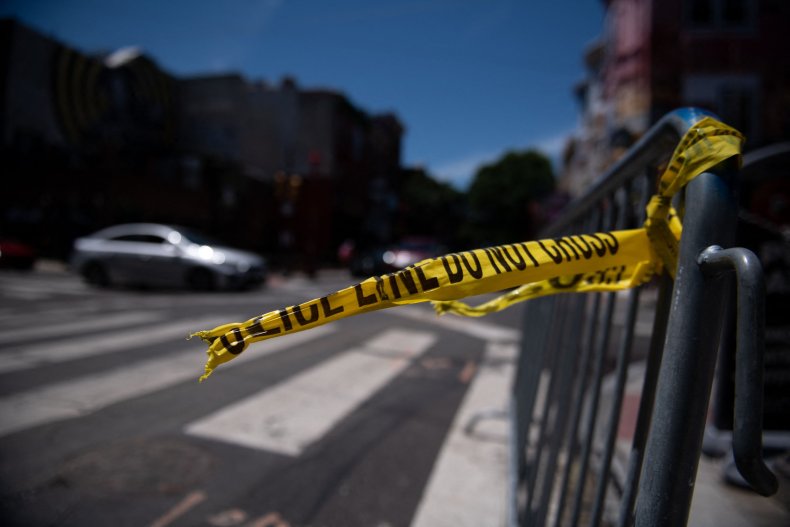 Police on Friday asked for the public's help, offering a $20,000 reward for information identifying what authorities called a group of youths who struck Lambert with a traffic cone and other objects in the early morning of June 24. The minors involved in the attack included four Black males and three Black females, police said.
"The [minors] struck the victim several times with objects, knocking the victim to the ground causing injuries to his head," police said earlier.
Surveillance video of the incident released by police shows a group of minors following Lambert, who is blurred out, and hurling a traffic cone at him multiple times. At least one juvenile appears to be filming the attack using a smartphone.
Lambert was pronounced dead the next day after succumbing to his injuries at Albert Einstein Medical Center where he was taken for treatment.
Tania Stephens, the 63-year-old niece of Lambert, said Saturday she was sick to her stomach over her uncle's death and urged those responsible to come forward.
"We all can't stop crying. Who does this?" she said. "Anyone normal doesn't beat up and kill a senior citizen walking down the street."
Philadelphia has struggled with ongoing issues of violent crime. The city saw a mass shooting last month when a gunman opened fire on South Street, killing 17 people. Two officers were shot as the city celebrated Independence Day.
In an effort to rein in violence, Philadelphia has enacted a summer curfew requiring kids ages 14 to 17 to be inside by 10 p.m., reports WHYY.
"We're seeing record numbers of our young people involved in crime or criminal incidents here in the city of Philadelphia," Council Member Katherine Gilmore Richardson told WHYY. "We have to get a handle on public safety in our city and this is just one tool for us to do that. When children are off the street, they are safe."