Philadelphia July 4th Shooting Videos Go Viral: 'America Is a Horror Movie'
At the close of Independence Day celebrations in Philadelphia, masses of people gathered to watch fireworks.
But the celebrations were marred when two police officers working security were shot near the Philadelphia Museum of Art at around 9:50 p.m. local time.
The gunfire prompted a stampede on the Benjamin Franklin Parkway, with videos on social media capturing the panic as people ran for blocks in all directions in an effort to flee the violence.
"America is a horror movie," a Twitter user wrote alongside a clip that captured the panic on the ground while fireworks continued to explode into the night sky.
Another clip begins with people, including a child on an adult's shoulders, enjoying the fireworks before the panic spreads through the crowd and people start running.
Philadelphia Police Commissioner Danielle Outlaw said the two officers sustained graze wounds and were treated and released from the hospital.
But no suspects were in custody, Outlaw told reporters at a news conference in the early hours of Tuesday.
Next to her, Philadelphia Mayor Jim Kenney decried America's gun violence crisis and June 23's Supreme Court ruling that struck down a New York gun law that limited the public carry of weapons.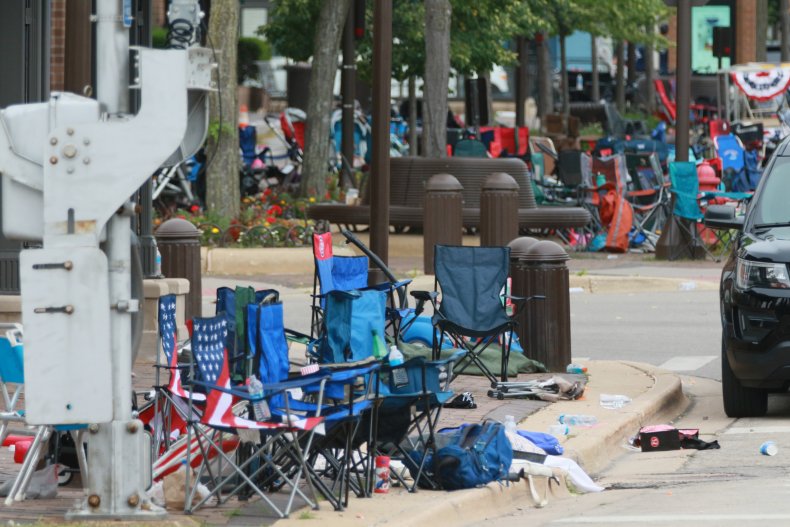 "The weather was beautiful, the concert was beautiful, but we live in America and we have the Second Amendment and we have the Supreme Court of the United States telling everybody they can carry a gun wherever they want," Kenney said, when asked by a reporter about people being afraid to come to Philadelphia.
"We have to come to grips with what this country is about right now. We had a beautiful day out there today except for some nitwit, either shooting from window or shooting for somewhere, who has a gun and probably shouldn't have had it... This is a gun country. It's crazy. We're the most armed country in world history and we're one of the least safest."
Kenney went on to say that he worries every time there is an event in the city.
"I don't enjoy Fourth of July, I don't enjoy the Democratic National Convention, I didn't enjoy the NFL draft. I'm waiting for something bad to happen all the time," he said. "So I'll be happy when I'm not here—when I'm not mayor and I can enjoy some stuff."
His comments came after a shooting earlier on Monday at a July Fourth parade in a Chicago suburb left at least six people dead and at least 30 others injured.
Authorities said a gunman on a rooftop opened fire on the parade in Highland Park minutes after it began, sending marchers, parents and children fleeing in terror.
Fear of shootings marred other July 4 celebrations across the country.
In Orlando, Florida, thousands had gathered to watch fireworks around Lake Eola but something prompted people to run from the area.
"People running away from @LakeEolaPark absolutely terrifying. This is the world we live in now," a Twitter user wrote alongside a clip of people running from the lake.
Orlando police later said the panic had been caused by "a noise during the fireworks show" and that there was no evidence of a shooting in the area.
A similar scene played out in Harrisburg, Pennsylvania, where people reportedly fled from fireworks viewing areas amid fears of an active shooter.
Brian Harrell, a former assistant secretary at the Department of Homeland Security who now advises Shooter Detection Systems, told Newsweek that the incidents show how the U.S. is becoming more violent every day and authorities must always plan for the worst.
"Even our most sacred small-town parades are not free from domestic terrorists and gun violence," he said.
"This is further evidence that state, local, and federal officials must always plan for the worst.
"To combat this issue, we need firearm reform to address access, review mental health concerns, and always embrace security planning and response, using all the the tools available to us—from preparedness and training to new technologies that enable faster detection and response. It's another sad day in America."