Elderly Man Dies After Seven Teenagers Beat Him With Traffic Cone: Police
Police in Philadelphia say that seven teenagers beat a 73-year-old man last month using objects including a traffic cone, resulting in the man's death.
The incident occurred on June 24, and the man, who was identified by police on Friday as James Lambert, was pronounced dead the next day.
In a statement to Newsweek about the incident, the Philadelphia Police Department said that Lambert was attacked by four teenage boys and three teenage girls.
"The teenagers struck the victim several times with objects, knocking the victim to the ground causing injuries to his head," police said. He was transported to Albert Einstein Medical Center where he was pronounced dead on Saturday, June 25, at 10:26 a.m.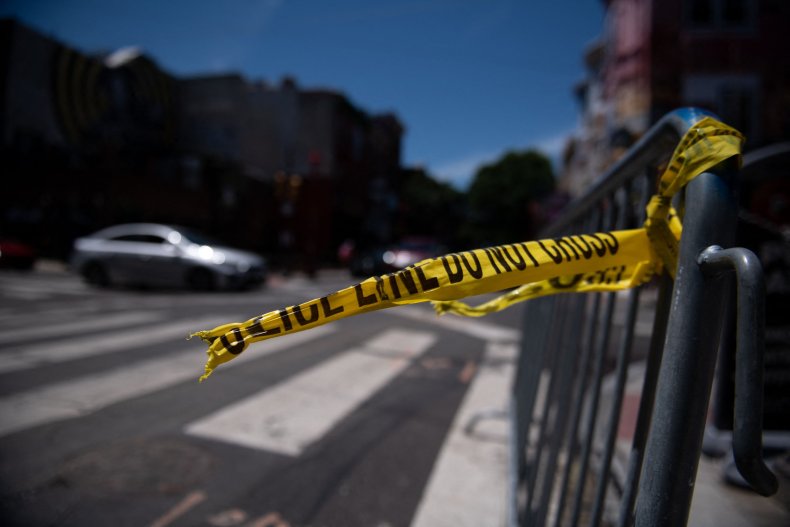 Police added that their investigation of the incident is ongoing.
Surveillance footage of the attack shows the teenagers striking Lambert, who is blurred out in the video, multiple times with the traffic cone.
"Philly Police need help identifying the teen attackers who struck a 72-year-old man several times with a cone and other objects, knocking him to the ground and causing head injuries. The victim died of his injuries the following day, police say," CBS Philadelphia reporter Matt Petrillo wrote in a post on Twitter.
In a separate incident in April, a California man admitted to authorities that he beat a co-worker to death over rumors of an affair with his wife. Jose Gutierrez-Rosales, 49, is now accused of killing his co-worker, Hector Javier Castaneda Vasquez, on April 18 while the two were working on irrigation pipes just outside of Bakersfield, KGET News reported.
In January, police in Ponce Inlet, Florida, said two people admitted to shooting and killing an 89-year-old woman. Police said that one of the alleged shooters was the woman's caregiver and the other was the caregiver's husband.
"Upon their arrival, they located an 89-year-old female resident suffering from gunshot wounds. Lifesaving efforts were begun and the victim was transported to Halifax Hospital by the Ponce Inlet Fire Department," Ponce Inlet Police Chief Jeff Glazier said in a statement at the time.
In March, a group of teenagers was accused of carjacking an elderly woman in New Orleans and dragging her, causing injuries that led to her death.
An officer said that when police arrived at the scene, they found the victim "lying on the ground unresponsive and suffering from her arm being dismembered from her body."
"I got out of my vehicle screaming, 'Stop, stop. You are dragging someone,'" a witness of the incident, Todd Ecker, said in an interview with news station WDSU. "He took off with the vehicle, still dragging her. Reckless. No care for human beings at all."