K-pop Fans Spam Tucker Carlson Hashtag with Fancams as Fox News Host Is Deserted by Advertisers
As Tucker Carlson continues to face backlash for his views on Black Lives Matter, the Fox News host has been targeted by an unlikely online fandom—K-pop fans.
The hashtag #IStandWithTucker began trending on Twitter yesterday after a number of major advertisers deserted the Tucker Carlson Tonight show.
Papa John's, T-Mobile, and Disney are among the advertising heavyweights confirmed to no longer support the anchor after his Monday night monologue in which he declared the protests following the death of George Floyd were "definitely not about black lives."
Loyal fans of Carlson began tweeting with #IStandWithTucker in a show of support.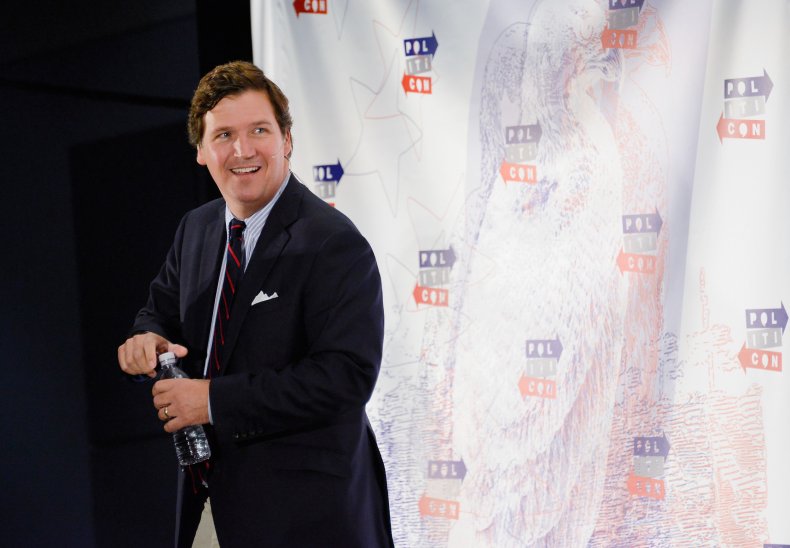 However, the hashtag is now diluted with K-pop and other unrelated tweets intended to drown out the message of Carlson's supporters.
K-pop fans have proven themselves unexpected allies in the Black Lives Matter movement this year. Known for dominating Twitter hashtags with these so-called "fancams"—videos of their favorite singers performing—they are usually aimed at other celebrities with the aim of getting the most views on clips of their favorite pop stars.
Earlier this month, K-pop fans spammed the Grand Rapids Police Department in Dallas with fancams after the Dallas Police Department launched an app to report protestors.
Fans of K-pop supergroup BTS, known collectively as the ARMY, managed to raise more than $1 million for Black Lives Matter causes in just one day, matching the donation made by the group.
A search through the #IStandWithTucker tag now shows several fancams and other tweets intending to criticize or mock Tucker and his supporters—the opposite of its initial intention.
On Wednesday, T-Mobile's CEO Mike Sievert, responded to a Twitter user asking if the telecom company supported Carlson's message, saying: "It definitely is not. Bye-bye Tucker Carlson! #BlackLivesMatter."
Yesterday evening, a Fox News representative told Newsweek that all national ads were moved to other programs and there has not been any income lost.
One company standing by Tucker is MyPillow who continue to back the host and his Fox News program.
In a statement provided to Newsweek, CEO of MyPillow Mike Lindell said: "MyPillow is not changing its advertising. I make all my advertising decisions based on what is best for my customers and my employees.
"MyPillow believes all lives matter and values all our employees and customers, treating them like family."
Lindell is a friend of President Donald Trump and the Minnesota chairman for his 2020 reelection campaign.
Carlson has lost advertising for airing his views before in 2018 when he stated that undocumented people made America "poorer, and dirtier, and more divided."