Vice President Kamala Harris was booed by sections of the crowd as she watched her alma mater Howard University lose to Kansas in the NCAA Tournament.
Harris, who graduated from the Washington D.C. college in 1986, received a hostile reception when she appeared on the jumbotron during the basketball game at the Wells Fargo Arena in Des Moines, Iowa on Thursday.
The makeup of the crowd at the March Madness event may have had something to do with the booing Harris received. Both Kansas and Iowa are Republican states that voted for Donald Trump in 2016 and 2020.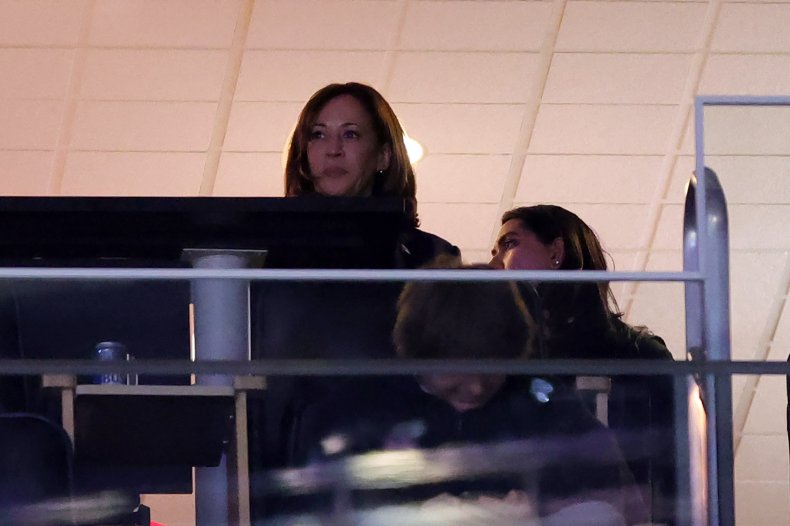 In late 2021 and 2022, chants of "f*** Joe Biden" were heard at sporting events across the country. The chant was later replaced by "let's go Brandon," with the mocking phrase becoming a Republican meme.
Clips of the moment Harris was met with boos as she appeared on video at the stadium have appeared on social media.
Following Howard Bison's loss to the Kansas Jayhawks, Harris went to talk to the team in the locker room and praised the players.
"You played hard. You played to the very last second. You made all us Bisons proud," Harris said. "You hustled out there, you are smart, you are disciplined. You put everything you had into the game.
"Until the last minute, you guys did that. You didn't stop until the last second, and that is so inspiring. So you keep playing with chin up and shoulders back because you showed the world who Bison are.
"So I know you may not be feeling great right now, OK, but know who you are. You are excellence. You are hard work. You are powerful, and you are winners."
Howard University freshman forward Shy Odom praised the vice president for her support.
"It's amazing to know we have people of such power that are affiliated with us and supporting us at the same time," Odom told the Associated Press.
Coach Kenny Blakeney said his players should be proud after what was only Howard's third NCAA Tournament appearance in its history, and first since 1992.
"I just love how they have grown as people and have become better men over the course of this season," Blakeney said. "That's a victory no one can take away from us. I'm thrilled that we were able to represent Howard University in a classy way that honored so many people before us."
The White House has been contacted for comment via email.