What Is March Madness? Where to Watch, Upset Predictions, More
March Madness is back. Once again, college teams from across the nation will battle it out in the NCAA Division I men's basketball tournament.
This year, 64 teams will compete to win the accolade of national champions. A number of top players will get to show their credentials to become the NBA stars of tomorrow.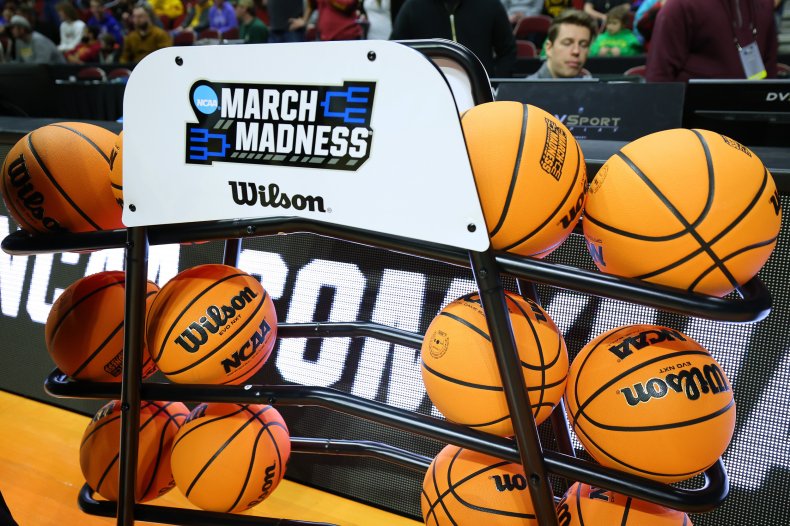 The tournament has been played since 1939, when the Oregon Ducks defeated Ohio State 46-33 to win the first national title.
There were just eight teams involved in the first tournament, and it wasn't until 1985 when the modern format of 64 teams began.
Where Did the Phrase 'March Madness' Come From?
The term "March Madness" was coined by Henry V. Porter in 1939, with the Illinois high-school official using it to describe the basketball tournament.
The term has been synonymous with the NCAA Division I men's basketball tournament since 1982. CBS broadcaster Brent Musburger used it during his commentary, and the term has stuck ever since.
When Is This Year's 'March Madness' Men's Tournament?
Here is the full schedule for this season's NCAA men's basketball tournament:
Selection Sunday: Sunday, March 12
First Four: March 14-15
First round: March 16-17
Second round: March 18-19
Sweet 16: March 23-24
Elite Eight: March 25-26
Final Four: April 1
NCAA championship game: April 3
How to Watch March Madness on TV and Online
If you have a cable subscription, you can watch all of the games live on your TV via CBS, TBS, TNT, and truTV.
If you're looking for a way to stream all of the games online, there are a few options available.
You can watch every game online via the NCAA website. If you don't have a cable subscription, a live TV service is the next best option.
Here are all of the ways you can stream 2023 March Madness games online:
Hulu + Live TV: Includes CBS, TBS, TNT, and TruTV
Sling TV Blue: Includes TBS, TNT, and TruTV
fuboTV: Includes CBS, TBS, and TNT
Paramount+: Includes CBS
Direct TV Stream: Includes CBS, TBS, TNT, and TruTV
Which March Madness Games Could Provide an Upset?
In the eyes of various oddsmakers, the following first-round games could be the scene of a famous upset. However, some are too close to call, with their seedings showing that there is not a great jump in talent and class between them.
If you like a flutter, though, these first-round match-ups could be where you are placing your cash.
No. 10 Utah State over No. 7 Missouri
No. 9 West Virginia over No. 8 Maryland
No. 9 Auburn over No. 8 Iowa
No. 12 Drake over No. 5 Miami
No. 13 Kent State over No. 4 Indiana
No. 12 Charleston over No. 5 San Diego State
No. 13 Furman over No. 4 Virginia
No. 11 Providence over No. 6 Kentucky
No. 10 Boise State over No. 7 Northwestern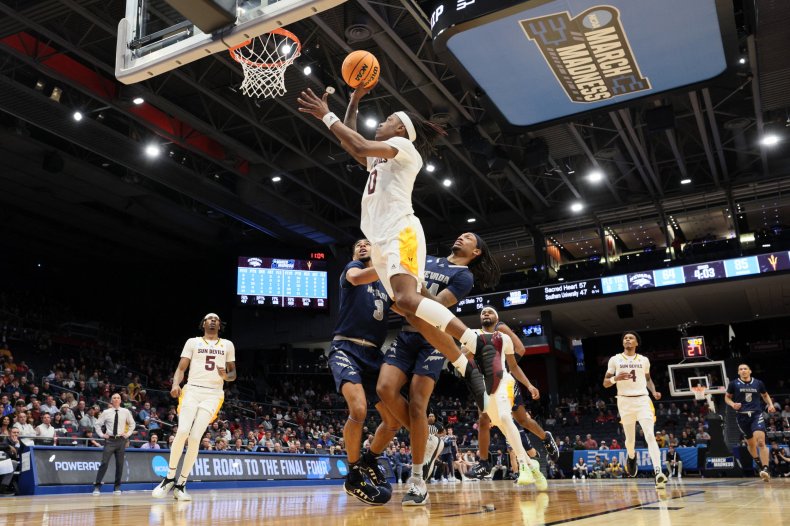 Which Team Has the Most NCAA Tournament Wins?
The Kentucky Wildcats are at the top of the pile with 129 NCAA tournament wins, followed by the North Carolina Tar Heels with 126 wins. The latter team has a chance of taking top spot with a run deep into the 2023 competition.
There is a jump down to Duke on 114, and then Kansas with 108. UCLA completes the top five teams, with 101 wins.
Here is the full top 10:
129 - Kentucky
126 - North Carolina
114 - Duke
108 - Kansas
101 - UCLA
69 - Michigan State
66 - Indiana
64 - Syracuse
61 - Louisville
61 - Villanova
Who Has Won the Most NCAA Tournament Championships?
There have been 36 different teams to have won a championship over the 81 years since the tournament's inception. UCLA are at the top with the most wins.
The team had a spell of superiority in which 10 of its 11 national championship wins came within a 12-year span from 1964 to 1975.
Do you have a tip on a sports story that Newsweek should be covering? Do you have a question about March Madness? Let us know via entertainment@newsweek.com.