Kamala Harris Calls Trump a 'Sex Predator' in New 2020 Campaign Ad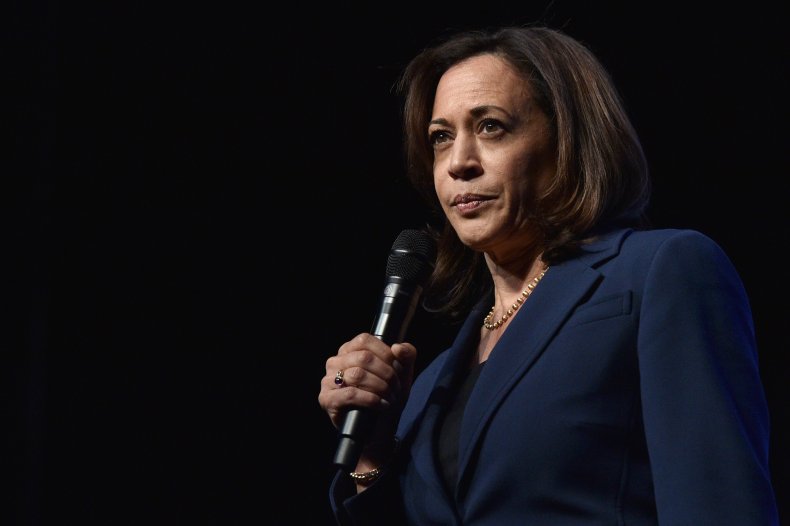 Senator Kamala Harris of California, one of the Democrats vying for her party's 2020 presidential nomination, released a campaign advertisement Wednesday calling President Donald Trump a "sex predator."
The candidate shared the 53-second ad in a tweet published at 3 p.m Wednesday. It compared Harris to Trump, citing a laundry list of the president's alleged immoral conduct and supposed shortcomings—which, in Harris's view, make him unqualified for a second term.
"I prosecuted sex predators," Harris wrote in the tweet. "Trump is one. I shut down for-profit scam colleges. He ran one. I held big banks accountable. He's owned by them. I'm not just prepared to take on Trump, I'm prepared to beat him."
The ad played a sound clip from the now-infamous Access Hollywood tape, first reported on by The Washington Post in October 2016. In the tape, the president can be heard telling television host Billy Bush about how women have allowed him to "do anything," including grab them by their genitals, because he is a "star." This prompted many to accuse Trump of admitting to having committed sexual assault.
Then-candidate Trump originally called his speech on the tape "locker room talk" and apologized for any offense he may have caused. A year later, however, he denied that the tape was genuine.
But besides the Access Hollywood tape, the president has indeed been accused of sexual assault by at least two dozen women, according to Business Insider. The earliest of these was Jessica Leeds, who alleges Trump assaulted her in the 1980s—and whom Trump has implied was not attractive enough to assault, according to The New York Times.
The allegations continue to cause trouble for Trump. On the same day that Harris dropped the ad, Newsweek reported that the president may be forced to testify in a defamation lawsuit that stems from the sexual assault accusation of a woman named Summer Zervos, who said that he assaulted her when she was a contestant on The Apprentice in 2007. Zervos accused the president of defamation after he said she fabricated the alleged assault, leading to the defamation lawsuit.
As for Harris, she has indeed had a long career as a prosecutor. According to the Encyclopaedia Britannica, she worked as a deputy district attorney in Oakland, California, between 1990 and 1998, where she accrued a "reputation for toughness as she prosecuted cases of gang violence, drug trafficking, and sexual abuse." She also served as San Francisco's district attorney and the state's attorney general before being elected senator in 2016.
"This is Trump," the speaker in Harris's ad concluded, while footage of the president played on-screen. Switching to footage of a man talking to Harris, the speaker continued, "And in every possible way, this is the anti-Trump. So if that's what you're looking for in your next president, there's really only one: Kamala."