Kamala Harris' Thanksgiving Cornbread Recipe Is Not the First Time She's Showed Off Her Cooking Skills
Kamala Harris has shared one of her family's favorite Thanksgiving recipes for cornbread dressing. This is not the first time she has shown off her cooking skills.
The vice president-elect, who comes from a family of expert cooks, has been sharing recipes and tips in online videos and posts for a while.
In May, she taught Senator Mark Warner how to make the perfect tuna melt on YouTube and in November 2019, she cooked a masala dosa with actress Mindy Kaling on Instagram Live.
Ahead of Thanksgiving last year, Harris was also filmed divulging her turkey cooking tips to Washington Post columnist Jonathan Capehart in a speedy off-air conversation that quickly went viral.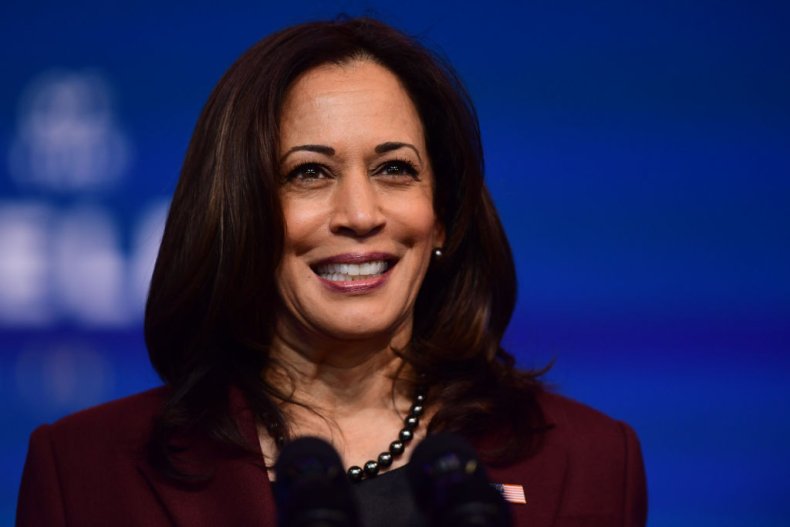 Now, she has posted a series of tweets outlining the ingredients and the method to make, "Kamala's Cornbread Dressing" for Thanksgiving on Thursday.
She tweeted: "During difficult times I have always turned to cooking. This year, I wanted to share one of my family's favorite Thanksgiving recipes with you.
"I hope whenever you're able to make it in life, it brings you as much warmth as it has brought me—even when separated from those I love."
It comes as Americans prepare for a disrupted Thanksgiving, with many states urging against travel to stop the spread of coronavirus.
Guidance from the Centers for Disease Control and Prevention (CDC) suggests that people stay home for Thanksgiving instead of traveling in order to see friends and families.
However, a third of parents believe gathering with family at Thanksgiving is worth the risk of getting or spreading the coronavirus, according to a new poll.
Harris' history of cooking
In an interview with Glamour in May, Harris said she fell in love with cooking as a child as the daughter and granddaughter of expert cooks.
She said that her mother, a cancer researcher and civil rights activist, would wake up on weekend mornings and get a head start on dinners for the rest of the week.
"As a child, I remember hearing the pots and smelling the food, and kind of like someone in a trance, I would walk into the kitchen to see all this incredible stuff happening," she told the magazine.
"My mother used to tell me, 'Kamala, you clearly like to eat good food. You better learn how to cook.'"
Harris has been showing off her cooking skills in online videos for month, demonstrating methods for recipes like Sunday dinner, monster cookies or masala dosa.
In April, Virginia senator Mark Warner shared a tuna melt cooking tutorial in which he did not toast the bread, did not drain the tuna, heaped on gobs of mayonnaise, and microwaved it for 30 seconds.
The toastie caused hilarious criticism online and Harris tweeted in a public appeal: "Mark—we need to talk. Call. Please. Your friend KDH".
Within the week, Harris live-streamed her own tutorial in which she extolled the virtues of crisp lettuce, Dijon mustard, and a proper draining technique.
In her filmed conversation with Capehart about Thanksgiving turkey, Harris said dry brine is easier but told those who have time for a wet brine: "Do it like a pot of water, a couple bay leaves, a little sugar, a little cup of peppercorns—you could even do a little slice of orange, something like that."
Harris then said to rub the bird in salt and pepper, adding: "Just like lather that baby up, right? On the outside [and] in the cavity."
She said: "Mix that up also with some thyme, you can do some rosemary if you want, under the skin with some butter before you cook it so that butter will just melt in there."
Before she gets cut off, she says: "Then get a nice big bottle of cheap white wine to baste with butter."
Kamala's Cornbread Dressing recipe:
Harris shared her recipe for Cornbread Dressing on Twitter and Instagram on Tuesday evening, which starts with a list of ingredients, including spicy sausage, apples and celery stalks.
She then posted a step by step guide outlining how to make the Thanksgiving dressing.
Alongside a series of photos, she writes: "Directions: Bake your cornbread according to the instructions on the package. This can be done the day before. Once it's cooled, crumble it.
"Take the sausage out of its casing, crumble it, and brown it in a little oil. When it's cooked, use a slotted spoon to remove it from the pan and set it aside.
"Sauté the vegetables and apples in the remaining oil in the same pan.
"Mix that with the sausage, cornbread crumbs, melted butter, herbs, and chicken broth.
"Put the mixture in a baking dish and bake at 375F for about 40 minutes. Enjoy!"