Kamala Harris, Doug Emhoff Made More Than Twice as Much as Bidens Last Year
Vice President Kamala Harris and Second Gentleman Doug Emhoff made just over $1.65 million combined in 2021 and paid just over $523,000 in federal income tax, compared to about $611,000 in income and about $150,000 in federal income tax reported by President Joe Biden and First Lady Jill Biden.
The White House released the tax returns of the Bidens, as well as Harris and Emhoff, on Friday. The Bidens reported paid income tax in Delaware and Virginia, and Harris and Emhoff reported paid income tax in California, New York and Washington, D.C.
The White House said that as of this year, Joe Biden has released a total of 24 years of tax returns in his political career, and Harris has released 18 years of her returns, offering a stark contrast to the administration of former President Donald Trump, whose finances and tax returns have been the subject of debate and legal battles for years.
The Bidens reported over $17,000 in contributions to 10 different charities, with the largest single donation reported at $5,000 to the Beau Biden Foundation. In addition, Harris and Emhoff reported $22,100 in charitable donations, according to the White House.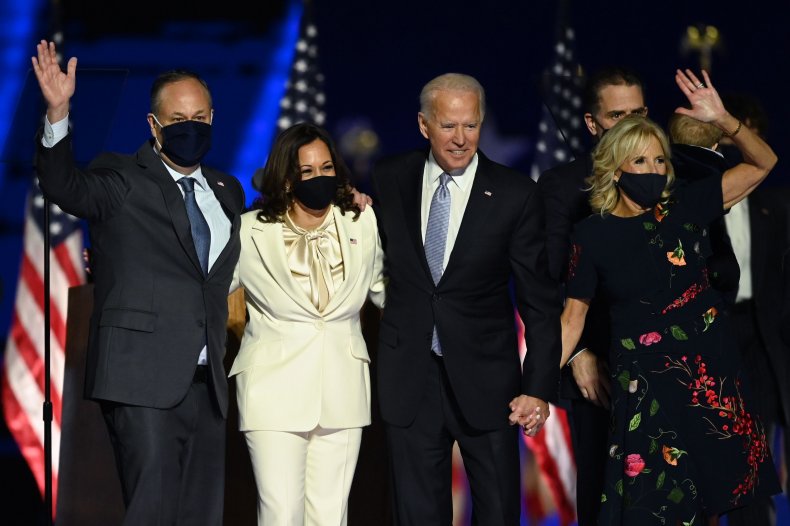 Biden and his wife reported $1.5 million in federal income tax for 2016 and $3.7 million in 2017, Biden's first year out of the White House after serving for eight years as vice president.
In comparison, Trump's tax returns for those years, only made public after they were acquired and reported by The New York Times, revealed just $750 in federal income tax paid in 2016 and 2017, with no federal income tax paid in 10 of the 15 years before that.
Trump and his attorneys disputed the report, claiming that he had paid "tens of millions" in taxes over those years; however, they never provided the former president's tax returns to corroborate their claims.
The Times reported at the time that in many of the years, significant losses reported by businesses like Trump's golf courses helped offset higher taxes Trump would have had to pay.
The report of Trump's low taxes also became a frequent attack from Biden during the 2020 election, as his campaign aired ads contrasting what Trump paid in taxes to the average middle-class American and sold stickers that said, "I paid more in taxes than Donald Trump."
"With this release, the president has shared a total of 24 years of tax returns with the American public, once again demonstrating his commitment to being transparent with the American people about the finances of the commander in chief," the White House said in Friday's announcement.
Update 4/15/22, 6:28 p.m. ET: This story has been updated with additional information.