Kamala Harris Would Make the Best Vice Presidential Candidate, Voters Say In Poll
Former Democratic presidential candidate Senator Kamala Harris of California is the number one choice to be vice president for the largest number of voters, according to a recent survey.
A survey conducted by Emerson Polling in mid-February showed that 20 percent of respondents thought Harris would make the best vice president. Entrepreneur Andrew Yang, who also ran for president, was a close second, with support from 18 percent of respondents. Former Democratic presidential candidate Hillary Clinton, who lost to Trump in 2016, came in third with 16 percent support, while former Georgia gubernatorial candidate Stacey Abrams, who has said she'd like to be vice president, placed fourth with support from 8 percent of respondents.
Democratic presidential contenders Joe Biden and Bernie Sanders both said Sunday evening that they plan to pick a woman as their running mate, an option both candidates had already suggested in the past. As the race has narrowed to just two viable candidates, speculation has grown over who Biden or Sanders would pick as their running mate, with Harris emerging as a potential frontrunner.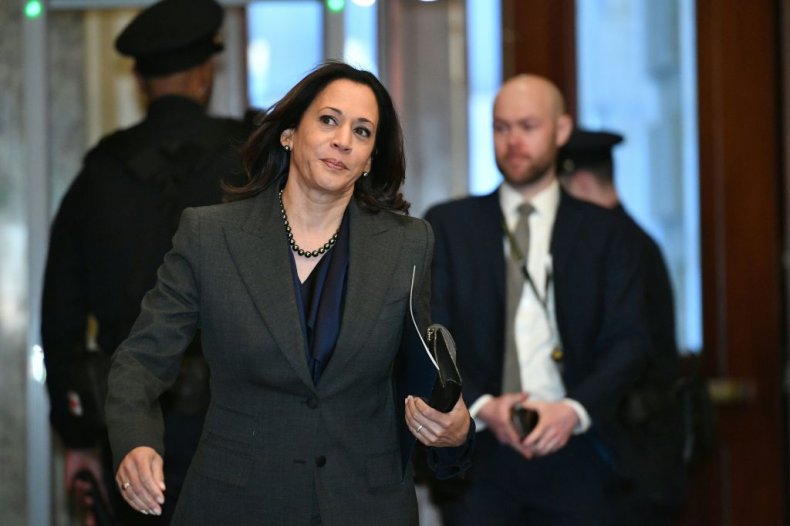 Notably, Harris endorsed Biden last Sunday, as did Yang last Tuesday.
"So I just wanted you guys to know," Harris told her followers in a video posted to social media, "I have decided that I am, with great enthusiasm, going to endorse Joe Biden."
Yang made a similar endorsement on CNN two days later.
"I believe that Joe Biden will be the Democratic nominee and I've always said I'm going to support whoever the nominee is," Yang said. "So I hereby am endorsing Joe Biden to be not just the nominee for the Democratic Party but the next president of the United States."
After Biden asserted Sunday evening during the 11th Democratic primary debate that he planned to nominate a woman as his running mate, Yang expressed some surprise via Twitter.
"Wow Joe just committed to a woman as VP. I like it. Though he didn't mention that to me when we spoke," the former Democratic candidate tweeted. In a follow-up post, he also suggested Harris would be a top contender for the role.
"You'd have to think that Kamala Harris and Amy Klobuchar are at or near the top of the shortlist," Yang wrote.
Sanders also said on Sunday evening that he would "in all likelihood" pick a woman as his running mate. However, he noted that it would need to be "a progressive woman." Both comments were in line with previous remarks from the senator. Last week, as Reverend Jesse Jackson endorsed Sanders, he also noted that the candidate had committed to strongly considering an African-American woman as his running mate.