Mob of Kangaroos Overrun Town, Attacking People and Breaking Woman's Leg
A mob of kangaroos has overrun a small town in Australia, attacking residents and leaving one woman with a broken leg.
Maaroom, which is about 150 miles north of Brisbane, has been occupied by so many kangaroos that its residents, who number about 220, carry sticks as weapons when they leave the house. Many are afraid to walk around the town in case they are attacked.
"There are too many to count, really. They're constantly hopping around the park in between caravans," Caravan Park manager Karen Sutcliffe told ABC News Australia. "I've been wanting to go fishing of an afternoon but I won't do that, just in case a kangaroo gets me."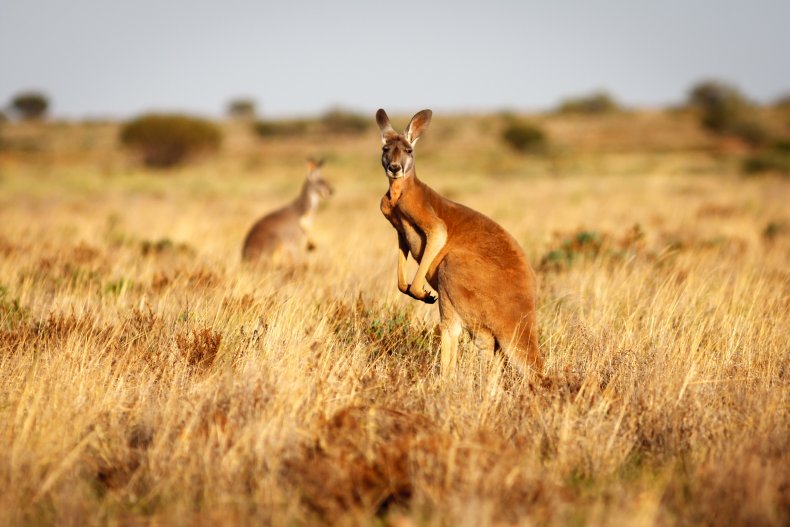 Kangaroos are native to Australia and are usually no threat to humans, generally avoiding them when encountered. Attacks are rare and deaths even rarer. Only one death from a kangaroo attack, which occurred in New South Wales in 1936, has ever been recorded.
Usually, when a kangaroo does attack a human, it's a territorial male, or part of a male's mating display, according to Frank Mills, manager at Southern Wildlife Operations at Queensland's Department of Environment and Science. Maaroom's infestation is different, however, as residents have had to deal mostly with mother kangaroos.
"All of these issues have been with female kangaroos with a joey [baby] at foot," Mills told ABC News.
In late July, a 67-year-old woman was attacked by a mother kangaroo in Maaroom, leaving her with a broken femur and lots of scratches and bite marks
The kangaroos have been gathering on the lawns of the town's residents, which are thought to be providing the kangaroos with a glut of food.
"The kangaroos are moving between nearby bushland and into the residential area," Mills said. "We've counted more than 60 to 80 kangaroos on any given day within the town itself and the local forests that surround that wouldn't support that many kangaroos."
The recent wet season has caused the grass and other vegetation to grow prolifically, which, combined with a high number of joeys being born, made the town an ideal nursery.
"The last couple of years, we've had La Niña, where we get a lot more rain and conditions are conducive to grass growing, and we all manage our lawns very well," Maaroom resident Mark Sidaway told ABC News. "They've multiplied because we supply a Sizzler smorgasbord for them."
The kangaroos may also have been encouraged to stick around by residents who began feeding them.
"At community meetings, we have received advice that some residents have been feeding the kangaroos, which can change the way the kangaroos interact with people," said Mills.
Maaroom residents have been advised to not attack the kangaroos, as this will only exacerbate the problem and make them more aggressive toward other people in the town.
The Fraser Coast Regional Council's website says those attacked by a kangaroo should protect their head and face with their arms or roll into a ball to avoid being scratched.