Kansas Cattle Deaths Dent Millions in Farmer's Pockets
The loss of at least 2,000 cattle in Kansas following a heat wave could cost farmers in the state millions of dollars, according to agricultural experts.
Earlier this week, officials with the Kansas Department of of Health and Environment reported that at least 2,000 cows died following a wave of extremely high temperatures, as well as high levels of humidity in the state.
"The recent incident was due to an unusual weather event where areas of southwestern Kansas saw a 10 to 14 degree increase in temperature and an increase in humidity almost overnight, from Friday (6/10) to Saturday (6/11), with little wind and lows only falling to around 70 degrees throughout the night-time hours," Scarlet Hagins of the Kansas Livestock Association told Newsweek on Friday.
While speaking with Newsweek on Friday, Glynn Tonsor, a professor in the department of agriculture economics at Kansas State University, explained that the cost of cattle is based on weight, and the 2,000 cattle that died this week likely weighed around 1,400 pounds.
Tonsor also noted that there are many different factors that go into the price cattle are sold at from feedlots to packing processes, including the feeding regimen they were on and the relationship the farmer has with the packing processor, where the cattle were supposed to be shipped to.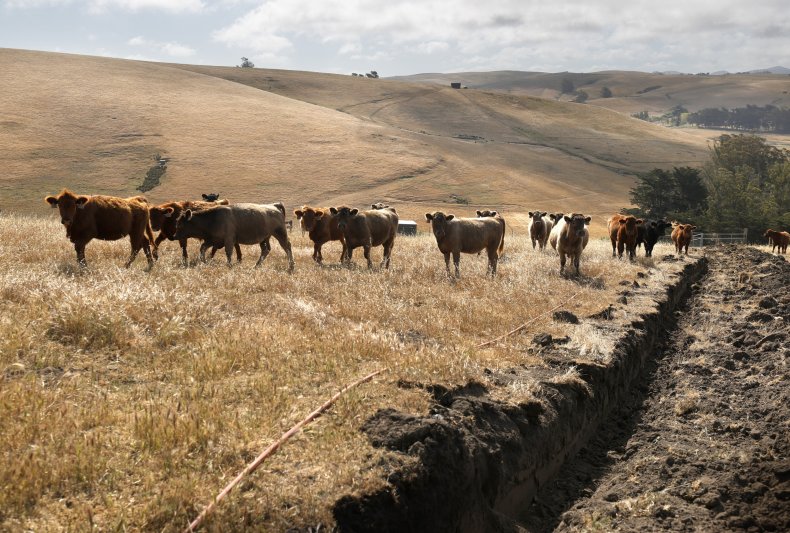 "Each of these animals that perished probably would have sold for about $2,000," Tonsor said. "So each one of them that's lost for an individual operation is costing them about $2,000 of missed revenue."
Tonsor continued, "the market effect...for the individual producers involved, is about $4 million in lost revenue."
Jayson Lusk, the head of the Agricultural Economics Department at Purdue University, made a similar estimate in a statement sent to Newsweek, where he estimated that the total revenue lost from the 2,000 cattle deaths could reach $3.7 million.
However, Tonsor explained to Newsweek while this dollar amount is a large loss for the specific individual feedlots, it is "very, very, very" small in regard to the size of the cattle and livestock market in Kansas.
"The $4 million lost revenue and the 2,000 head involved is less than one percent of what's going on in Kansas alone," he said. "It's not moving the aggregate market. The total cattle market is not going to be changed."
According to Tonsor, on May 1, the U.S Department of Agriculture (USDA) estimated that there were 2.5 million animals in Kansas feed yards. "So, 2.5 million in Kansas feed yards, while 2,000 head is .08 percent of that."
"It's a big deal for the individual operations, I don't want to ignore that," Tonsor said. "But it's not a big deal for, at least so far, the broader market."
Despite a forecast of continued high temperatures in Kansas, according to the National Weather Service, Hagins told Newsweek on Friday that the Kansas Livestock Association does not expect additional cattle losses in the coming days.