The Worst of Kansas' Mass Cattle Deaths Is Likely Over
At least 2,000 cattle have died as a result of a recent heat wave in Kansas, with the worst of the mass casualty incident likely to be over as more intense heat is expected this weekend.
In a statement sent to Newsweek on Friday, Scarlett Hagins of the Kansas Livestock Association said, "We do not expect additional losses in the coming days as cattle have had more time to acclimate."
The remarks by Hagins come just a few days after viral videos showed thousands of dead cattle on the ground across different farms in the state. Officials previously said that high heat and humidity led to the deaths.
While speaking with Newsweek earlier this week, Matthew Lara of the Kansas Department of Health and Environment, confirmed that at least 2,000 cattle died and said, "We had high heat, high humidity and there just wasn't a lot of wind moving through the area, and it's really hard for the cows to cool themselves off."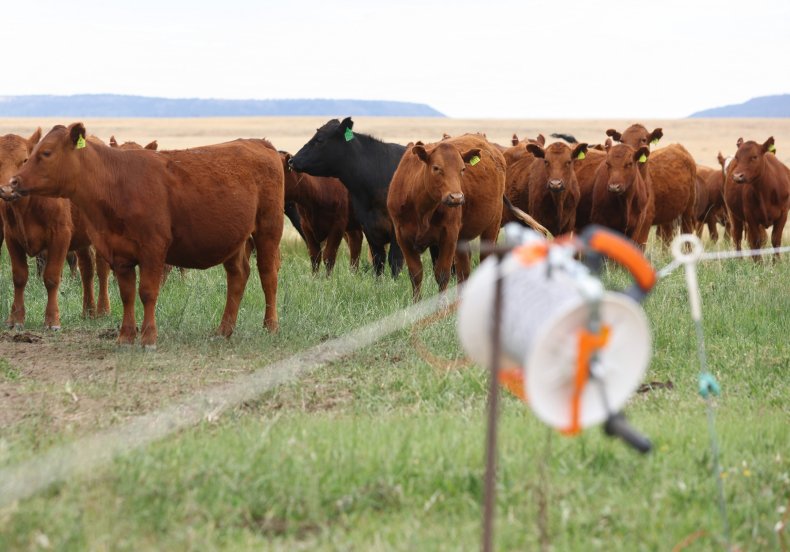 On Friday, the Kansas Department of Health and Environment directed Newsweek to a statement issued by state Governor Laura Kelly, which said that she was directing state agencies "to help Kansas cattle feeders who lost cattle due to heat stress."
"From expediting burial permits to reaching out to cattle producers across the state, my Administration is working to ease the impact of last weekend's losses on the Kansas agricultural community," the governor added.
In the statement sent to Newsweek on Friday, Hagins made similar remarks, saying, "The recent incident was due to an unusual weather event where areas of southwestern Kansas saw a 10 to 14 degree increase in temperature and an increase in humidity almost overnight, from Friday (6/10) to Saturday (6/11), with little wind and lows only falling to around 70 degrees throughout the night-time hours."
Hagins continued, "If cattle are unable to cool down over night due to temperatures remaining high, they cannot compensate for this type of weather, which was the case here and led to heat stress issues for cattle in the region. This is not normal for this area, which typically sees low-humidity and plenty of wind."
Her statement also noted that during this time of year in Kansas, heat stress is a concern for cattle producers, and efforts are taken to limit these types of incidents. According to Hagins, "making sure extra water is available, altering feeding schedules and rations if needed and avoiding moving cattle during the heat of the day," is essential for keeping cattle alive during this time of year.
The National Weather Service in the state on Friday forecasted high temperatures to continue throughout the weekend.
"Sunny and hot temperatures can be expected through this coming weekend with no rain expected. Use caution when outside and be aware of heat stress symptoms," the National Weather Service in Wichita, Kansas, said on Twitter.