Kansas Man Goes Into $120,000 of Debt to Recount State's Abortion Vote
A Kansas man got himself into almost $120,000 of credit card debt to pay for a partial recount after the state overwhelmingly voted to preserve abortion rights earlier this month.
Mark Gietzen, an anti-abortion activist, is so convinced the August 2 vote was rigged that he used his credit card to cover the cost of a recount in nine of the state's 105 countries.
In what was the first state referendum on abortion since the U.S. Supreme Court overturned Roe v. Wade in late June, Kansas voters rejected a ballot measure that would have eliminated protections for abortion rights from the Kansas Constitution and allowed the state's Republican-led Legislature to further restrict abortion or ban the procedure.
"Somebody had to do this. You know, I think if the Value Them Both Committee had money left, I think they would have done it," Gietzen told Wichita news station KAKE, referring to the coalition that backed passing the amendment.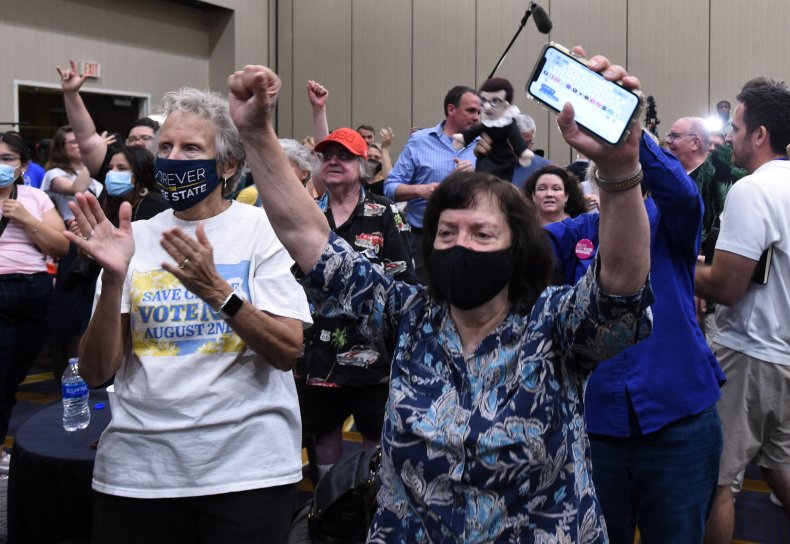 The measure failed by almost 18 percentage points or over 165,000 votes statewide. But despite the large margin, nine counties began a hand recount this week after a request from Melissa Leavitt of Colby, Kansas. They are expected to finish by Saturday, according to the Associated Press.
Leavitt and Gietzen initially wanted the vote recounted in all 105 counties but did not manage to raise the $229,000 needed to pay for it. They chose the nine counties based partly on their population and cost, Gietzen said.
Both have said there may have been issues with the election without citing evidence.
Gietzen, who leads the Kansas Republican Assembly, a far-right group not affiliated with the state Republican Party, has pointed to malicious software, inaccurate voter rolls and voting law violations as examples of what could have gone wrong. There has been no evidence of any election fraud in the August 2 vote.
Gietzen said he had tried to put his home as collateral for a statewide recount, but the request was denied by the Kansas Secretary of State. And while he acknowledged that the partial recount may not overturn the result, he has no regrets about funding the recount.
"I hope that we have, we end up with an election system that people can trust," he told KAKE. "If we win the Value Them Both, that would be wonderful. But I would, I would [still] do this. I already did it."
Newsweek reached out to Mark Gietzen, Melissa Leavitt, and Kansas Elections Director Bryan Caskey for comment.