Kanye "Ye" West and his partner Bianca Censori's head-turning choice of outfits for church on Sunday has sparked a wave of derision on social media.
On Sunday, "Jesus Walks" rapper West was photographed exiting a church in Los Angeles in a black T-shirt with the word "Polizei," which is German for police. The top, which included broad shoulder pads, was paired with matching leggings and socks.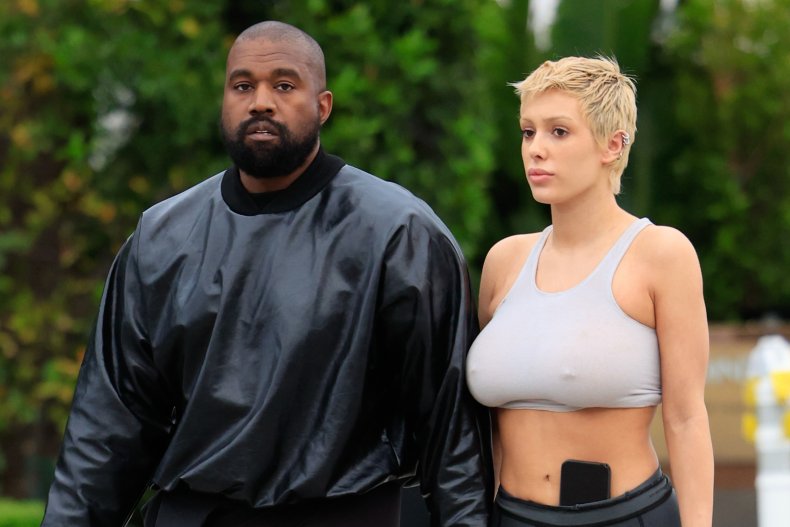 Walking beside the shoeless Yeezy designer, who turns 46 on Thursday, was Censori. She was hard to miss in a head-to-toe black gauze dress that included a large foam-like feature that circled her shoulders and rose up to cover the lower part of her face. Adding to the whimsical nature of the ensemble, Censori's arms were under the gauze layer.
Photos of the couple soon went viral on social media, with a host of Twitter users questioning—and playfully mocking—their unusual sartorial selections.
Referring to the circular addition to Censori's dress, one Twitter user asked: "Is she wearing a trash can?"
Taking aim at both ensembles, another tweeted: "Suddenly I feel more comfortable about the clothing choices I make on the 7am school run."
"Come as you are... even if it means showing up looking like a quarterback in a wetsuit and a walking condom," wrote another Twitter user.
Noting West's history of heavily influencing the style of the women he's been in relationships with, another posted: "Anytime Kanye is [with] his 'wife' in public-it looks like he's trying to craft a prototype of Kim [Kardashian] + Amber Rose or some s***."
"When are people gonna admit Kanye's fashion sense isn't actually genius, it's just weird," wrote another detractor.
"Kanye walking around dressed like a superhero that didn't finish the transformation and that was y'all fashion icon," tweeted another. "I didn't forget."
Amid the criticism, a number of West's fans spoke out in his defense, with one tweeting that the star was "cooking up a new fashion trend."
"You people don't understand Kanye West yet," another commented on Twitter. "He basically turns the sidewalks & streets into his own fashion show/runway."
Another tweeted that West is "showing the world high fashion each day, letting the world and the people be the Met Gala and using the streets as a [runway]."
Meanwhile, another wrote on the social-media platform that the musician and designer is "just living his best life."
TMZ reported in January that West—who has legally changed his name to Ye—had a low-key wedding ceremony with Censori. However, the couple are yet to file a marriage certificate to make their union legal.
Censori's LinkedIn profile says that she has worked as head of architecture at Yeezy, West's clothing and apparel brand.
Censori appears to have grown up in Melbourne, Australia, where she attended school. She then went to the University of Melbourne to achieve her bachelor's degree in architecture, followed by a master's in the same subject. Her LinkedIn page adds that she is the owner of a company called Nylons Jewellery.
Reports of West's romance first emerged several weeks after he finalized his divorce from Kim Kardashian. Following his 2021 split from Kardashian, West has been linked to Italian-born Uncut Gems star Julia Fox and Brazilian model Juliana Nalú.
West and Kardashian married in Florence, Italy, in May 2014. They share four children—daughters North, 9, and Chicago, 5, and sons Saint, 7, and Psalm, 4.
In recent months, West has kept something of a low profile following several weeks of controversy. In 2022, he lost a number of business deals and was widely condemned after making a string of antisemitic comments on social media and in interviews.