Julia Fox Says Kanye West Romance Was 'Best Thing' That Happened to Her
Julia Fox is singing the praises of her short-lived romance with Kanye West, two weeks after they announced the end of their relationship.
The Uncut Gems star, 32, and West, 44, embarked on their relationship soon after meeting at a New Year's Eve party in Miami. They enjoyed dates in New York City, Los Angeles and Paris before the February 14 announcement that they had split.
In an interview with Entertainment Tonight on Tuesday, Fox showed there's no bad blood, saying of her romance with the rapper and designer: "It was the best thing that could have happened to me."
Speaking with Rachel Smith at the New York City premiere of The Batman, Fox went on to state that dating West was "like hitting a reset button. It kind of brought a spark back into my life that I had kind of forgotten about."
As such, Fox went on to reveal that she and West, who has legally changed his name to Ye, are on good terms, saying: "We're still friends, yeah."
While the actress is now newly single, she admitted that she's "too busy" to dip her toe back into the dating pool.
"I don't even have the time to brush my hair," she said. "I mean, if I meet someone, yes. If nature plays its course, and someone comes along, I'd be more than happy to entertain that. But I'm not looking for anything right now."
Shortly after her split from West had been announced, Fox said in an Instagram Story post that she "wasn't in love" with the "Donda" hitmaker during their time together.
"Why not see me for what I am which is a #1 hustler," she wrote, in part. "I came up [y'all] lol and not only that but Kanye and I are on good terms! I have love for him for I wasn't in love w the man Jesus Christ what do u guys think I am 12 years old?!"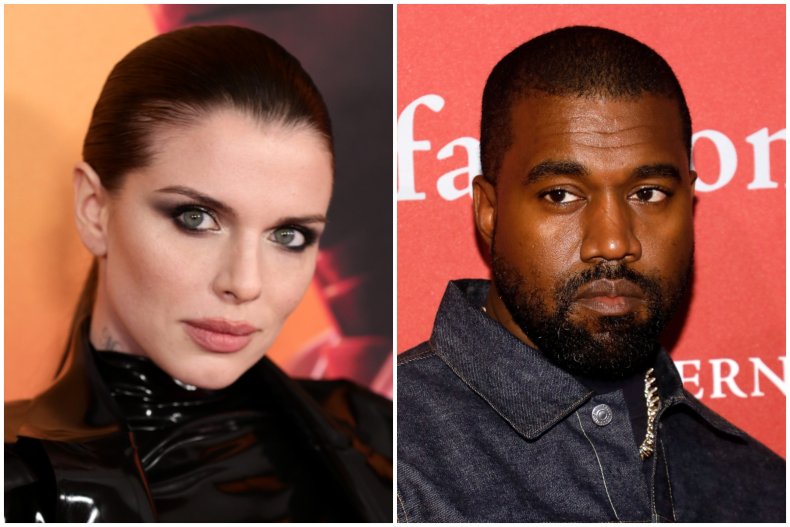 During her relationship with West, the star publicly expressed his desire to rekindle his relationship with estranged wife Kim Kardashian, who filed for divorce in February 2021. Kardashian, who shares four children with West, has since embarked on a romance with Saturday Night Live star Pete Davidson.
Shortly before her split from West was announced, Fox said during an appearance on the Call Her Daddy podcast that she was "sure" he had "residual feelings" for Kardashian.
She said: "I'm sure there's still some residual feelings, and that's normal, it's human. I also know that he's with me now. And that's all that matters."
Despite having been in a romantic relationship with West for a matter of weeks, it would appear that she had something of an influence on the musician, as the track "Security" from his new Donda 2 album comes with a backstory involving her.
The song—which is seen as an attack on comedian Davidson—features a looped sample taken from the score of the Taylour Paige and Riley Keough movie Zola.
Fox revealed two weeks into her romance with West that she had introduced the Yeezy designer to the black comedy on their second date.
Speaking with Interview magazine, Fox told how West played the movie while they were hanging out with a group of stars that included Naomi Campbell, Madonna, Marilyn Manson, Dave Chappelle, Floyd Mayweather, and Antonio Brown.
She said: "[West] decided to put on Zola, and I was like, 'There's no way that everyone's going to just stop and watch the movie.' Thirty seconds in, everyone there stopped talking and started watching, yelling commentary, and laughing. Dave Chappelle f****** loved it. It was such a special moment, to include Zola in our narrative."
Explaining why the movie was special to herself and West, Fox added: "I think it was a moment that he felt really inspired by something that I had shown him. We watched Zola the second time we hung out."