Kanye West Now Says He Wants Kim Kardashian Back After Bitter War of Words
Kanye West has reiterated his desire to rekindle his relationship with estranged wife Kim Kardashian, after the exes engaged in a public war of words.
Kardashian, who filed for divorce from West in February 2021 after almost seven years of marriage, sat down for a recently published interview with Vogue, during which she spoke about her marital split and the challenges of co-parenting.
West, who has legally changed his name to Ye, reacted by posting a selection of images from the accompanying photoshoot, which features the four children he shares with the former Keeping Up with the Kardashians star.
Captioning the heart-warming snapshots, the rapper and designer—who is dating actress Julia Fox—wrote: "GOD PLEASE BRING OUR FAMILY BACK TOGETHER."
West's social media post echoes the sentiment he has publicly shared in recent months about Kardashian, who is now dating Saturday Night Live star Pete Davidson.
During an appearance at Los Angeles Mission's Annual Thanksgiving event in November, he said: "The narrative God wants is to see that we can be redeemed in all these relationships. We've made mistakes. I've made mistakes.
"I've publicly done things that were not acceptable as a husband, but right now today, for whatever reason—I didn't know I was going to be in front of this mic—but I'm here to change the narrative."
He continued: "When God brings Kimye (Kardashian and him) together, there's going to be millions of families that are going to be influenced to see that they can overcome the work of the separation, of trauma the devil has used to capitalize to keep people in misery while people step over homeless people to go to the Gucci store."
Addressing his decision to live close to Kardashian following their separation, he added: "I have to be next to my children as much as possible. So, when I'm out the house, I've got a house right next to the house. I'm doing everything to be right next to the situation. But I need to be back home."
However, in more recent weeks things appeared to deteriorate between the former couple, with West publicly voicing his disapproval of Kardashian allowing their 8-year-old daughter, North, to have a TikTok account.
Kardashian responded by saying that West's "constant attacks" on her on social media and in interviews were "actually more hurtful than any TikTok North might create."
She added in a statement shared to Fox News: "As the parent who is the main provider and caregiver for our children, I am doing my best to protect our daughter while also allowing her to express her creativity in the medium that she wishes with adult supervision—because it brings her happiness."
Kardashian—who also shares sons Saint, 6, and Psalm, 2, and daughter Chicago, 4, with her estranged husband—went on to state that divorce is "difficult enough on our children" and that West's "obsession with trying to control and manipulate our situation so negatively and publicly is only causing further pain for all."
Responding to her statement, West said in a since-deleted post on Instagram, per The Independent: "What do you mean by main provider? America saw you try to kidnap my daughter on her birthday by not providing the address.
"You put security on me inside of the house to play with my son then accused me of stealing I had to take a drug test after Chicago's party cause you accused me of being on drugs [sic]."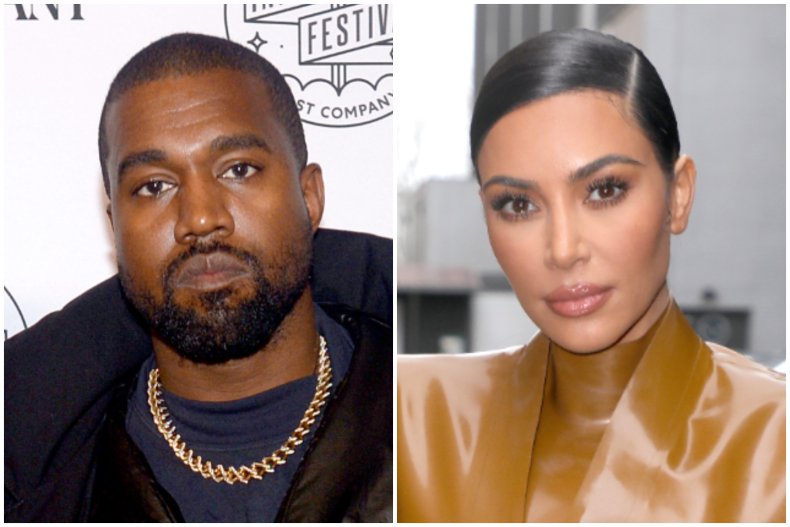 In her new interview with Vogue, Kardashian spoke candidly about the personal changes she has gone through lately, and how it may have affected her marriage to West.
"For so long, I did what made other people happy," she said. "And I think in the last two years I decided, I'm going to make myself happy. And that feels really good.
"And even if that created changes and caused my divorce, I think it's important to be honest with yourself about what really makes you happy. I've chosen myself. I think it's okay to choose you."
"My 40s are about being Team Me," she added. "I'm going to eat well. I'm going to work out. I'm going to have more fun, spend more time with my kids and the people who make me happy. I'm going to put my phone down. Unfollow if I don't want to see something on Instagram."
Addressing the challenges of co-parenting, she said: "You could be so hurt or angry at your ex, but I think in front of the kids, it always has to be 'Your dad's the best.' Make sure you are your co-parent's biggest cheerleader, no matter what you're personally going through."