Kanye West has likened his mother-in-law, Kris Jenner, to North Korea's authoritarian leader Kim Jong Un in a scathing attack on Twitter.
As concern mounts for the rapper's health, West is continuing to post several erratic tweets on the social media platform.
In a tweet posted Tuesday night, the 2020 presidential hopeful also said he is trying to divorce his wife Kim Kardashian.
In a bizarre tweet, the father-of-four wrote: "They tried to fly in with 2 doctors to 51/50 me I been trying to get divorced since Kim met with Meek at the Warldolf for 'prison reform' I got 200 more to go. This my lady tweet of the night ... Kris Jong-Un."
Newsweek has reached out to Jenner's reps for comment.
In a previous tweet, the Jesus Is King hitmaker shared a screenshot of a text conversation with Kris which read: "This is Ye. You ready to talk now or are still avoiding my calls."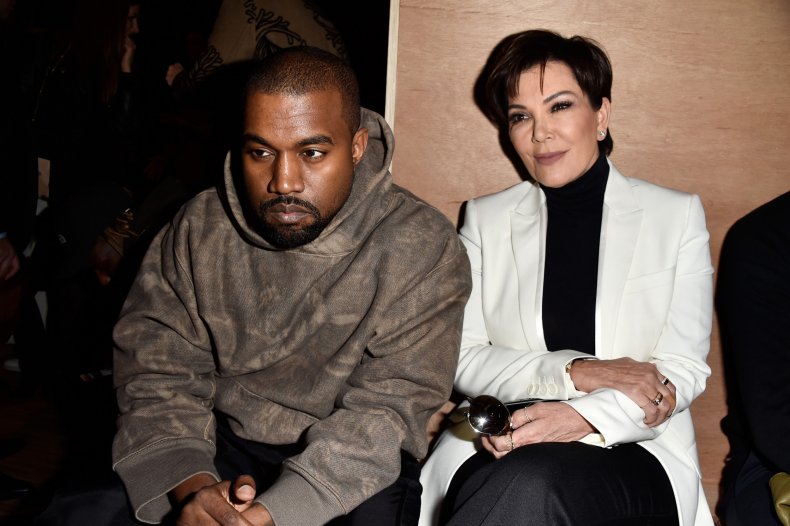 After seemingly ignoring his message, Kanye sent a follow-up text, writing: "This is Ye. You wanna talk? Or go to war?"
Sharing the texts with his 30.2 million followers, Kanye added: "White supremacy at its highest no cap."
Another follow up tweet read: "ALL POSITIVITY WHEN THE DEVIL ATTACKS. EVEN IF I NEVER SEE MY KIDS TILL THEY ARE 18 CAUSE YOU BELIEVE WHITE PEOPLE. ON GOD NORTH WITH NEVER BE EXPLOITED BY THE SYSTEM OF WHITE SUPREMACY."
On Monday night, the rapper tweeted: "Kriss don't play with me you and that calmye are not allowed around my children. Y'all tried to lock me up."
West appears to be referring to Jenner's partner Corey Gamble when he says "Calmye."
Kardashian is reportedly "most upset" by the claim that her mother can't see the children she shares with West; North, 7, Saint, 4½, Chicago, 2½, and Psalm, 14 months.
A source told PEOPLE: "She was most upset that [West] said that Kris isn't allowed around the kids."
They added: "Nothing could be further from the truth. Kris is an important part of the kids' lives and Kim loves the bond they have. She's 100 percent allowed around the kids."
West family believe he is experiencing a bipolar episode as his behavior became worrying on Sunday night first presidential campaign rally in Charleston, South Carolina.
In a lengthy speech, which at times became erratic and emotional, the 43-year-old spoke about topics such as abortion, religion, and international trade and angered many when he said that revered activist Harriet Tubman "never actually freed the slaves she just had them work for other white people."