Kanye West's Visit To Trump Tower Was Another Accidental Distraction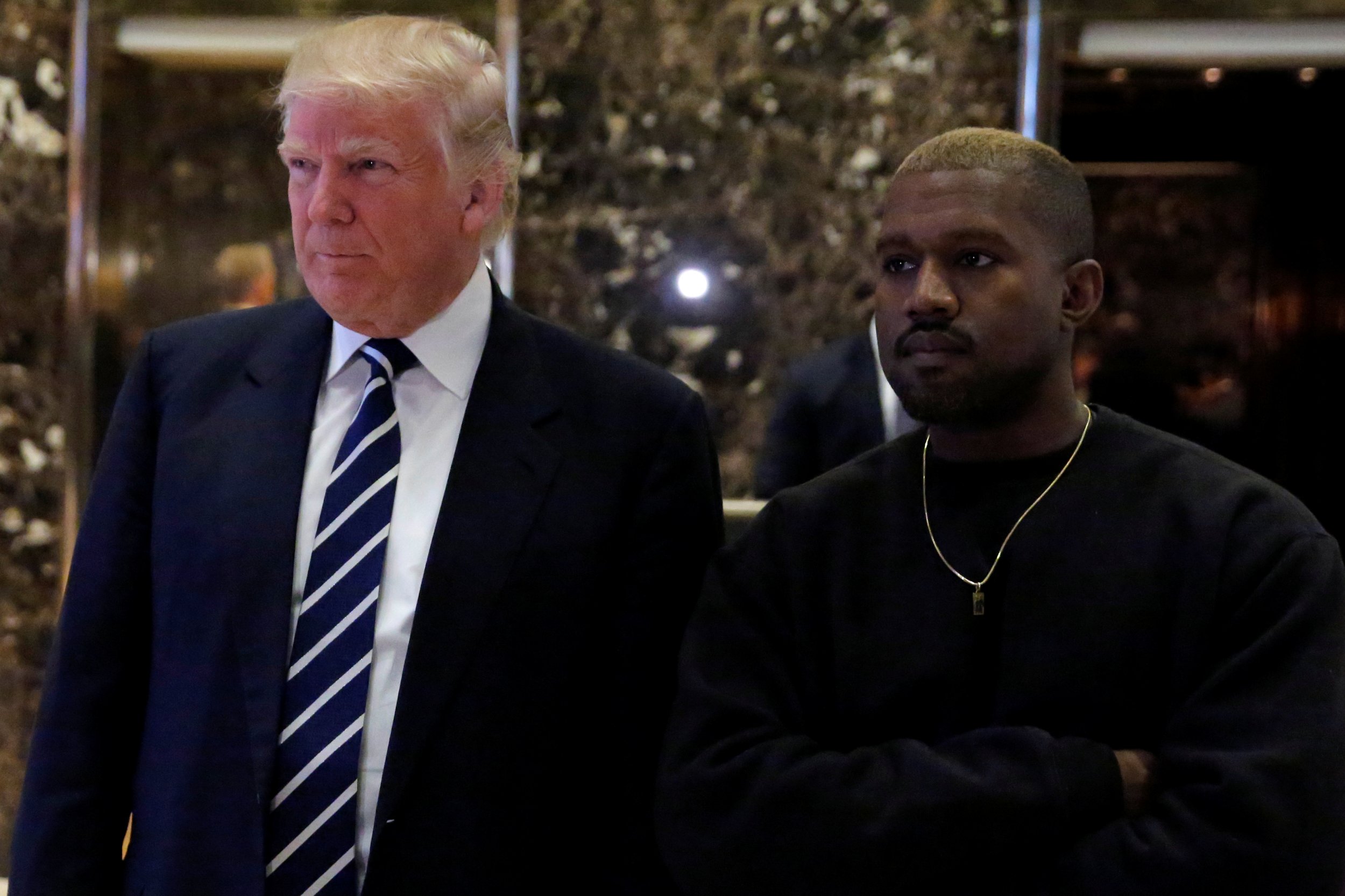 The surreal carousel of news coming out of Donald Trump's transition kept spinning Tuesday morning when Kanye West arrived at Trump Tower to meet with the president-elect. The meeting had not been announced. West, who in late November was hospitalized for "temporary psychosis," simply strolled into the Midtown Manhattan building's lobby, dressed in black with dyed blonde hair, and an entourage in tow. It nearly sent the press pool into hysterics, and the scant details that were available dominated cable news and social media throughout the morning.
After West met with Trump, the pair of egos posed for pictures in the lobby. Trump smiled and mentioned how he has known West for a long time. When asked what they discussed, Trump said, "life." West did not field questions, instead standing stone-faced as reporters asked if he would fulfill a promise made at the MTV Video Music Awards that he would run for president in 2020, and whether he would perform at Trump's inauguration. When pressed, West said he was just there to take pictures. Later, he tweeted that he met with Trump to "discuss multicultural issues."
Related: How Donald Trump's business ties are already jeopardizing U.S. interests
As CNN and others covered the proceedings, critics wrung their hands over how, once again, the media was playing right into Trump's diversionary tactics. Also on Tuesday morning, Trump nominated Dancing With the Stars contestant Rick Perry for energy secretary and Exxon CEO and Putin pal Rex Tillerson for secretary of state. On Monday, Trump announced that he would be postponing a news conference about his business interests that was scheduled for December 15, and on Tuesday Newsweek released a report futher detailing the damaging effects of his business interests. The headline-grabbing rapper's appearance at Trump Tower the morning when these stories would have dominated the news is rather convenient. On Twitter, Luke Russert called Trump "brilliant" for how he has manipulated the media.
It's true that Trump understands what drives the media and has played off of this to a certain extent. The man talks in sound bites. But it is also true that Trump is an uncharacteristically impulsive and distractable president-elect—and human—who could just as easily be reaping the benefits of the media's fascination with the ridiculous by happenstance rather than by some carefully orchestrated Machiavellian manipulation strategy. Trump is an absurd character. He's naturally going to create a lot of absurdity. When he has tweeted about Hamilton or Saturday Night Live or how the flag burners should have their citizenship revoked—tweets which many have viewed as calculated diversions—he has done it because he simply saw something that angered him on television, and couldn't help but immediately respond.
Last week, Trump biographer Michael D'Antonio addressed Trump's impulsiveness in the New York Daily News. "The President-elect probably cannot control himself," he wrote. "I interviewed him for six hours when writing a biography, and I mean that literally." He later warned over treating Trump like "a conventional politician."
D'Antonio's assessment echoed that of Art of the Deal ghostwriter Tony Schwartz, who detailed Trump's petulance to the New Yorker, saying he behaved "like a kindergartner." Trump has no control over his desire for attention. He is not a man of great strategic genius. He is a ridiculous, sensational, attention-addicted man in a world that features a ridiculous, sensational, attention-addicted media. Maybe Trump did schedule West's visit Tuesday morning to draw attention away from unflattering press (of which there is no shortage of), but he could have also done that with a tweet. In the end, we have no idea what Trump is thinking or what his motivations are, and he likely doesn't either.
But it really doesn't matter. All that matters is his actions and their results, which is something that Trump doesn't seem to have the foresight to anticipate. He sees and he reacts. This is a scary quality to find in the president of the United States.
At least when Trump leaves office, though, we'll have Kanye West. The rapper ended his post-meeting string of tweets by finally addressing the question of whether he would try to run in 2020.
Read more from Newsweek.com:
- Rick Perry is Donald Trump's pick for energy secretary
- Trump chooses Exxon CEO for secretary of state
- GOP leaders in Congress break with Trump on Russia