Five Times Kanye West Supposedly Predicted Fall Out With Kim Kardashian
It has been a rollercoaster of ups and downs over the past decade for Kim Kardashian and Grammy-winning artist Ye (formerly known as Kanye West).
The A-Listers began dating in 2011, tying the knot in 2014. They also had four children together—North, Saint, Chicago, and Psalm—before going their separate ways in 2021 after six years of marriage.
However, their split has not been plain sailing. Kardashian filed for divorce from Ye in February 2021 but over one year later, they are still not officially divorced as of August 8, 2022.
However, in March 2022, Kardashian was declared legally single and in October that year, she began dating SNL star and comedian Pete Davidson. Their relationship has now come to an end after nine months together, according to E! News.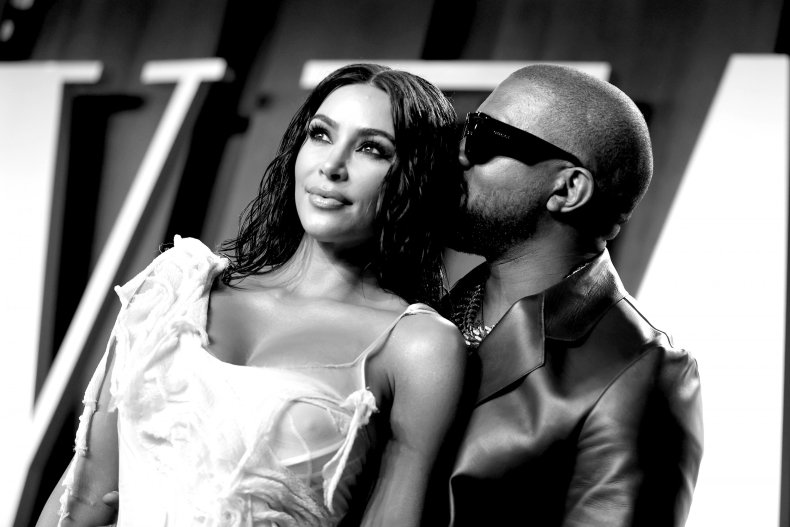 Ye has reacted to the news Kardashian is single by posting on his Instagram "Skete Davidson Dead At Age 28" and some fans have commented below on some of Ye's lyrics from previous songs foreshadow his situation with Kardashian today.
In fact, some lyrics can be interpreted as predicting the breakdown of his relationship with his wife, going back to as early as 2008.
Newsweek has a recap of five times Ye supposedly predicted his fall out with Kim Kardashian.
Five Times Kanye West Supposedly Predicted Fall Out With Kim Kardashian
1. Heartless (2008)
In the 2008 song "Heartless" from the album 808s & Heartbreaks, Ye rapped about an ex-girlfriend realizing he was one the one who got away.
He rapped: "Wait a couple of months and then you gonna see, you'll never find nobody better than me."
This lyric could be tied into his split with Kardashian and now Kardashian's split from Davidson.
Kardashian and Davidson dated for nine months and while Kardashian has not addressed their split publicly or a potential reunion with Ye, judging by Ye's recent Instagram post where he celebrated the news with the caption "Skete Davidson dead at age 28", Ye may be feeling a bit smug.
2. Love Lockdown (2008)
In 2008, three years before meeting Kardashian, Ye wrote the song "Love Lockdown," which was featured on the album 808s & Heartbreak.
In "Love Lockdown," Ye reflects on a failed relationship and the struggle of trying to make it work or let it go.
If you look at the lyrics of "Love Lockdown" from Kardashian's perspective, they could allude to the fact Kardashian felt she had to move on and Ye pleading with her not to go, telling her to lock her love down.
"One of the verses in "Love Lockdown" reads:
I'm not loving you, way I wanted to
I can't keep my cool, so I keep it true
I got something to lose, so I gotta move
I can't keep myself and still keep you too
So I keep in mind, when I'm on my own
Somewhere far from home, in the danger zone
How many times did I tell you 'fore it finally got through?
You lose, you lose
I'm not loving you, way I wanted to
See I had to go, see I had to move
No more wasting time, you can't wait for life
We're just racing time, where's the finish line?
So keep your love lockdown, your love lockdown"
Despite criticizing Kardashian online earlier this year, West has always stood by his desire to get back together with Kardashian and raise their family together.
On Super Bowl Sunday (February 13, 2022), West in a now-deleted post wrote: "HOLD YOUR SPOUSE CLOSE MAKE SURE THEY KNOW HOW MUCH YOU LOVE AND APPRECIATE THEM BECAUSE THERES A SKETE LURKING IN EVERY DIRTY A** ALLEY WAITING TO HELP DESTROY YOUR FAMILY AND WALK AROUND IN CALVIN KLEINS AROUND YOUR CHILDREN. WISH MY WIFE WAS WITH ME AND OUR CHILDREN SITTING AT THE 50 YARD LINE @kimkardashian ALWAYS REMEMBER WEST WAS YOUR BIGGEST W."
3. Knock You Down — Keri Hilson, Ne-Yo, and Kanye West (2009)
In one of the best collaborations of the 2000s, Ye, Keri Hilson, and Ne-Yo delivered the chart-topping single "Knock You Down," all about getting through a breakup and finding yourself, and love again.
In Ye's verse, he raps about losing the girl he loves, calling what they had "magic." He then goes on to share how awful he feels no longer having her in his life and how "mad" he is, stating she "should leave your boyfriend now, I'ma ask him."
In recent months, Ye has made no secret his hopes he and Kardashian would get back together and berated her relationship with Davidson.
He even rapped in the song "Eazy" with The Game, he was going to "beat" Davidson's "a**" and made a music video where a cartoon version of him, buried a cartoon version of Davidson alive, potentially alluding to his anger at his ex-wife's new relationship.
Now, Kardashian and Davidson have split, perhaps Ye will be "flyin'" again.
Some of the lyrics of "Knock You Down" are:
"What was me?
Baby, this is tragic
'Cause we had it, we was magic
I was flyin', now I'm crashin'
This is bad, real bad, Michael Jackson
Now I'm mad, real mad, Joe Jackson
You should leave your boyfriend now, I'ma ask him"
4. Blame Game (2010)
The song "Blame Game" features on the 2010 album, My Beautiful Dark Twisted Fantasy, and is one of Ye's best-known break-up songs.
In the track, Ye raps about who was responsible for a relationship ending and where it went wrong.
He repeatedly says "Lets play the blame game, love you more" and in one verse, Ye says: "Things used to be, now they not/Anything but us is who we are/Disguising ourselves as secret lovers/ We've become public enemies."
Public enemies may be an accurate description in some people's eyes, with Ye making public his feelings about his split in now-deleted social media posts.
In February 2022, West took issue with Kardashian allowing their eight-year-old daughter North to post on TikTok via an account she shares with her mom, reported The Hollywood Reporter.
In an interview with Hollywood Unlocked, West said: "My children ain't going to be on TikTok without my permission" and later took to Instagram to ask for "help" to get North West's videos removed. West's posts were later deleted.
His comments prompted Kardashian to respond via her Instagram story.
She wrote: "Divorce is difficult enough on our children and Kanye's obsession with trying to control and manipulate our situation so negatively and publicly is only causing further pain for all.
"I wish to handle all matters regarding our children privately and hopefully he can finally respond to the third attorney he has had in the last year to resolve any issues amicably."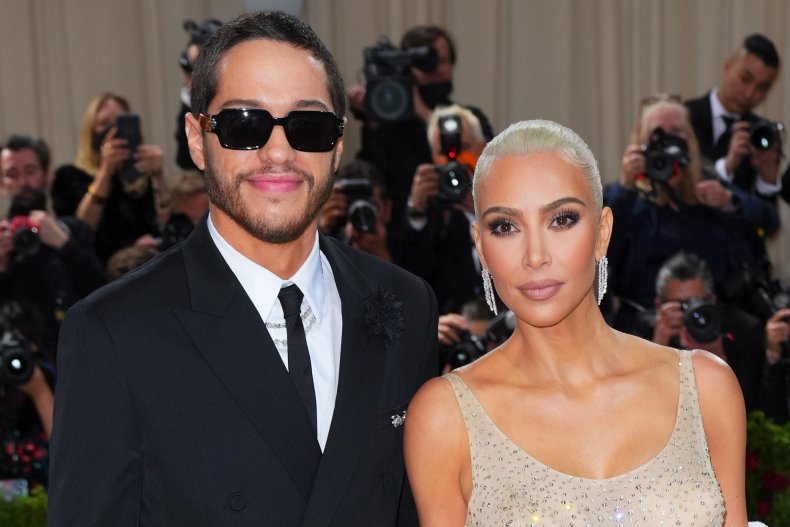 5. All of the Lights (2010)
In the Grammy-winning single "All of the Lights," a collaboration featuring Drake, John Legend, The-Dream, Alicia Keys, Fergie, Kid Cudi, Elton John, Ryan Leslie, Charlie Wilson, Tony Williams, La Roux, Alvin Fields, Ken Lewis, and most notably Rihanna, Ye raps about being replaced by another man in his own bed.
For those following the drama between Kardashian, Ye, and Davidson, you may remember when Davidson sent Ye an image of himself in Kardashian's bed and the texts were leaked online by Ye's friend, Dave Sirus.
In "All of the Lights," Ye says: "I'm heading home, I'm almost there, I'm on my way, headed up the stairs, To my surprise, a n****[expletive] replacing me."
In another verse of the song, Ye says: "Restraining order, Can't see my daughter, Her mother, brother, grandmother hate me in that order."
Back in January 2022, Ye alleged he was unable to attend his daughter Chicago's birthday. In an Instagram Story video, he wished his daughter a "public happy birthday," claiming he "was not allowed to know where his party was," reported The Independent.
He later attended the party, thanks to fellow rapper, Travis Scott reported Marie Claire.
Newsweek has contacted Ye's representatives for comment.