Kanye West Presidency Odds 'Worst Ever' Thanks to Kamala Harris Announcement
Kanye West's chances at securing the presidency are even worse since Joe Biden announced Kamala Harris as his running mate—leaving the rapper with just a 0.2 percent chance at topping the polls.
In fact, according to bookmakers, the "Jesus Is King" hitmaker's odds are now the "worst" they've ever been as the markets react to the latest political news around the upcoming presidential election.
Oddschecker spokesperson Pete Watt told Newsweek: "The betting markets reacted swiftly to the last night's announcement that Kamala Harris would be joining Joe Biden's ticket as his vice-presidential nominee, and it appears that this latest move has done Kanye West no favors."
"West's odds immediately lengthened to 500/1—the worst that they have been since he announced his candidacy—which implies just a 0.2 percent chance that he will.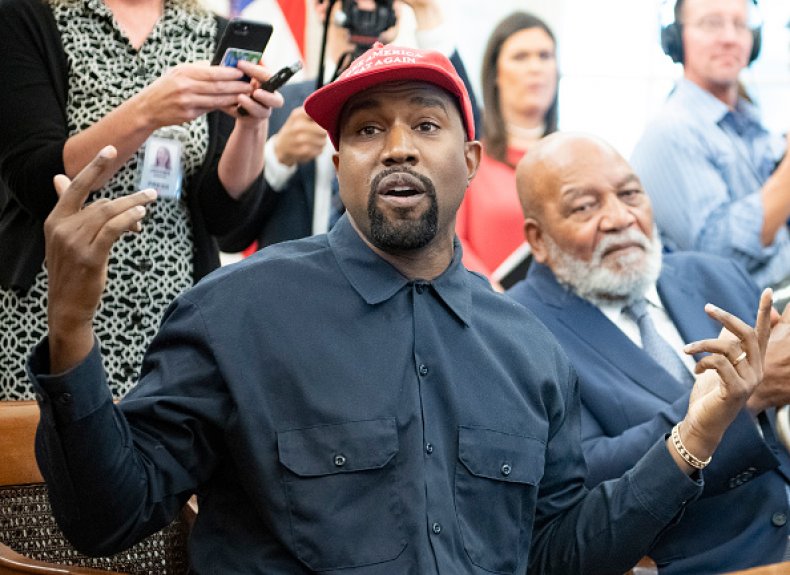 Meanwhile, the odds aggregator confirmed that Harris' odds have been slashed since yesterday's announcement.
They added: "Harris, meanwhile, saw her own odds for the top job cut from 125/1 into as short as 40/1, with oddsmakers' perhaps believing that with her VP position now official, she will likely be elevated to Presidential nominee were anything to happen to Biden between now and election day."
Beyond 2020, since Biden broke the news about his running mate, a huge 87 percent of all bets in the 2024 U.S. Presidential Election market have been on Kamala Harris.
Harris has already proven herself to be the most popular politician on the 2020 ticket among the celebrity world as everyone from Taylor Swift to LeBron James has voiced their support for the Democratic California Senator.
As this infographic from Statista shows, she is also has a high approval rating among registered Democratic voters.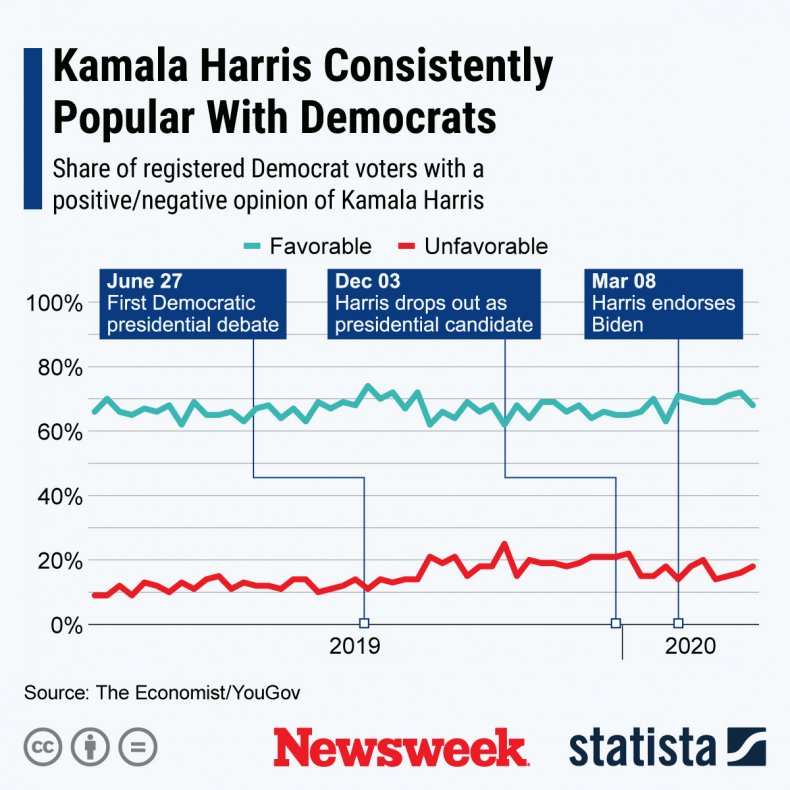 If Biden is elected in November, Harris will be the first woman vice president and first vice president of color. Harris is also only the fourth woman in U.S. history to be chosen for one of the presidential tickets.
The 55-year-old has also received crucial Twitter endorsements from Barrack Obama, former Secretary of State Hillary Clinton, and Senator Bernie Sanders.
Obama said that Harris is "more than prepared for the job" in his ringing endorsement.
The former president tweeted: "I've known Senator @KamalaHarris for a long time. She is more than prepared for the job. She's spent her career defending our Constitution and fighting for folks who need a fair shake. This is a good day for our country. Now let's go win this thing."
Meanwhile, West is currently embroiled in a fake signatures debacle in his bid for the White House.