Kanye West Suspended From Instagram for a Day Over Harassment Guidelines
Kanye West has been suspended from Instagram for 24 hours following his recent posts directed at his estranged ex-wife Kim Kardashian and her current beau, Saturday Night Live's Pete Davidson.
West fell afoul of Instagram's policy on hate speech, bullying and harassment, a Meta spokesperson told Newsweek. He's been blocked from posting, commenting and sending direct messages for a day, though the company says it may take further steps if there are any more policy violations. A number of posts have also been deleted, the spokesperson said.
On Wednesday, West made a number of posts about Kardashian and Davidson, whom West has given the derogatory nickname "Skete."
In one, West shared a screenshot of a fan's comment reading "The way Skete used Kim's marital status too address Kayne was a sneak diss towards her & she didn't even catch it."
The fan's comment was in reference to a collection of texts Davidson allegedly sent to West that went viral, depicting the comedian cracking a joke about being "in bed with your wife," telling West to "grow the f*** up" and offering to talk one-on-one about their differences. The texts were leaked by Davidson's friend, writer Dave Sirus.
In the caption, West said he worried about Davidson's drug use.
"Im really concerned that SKETE will get my kids mom hooked on drugs He's in rehab every 2 months," West wrote.
Davidson has been open about his history of marijuana use, and announced in December 2019 that he was going to rehab. The rehab trip was not for drugs, but for help with his mental health, according to an 2020 interview he did with Charlamagne Tha God. Davidson told comedian and podcaster Marc Maron in 2017 that marijuana was the only drug he used. He also told Maron he assumed his mental problems were caused by his daily use of pot until he was diagnosed with borderline personality disorder.
In a post made shortly after the one about drug use, West posted a screenshot of Sirus' Google biography.
"Come on Dave please help write some more culturally irrelevant jokes for SKETE You don't have to have talent these days you just need a Hillary Clinton tattoo," West wrote.
In another, West shared a screenshot from the "Eazy" music video where he kidnaps, buries and decapitates a claymation representation of Davidson This has a caption reading "Ya'll ready for Coachella" along with a skull-and-crossbones emoji. West is set to headline the rock festival.
Newsweek reached out to Coachella for comment.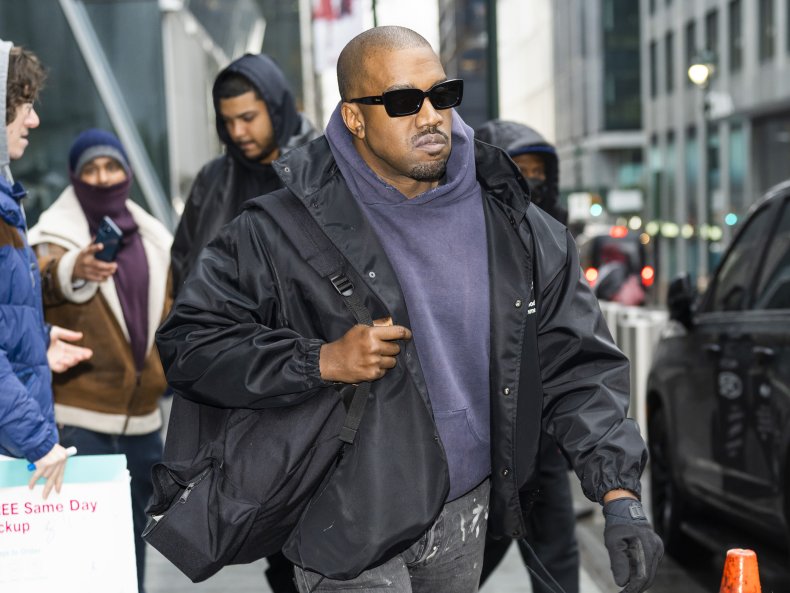 West also focused his ire on comedian D.L. Hughley in Wednesday's flurry of posts, sharing a photo of the comedian wearing a camouflage jacket, writing "This grown ass man picked this outfit out himself Is he influential or under the influence???"
He also posted a screenshot of Hughley appearing from home on The Wendy Williams Show.
"Funny thing is we'll probably end up being friends... I used to defend this [n-word] back when he had work.... Like nah he funny ... you just gotta watch it 1 trillion more times to get it," West wrote.
Earlier this month, Hughley had harsh words for West in an interview with VladTV, recorded before West released the "Eazy" video.
"I think that I've watched too many times when things like that happened and a woman or somebody is not believed. And then things escalate," Hughley said.
"He is stalking her. You can think it's cute. If it was my daughter, I'd do something about it. I don't think it's funny. I think that you can't write a beat so good that you get to do these things. And society laughs it off because they say, 'Well, she's showing her a** all the time and he's this and he's that,'" he continued. "The difference between him and a restraining order is about 20 hits and a couple of hundred million dollars. I just don't think it's funny."
Hughley added that he didn't "get what the point is of threatening" Davidson.
Earlier this week, West accused Kardashian of keeping him from seeing his four children with her, North, Saint, Chicago and Psalm. In a post where he suggested he was only allowed to see North "last week," Kardashian replied in a comment saying that he picked the kids up from school that morning.
West disputed this Monday, saying that his name had been "dragged and dropped." West says that his kids "were not allowed to go to Sunday Service yesterday and there's multiple times where the schedules were changed last minute Which alienated me as a parent which is illegal thank God."
Newsweek reached out to West's representatives for comment.