Kanye West made a not-so-subtle reference to Kim Kardashian during his surprise appearance at the 2022 BET Awards on Sunday night.
Covered head to toe in black clothing, West appeared at the awards event to honor his friend Sean "Diddy" Combs, aka Puff Daddy. While paying tribute, he made a reference to his own "life choices" and his "wife choices," which drew a laugh from the crowd, and caused a reaction on social media.
West and Kardashian broke up in 2021 and finalized their divorce earlier this year. Since their break up, Kardashian has been dating SNL actor Pete Davidson, though West has been vocal about his dislike for the comedian.
At the BET Awards, West was helping introduce Combs to the stage to present him with a Lifetime Achievement Award.
"I go to him for advice to this day," West said of Combs. "He inspires so many of my choices, so many of my life choices. My wife choices." He paused after this as the crowd in the room reacted. He jokingly added: "Thanks for that, Puff."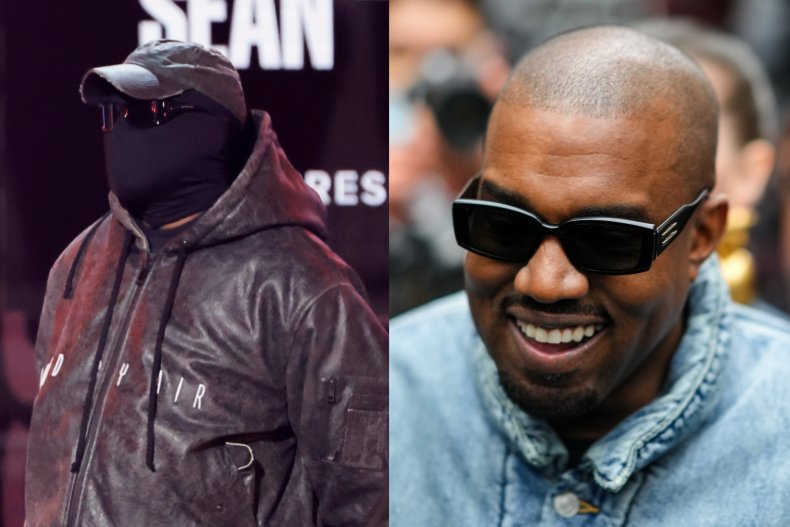 Across social media, people discussed West's comments, as well as his clothing, which covered his face and mouth.
"Kanye West lost his wife Kim Kardashian to a comedian and he became one," wrote Twitter user @dme_363.
While West has seemingly been angry at the situation in the past, making threats to Davidson in recent song lyrics, Reddit users commented on how "light-hearted" the comment seemed to be.
"Somebody said he was shading kim but it sounds like he was joking about the situation," @imsoappalled222 wrote, while @Minimum_Option6757 added: "Good to hear him joke about it it's definitely light hearted."
"Honestly, that's nice to see coming from ye. Maybe he's finally coping," @gothblessyou said. Another user on Reddit, @itsjustphe, said that both West and Kardashian have reacted to their divorce in good humor, which is a "great way of dealing with painful life situations."
While West was onstage giving his speech, his face was masked the entire time as he wore a full black mask, sunglasses, cap, coat and trousers.
His appearance was mocked in some corners of social media while others commented on how he sounded out of breath while talking. They attributed this to how hot he must have been under all that clothing.
"I can hear Kanye literally fighting to breathe through that mask," wrote @maniseptum, adding a crying face emoji. Other Twitter users suggested he was breathing like Darth Vader in his speech.
West spoke for over five minutes during the tribute to Combs at the BET Awards. He addressed his recent hiatus, stating that while he wanted to be off the grid for a year, "Puff is pretty persistent."
"Like I should never have Puff have to ever call more than one time," West said, addressing his tough year. "Any of us in this room if Puff ever need us, we need to jump and be there. This man has been through, survived a lot of stuff and broke down a lot of doors so we can be standing."
West continued: "He broke down so many doors of classism, taste, swag. Puff, if I never told you I love you, you're my brother."