Kari Lake Claims New Evidence of Arizona Voter Fraud Found: 'Wow'
Republican Kari Lake, who lost November's Arizona gubernatorial election but is continuing to insist the contest was rigged against her, claimed that in Maricopa County, "not a single tabulator" was up to "Election Assistance Commission standards" on polling day.
Lake lost to Democrat Katie Hobbs by 17,000 votes, with Hobbs sworn into office this month. But Lake, a staunch supporter of former President Donald Trump, is refusing to concede defeat, despite her claims of electoral fraud being dismissed by a Maricopa County judge.
On Wednesday Lake tweeted a video of political ally Shelby Busch, who chairs the 'We the People AZ Alliance," appearing on Steve Bannon's War Room podcast.
In the video, Busch claimed that she analyzed the "system log files" for election tabulators, which help count the ballots.
"Tabulators are not to exceed an error rate of .002, or 1 in 500 ballots," she said, referring to the Election Assistance Commission (EAC) standard. "On Election Day, Maricopa County used 476 tabulators. Not one of them met EAC standard. As a matter of fact, they averaged 235 times the EAC standard. Rejecting over 1/4 of a million ballots."
As well as retweeting the video, Lake wrote: "WOW Shelby Busch went through the system log files for the machines in Maricopa County, and found that not a single tabulator met standards on Election Day. NOT ONE."
Election integrity in Arizona is the responsibility of the Arizona Secretary of State. This post had been occupied by Adrian Fontes since 2022, but was formerly held by Hobbs.
When asked for comment, Fontes office sent Newsweek a tweet from Fontes, in which he said: "The 2022 election was unequivocally fair and accurate. As Secretary of State, I take my duty to inform the public about our election systems seriously, especially when false accusations are made."
Newsweek also reached out to Lake's team, asking for proof that no Maricopa County tabulator met the required standard, along with the Election Assistance Commission.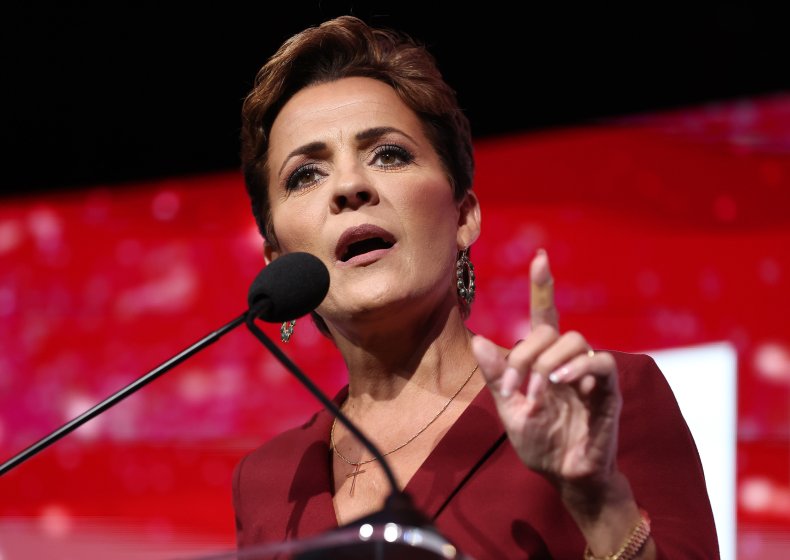 In December, Maricopa County Superior Court Judge Peter Thompson rejected Lake's claims of electoral misconduct after she filed a civil case against Hobbs and a number of local election officials.
"Every single witness before the Court disclaimed any personal knowledge of such misconduct," he said. "The Court cannot accept speculation or conjecture in place of clear and convincing evidence."
Lake immediately announced that she would appeal, though she was unsuccessful in a bid to have the case fast-tracked to the Arizona Supreme Court.
According to the Campaign Legal Center, a nonprofit that says it fights for "democracy through law," voting machines are a more reliable way of counting ballots than humans working by hand.
"Embracing false narratives and relying on disinformation about the integrity of our country's electoral system, partisan actors across the country have pushed to make hand counting the primary method of tabulating ballots this November," it said.
"Hand counting ballots is neither fast nor accurate. As the Bipartisan Policy Center has noted, people are inferior to machines 'at completing rote, repetitive tasks.' Replacing voting machines with hand counts as the main way of counting votes would weaken the electoral system by introducing a greater degree of human error into the process."
Update 1/27/23 3:30 a.m. ET: This story has been updated with a statement from Arizona Secretary of State Adrian Fontes.