Kari Lake, Who Demanded Mail-in Voting Be Banned, Now Urges People Use It
Trump-backed candidate for Arizona's governor, Kari Lake, is urging voters in the state to quickly fill in and send through the mail-in ballots, an unexpected appeal from a politician who has tried to outlaw early voting, including mail-in ballots.
"Arizona, If you have a Mail-In Ballot, fill it out and Mail it in ASAP," Lake wrote on Twitter on Tuesday. "I've talked to True the Vote election experts--they say the US MAIL is the safest way to be sure your Mail-In vote is counted--Not the drop boxes. FILL IT OUT & MAIL IT OUT NOW. Let's win this!"
While some of her supporters cheered for her and pledged their allegiance to the Republican Arizona candidate, others were baffled that she would ever encourage mail-in ballots after completely discrediting them after the 2020 presidential election.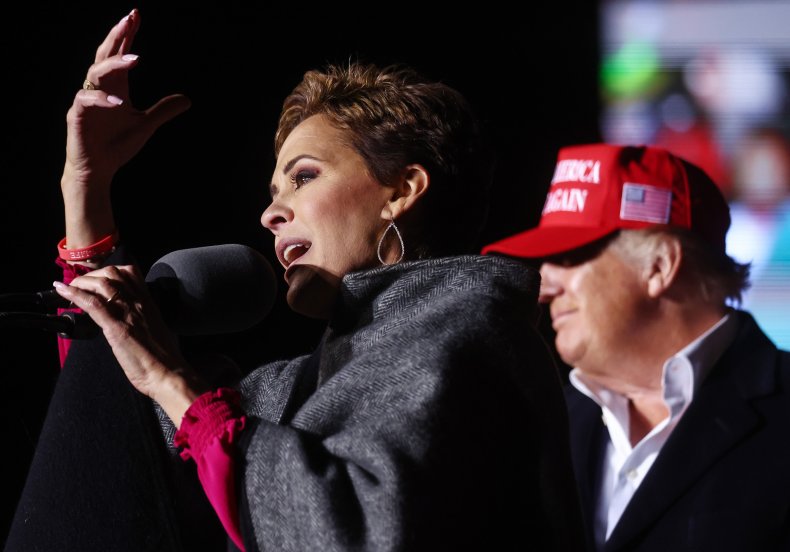 "I'm not mailing a ballot ever again. I'll take the day off to vote in person after 2020, everyone else should too if they're able," wrote one Twitter user.
"Trump said it was voter fraud," wrote another. "The postal service was in on the latest scam," responded another, proving that the false narrative spread by Donald Trump and his supporters in the aftermath of the 2020 presidential election left a deep mark on what many voters believe.
In this particular case, it looks like Lake's support of Trump's Big Lie is now playing against her own bid to receive votes.
Lake, a former news anchor in Phoenix who presents herself as "a product of The New Right," is a longtime supporter of the conspiracy theory that alleged voter fraud in the 2020 presidential election. She has made several claims to support the false theory that the presidential election had been rigged during her gubernatorial campaign.
"He lost the election, and he shouldn't be in the White House," she said of now-President Joe Biden.
Lake said she would have not certified Biden's victory in Arizona had she been governor in 2020, even after the GOP-backed audit upheld the results. Talking of the 2020 election, she said that there were "serious irregularities and problems."
Biden's win was certified by Republican Governor Doug Ducey, who recently told CNN he did not endorse Lake, but backed candidate Karrin Taylor Robson instead.
She even described her rival candidate's refusal to say that the election had been "stolen" as "disqualifying" and "sickening."
Earlier this year, Lake—together with Trump-backed Republican Arizona state Representative Mark Finchem—filed a lawsuit against the state of Arizona trying to bar the use of tabulation equipment in the 2022 midterm election.
"We know that they are not secure, they are not transparent and they've been used to manipulate the vote," Lake said on KTAR News 92.3 FM's The Mike Broomhead Show.
There is no evidence, though, that mail-in ballots were used unlawfully during the 2020 presidential election.
Recent polls show Lake leading the race among GOP candidates, with 47.6 percent of projected votes over the 42.9 percent of Robson, according to Race to the WH. Other candidates Scott Neely and Paola Tulliani-Zen are projected to get respectively only 4.4 and 5.1 percent of the votes.
The Arizona GOP leadership appears positioned against Lake, as is former Vice President Mike Pence, who once again is breaking with Trump by endorsing another candidate over Trump's pick, Robson.