Kari Lake Might Have Finally Given up Her Hopes of Becoming Governor
Arizona Republican Kari Lake is reportedly considering running in 2024 for the state's Senate seat held by incumbent Kyrsten Sinema, despite saying she has not given up on overturning the result of the gubernatorial election won by Democrat Katie Hobbs last November.
The announcement was made by CNN reporter Kate Sullivan, who wrote on Twitter about being told that "Kari Lake is considering running for the US Senate seat held by Kyrsten Sinema in 2024."
Lake has not confirmed nor denied Sullivan's reporting, but a Twitter profile that claims to act as the official campaign account for the Arizona Republican, Kari Lake War Room, wrote that the reporter got it wrong.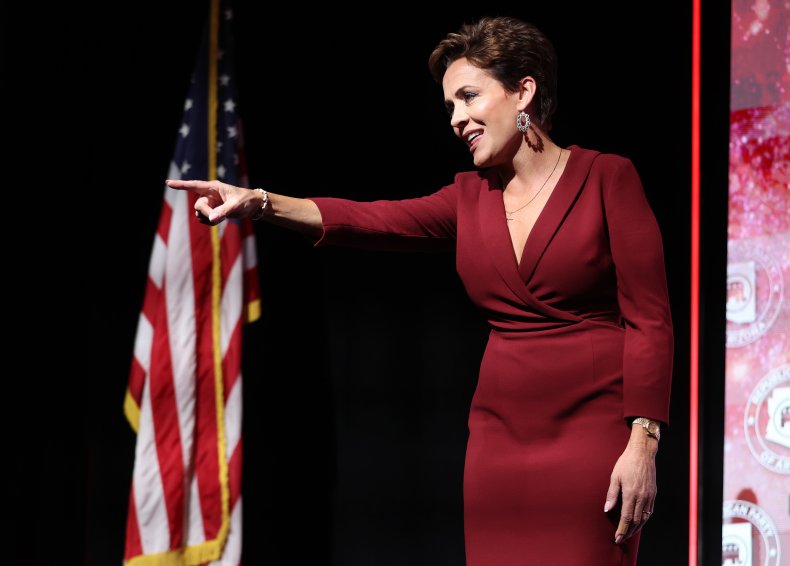 "You want a real story,@KateSullivanDC? Talk to @katiehobbs's camp about HER desire to run for Senate in 2024," Kari Lake War Room tweeted, saying that it's Hobbs, not Lake, who will run for the Sinema's Senate seat in 2024.
"Lotta good drama between Hobbs and Sinema. Katie has always viewed this selection as a stepping stone for Senate," reads another tweet from the account.
On the same day, CNN reporter Kyung Lah wrote that sources told Sullivan that Lake "will not make a final decision on whether to run for Senate until after her court case is completed. Source said 'lots of folks are reaching out' to Lake about running."
If Lake were to run for the Senate seat that Sinema—a former Democrat turned independent in December last year—has held since 2019, her candidacy would represent an implicit recognition of her defeat during the November midterms in 2022.
Lake, who ran for the role of Arizona's governor with Donald Trump's endorsement, lost by more than 17,000 votes to her rival Hobbs, but still refused to concede. Instead, she legally challenged the result of the election, saying that there had been problems with ballot printers at polling stations in Maricopa County on voting day, November 8, 2022.
After her case was thrown out of court by a Maricopa County judge, Lake petitioned both the Arizona Appeals Court and Supreme Court. While the latter denied her case, the Court of Appeals is expected to hear it on February 1.
Despite Hobbs already taking the oath of office, Lake has not yet abandoned her attempts to overturn the midterms' result, even though she has so far failed to provide evidence backing her claims that there were irregularities on election day.
Newsweek reached out to Lake's team for comment.