Kari Lake Speaks Out About Possibly Becoming Donald Trump's Vice President
Defeated Arizona gubernatorial candidate Kari Lake is emerging as one of the party's early favorites to become the Republican nominee for vice president, alongside presidential candidate Donald Trump, in 2024.
Over the weekend at the Conservative Action Political Conference (CPAC), Lake was the clear favorite at the annual gathering of party influencers, winning one-fifth of the vote in a straw poll of 28 candidates weighing whom attendees would most like to see elected to the No. 2 slot in the White House in 2024. Trump also polled at the top as a presidential candidate.
However, Lake, who is still contesting her loss to Democrat Katie Hobbs in the Arizona governor's race in November, said she would be constitutionally unable to take the job, even if she wanted to. By the time 2024 rolls around, she said, she'll be too busy with her position as Arizona's governor.
"We're flattered," her campaign tweeted on Saturday, "but unfortunately our legal team says the Constitution won't allow for her to serve as Governor and VP at the same time."
Lake, who has refused to acknowledge her defeat in the 2022 election amid unproven allegations of election fraud, has appeared to have been flirting with national office in the months since, including making a trip to the early-voting state of Iowa amid talk she might pursue national office in 2024—including vice president.
While Lake has hinted that she could run for Senate if she doesn't get a "decent ruling" in an ongoing lawsuit to overturn the election, she previously said she is "focused 100 percent" on her legal appeal, which she said could go "all the way to the Supreme Court" on the heels of a string of legal setbacks in Arizona.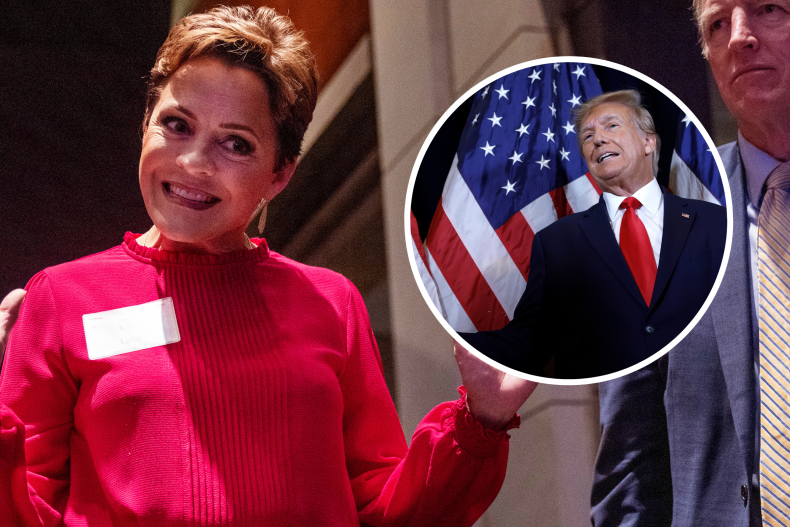 At this point, all of Lake's lawsuits have been unsuccessful, largely due to her legal team's inability to produce tangible proof of fraud that could have impacted the result.
It's not hard to imagine the Trump ally on a hypothetical 2024 presidential ticket with the stamp of approval of the CPAC crowd, although she said in February that she's not running.
"I really believe [Trump's] policies are the ones that can help save this country, truly," Lake told the Des Moines Register last month. "And so I'm going to do whatever I can. If he wants me to help him in any way, shape or form, I will do that. I will campaign for him. I'll do whatever I need to. But I'm not running for VP. I'm not running for president. I am just running to save America, if there's such a thing. I just want to save America."
Newsweek reached out to Lake's team for comment.