Kari Lake Vows Election Lawsuit Going 'All the Way' to State Supreme Court
Kari Lake, the defeated Republican gubernatorial candidate of Arizona, said on Wednesday that her attorneys are poised to take the next steps in her election misconduct lawsuit, with the chance of sending her case "all the way" to the Arizona Supreme Court.
Lake said during an interview with Jovan Hutton Pulitzer that she and her legal team were examining options to proceed with the case, which includes taking it to the state Supreme Court or asking for a new trial in which they can present all 10 counts she originally cited in her lawsuit.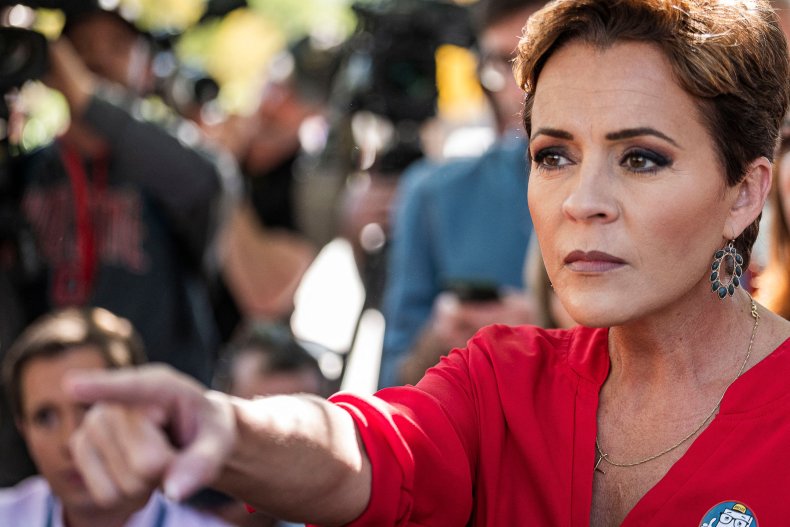 "[It] could be a remedy to give us a new trial. I would be happy with that. I want people to know what happened ... and we're going to move it all the way to the Supreme Court. It's going there anyways, we'd love to see it just go there rather than have to go to the appellate court. Whatever happens, either side will move it up to the Supreme Court," she said.
Lake, who refuses to accept that she lost Arizona's 2022 governorship race to Democratic candidate Katie Hobbs, filed a civil case in December against Hobbs and some Maricopa County election officials in the county's Superior Court. Hobbs won the election by 17,000 votes.
Judge Peter Thompson ruled against Lake, saying: "Every single witness before the Court disclaimed any personal knowledge of such misconduct. The Court cannot accept speculation or conjecture in place of clear and convincing evidence."
The former Republican candidate, a staunch supporter of ex-President Donald Trump, has repeatedly claimed that the 2020 presidential election was rigged. The court ordered her to pay $33,040 to Hobbs for witness fees.
Lake immediately announced she would appeal the decision, but an effort to have this expedited to the Arizona Supreme Court was subsequently rejected.
The Republican still insists that the Arizona 2022 gubernatorial race was rigged against her. On Monday, she claimed that "nearly 1/4 of a million voting attempts" failed in the state on Election Day.
"Very legal and factual ruling is what we're looking for with these appellate judges. If they go to what the standard is, we should win. So we're asking them to look at the standard we were held to and either rule that I'm the winner, or redo the election or actually throw out Maricopa County, which is a precedent," Lake said on Wednesday.
Talking on Wednesday about her continual effort to challenge the state's election results, Lake said that she wants people in Arizona to see what happened in the election.
"I really want the people of Arizona to see everything. I want the people of this country to see everything. I want them to see all 10 counts in a court of law with our lawsuit so they can see with their own eyes what happened [and] how disgusting our elections are being run."
Newsweek has reached out to Lake's press team and attorney Bryan Blehm.