Karl Rove: Brett Kavanaugh Was Central to All Policy Decisions in Bush White House
Karl Rove has said that Brett Kavanaugh, President Donald Trump's nominee for the Supreme Court, was at the heart of the George W. Bush administration in shaping White House policy.
Rove, the former deputy chief of staff to President George W. Bush, appeared on Fox Business's Cavuto Coast to Coast to praise Trump's selection to replace the retiring Associate Justice Anthony Kennedy on the U.S.'s highest court.
Kavanaugh, 53, has served as a judge on the the D.C. Circuit of the U.S. Court of Appeals since 2006. Before that he spent five years working for the Bush administration. He has also taught at Yale Law School—from which he graduated—as well as Harvard and Georgetown.
"I remember at the White House, he had a very difficult job. He was called the staff secretary, now nobody knows really what that job is and sort of underplay it," Rove, a Republican strategist, said of Kavanaugh during the show on Monday night.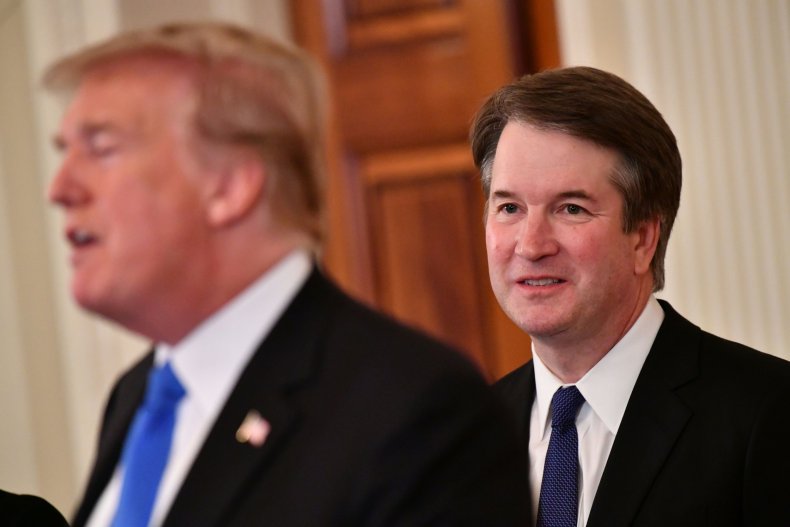 "But literally every document that goes to the president on a policy issue has to pass through the hands of the staff secretary and he has to be the person who asks people tough questions about what they are trying to say in that document and helps edit it.
"And many a time I heard somebody say, you know what, Brett Kavanaugh, his edits made my arguments stronger and better, and they had no idea what his personal views were but he understood what theirs were and crystalized it."
Kavanaugh did not immediately respond to a request for comment.
Former President Bush, who served two terms from 2001 to 2009, released a statement on Kavanaugh's nomination. "President Trump has made an outstanding decision in nominating Judge Brett Kavanaugh to the Supreme Court," Bush said.
"Brett is a brilliant jurist who has faithfully applied the Constitution and laws throughout his 12 years on the D.C. Circuit. He is a fine husband, father, and friend—and a man of the highest integrity. He will make a superb Justice of the Supreme Court of the United States."
Democrats fear Kavanaugh will tilt the balance of the nine-member Court in a more conservative direction and put several precedents at risk, such as the landmark ruling in Roe v. Wade, which established a woman's right to an abortion, and the decision on the use of affirmative action in college admissions.
The American Civil Liberties Union is demanding to know Kavanaugh's position on Roe v. Wade. Kennedy had voted to uphold the abortion ruling. "If confirmed, Kavanaugh could be the decisive vote the president needs to ensure that his concerted campaign to undermine civil liberties and civil rights has long-term impact," the ACLU tweeted.
The Senate will now vote on Kavanaugh's nomination. There is a 51-49 split in favor of Republicans, suggesting Kavanaugh will likely be confirmed as Kennedy's replacement, though not without a fight. Some GOP senators are concerned about the potential upending of Roe v.. Wade.
Senator Susan Collins of Maine, has publicly stated she would not vote to confirm a Supreme Court nominee who threatens to upend Roe v. Wade.
"What matters is not a judge's political views, but whether they can set aside those views to do what the law and constitution require," Trump said in a speech unveiling Kavanaugh as his nominee. "I am pleased to say that I have found, without doubt, such a person."