Kate Middleton Exudes Vintage Royal Glamor at Prince Philip Memorial
Kate Middleton attended the service of thanksgiving for the life of Prince Philip on Tuesday wearing a monochrome polka dot midi dress by designer Alessandra Rich.
The duchess evoked the glamorous fashions of royals past with a large brimmed hat, black accessories and diamond and pearl drop earrings from the collection of Princess Diana. The outfit formed a part of Kate's developing style through which she pays tributes to people and places.
Kate appeared at the service with Prince William and their two children Prince George, 8, and Princess Charlotte, 6. The Cambridge's youngest son Prince Louis, 3, was left at home.
The event marked an important milestone for George as it was the first time he appeared publicly at Westminster Abbey, the site of royal coronations.
The outfit Kate wore for the occasion followed a vintage line of day dress popular in the 1980s with members of the royal family such as Princess Diana, Princess Margaret and Queen Elizabeth II. It is not Kate's only purchase from the British based brand.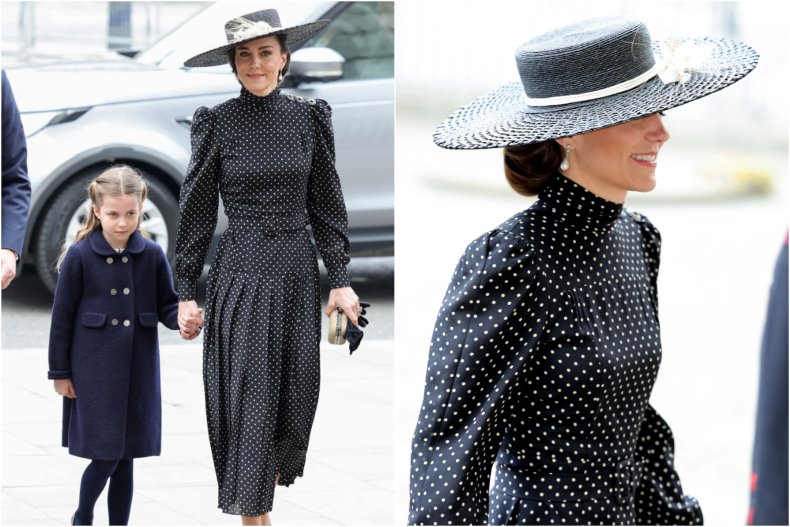 On Saturday the duchess wore a yellow printed Alessandra Rich midi dress as she left the Bahamas on the final stage of a Caribbean tour undertaken with Prince William. The dress bore striking similarities to one worn by Diana in the 1980s and was a touching tribute to Kate's late mother-in-law.
Another of Kate's Alessandra Rich dresses resembles one of Diana's even more so than the Bahamas outfit. In 2019, the duchess wore a blue and white polka dot dress with a statement white collar which had become one of the most popular designs from the brand that season. The '80s line and collar was worn by Diana in a series of photographs taken at Kensington Palace in 1985.
For her hat, Kate chose the Mayer boater style from London based hatters Lock & Co. The design has been slightly altered for the royal to incorporate a twisted straw bow detail and white feathers. This style of hat was popular with royal women during the Edwardian period.
During the 1920s, though, large wide brimmed hats fell out of fashion and small hats became the norm. This was adopted by royal women who, for a number of years, held fast to the belief that their faces should be visible from every angle in a crowd and not shaded by a large brim. The queen herself still keeps this idea in mind and never wears large hats which prevent her from being seen.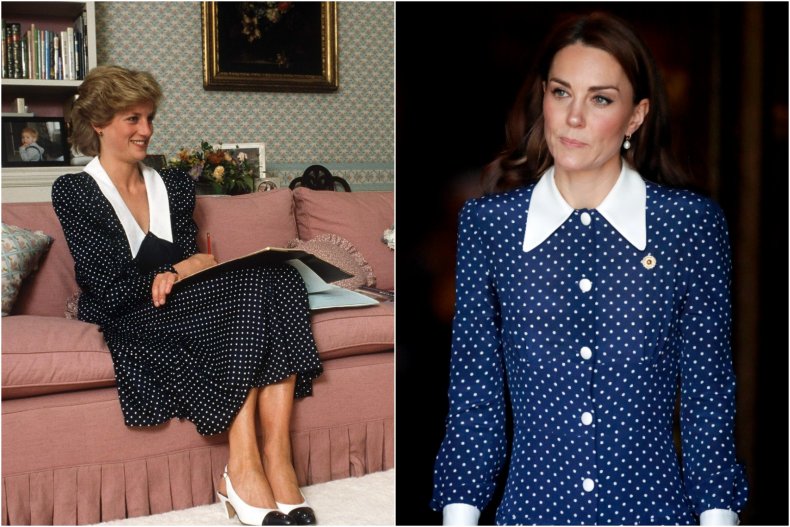 Kate's hat framed her face well and highlighted the earrings she wore, which are heirlooms inherited from Diana.
Known as the "Collingwood Earrings," Diana received them as a wedding present from the jewelry house in 1981. They soon became a part of the princess' working wardrobe and she wore them throughout her marriage in combination with other pearl pieces in her collection.
Kate began to wear the earrings after her marriage and touchingly has worn them to family events at which Diana is unable to be present. In 2019, Kate wore the Collingwood earrings to the christening of Prince Harry's first child, Archie Harrison, held at Windsor Castle.
The earrings were also worn to the 70th wedding anniversary dinner for the queen and Prince Philip—it is touching then, that she should choose to wear them to his memorial service.
Throughout her years as a member of the royal family, Kate has learned and understood the art of dressing to convey a message or to pay tribute. This was never so evident as during her recent tour of the Caribbean, where at each stop she arrived in an outfit made up of the color of her host nation's flag.
Kate's elegant monochrome outfit, evoking the royal glamor of yesteryear, is a fitting tribute to the prince who, born in 1921, became Britain's longest serving royal consort and died just weeks shy of his 100th birthday in April 2021.