Kate Middleton paid a special tribute to Princess Diana in the final outfit of her Caribbean tour with Prince William on Saturday.
The royal appeared at the Bahamas Lynden Pindling International Airport in Nassau wearing a yellow belted floral print silk-jacquard peplum midi dress and white accessories. The off-the-rack dress was designed by Alessandra Rich, a creative known for her bold use of print and classic 1980s inspired silhouettes.
Kate's choice of outfit formed a subtle yet touching tribute to her late mother-in-law, as it closely echoed a dress worn by Diana during a royal tour of Australia in 1988.
Diana's dress was made by Irish designer Paul Costello and she was famously photographed wearing it on a visit to Terrigal Beach in New South Wales with Prince Charles while presenting an award to a group of lifeguards.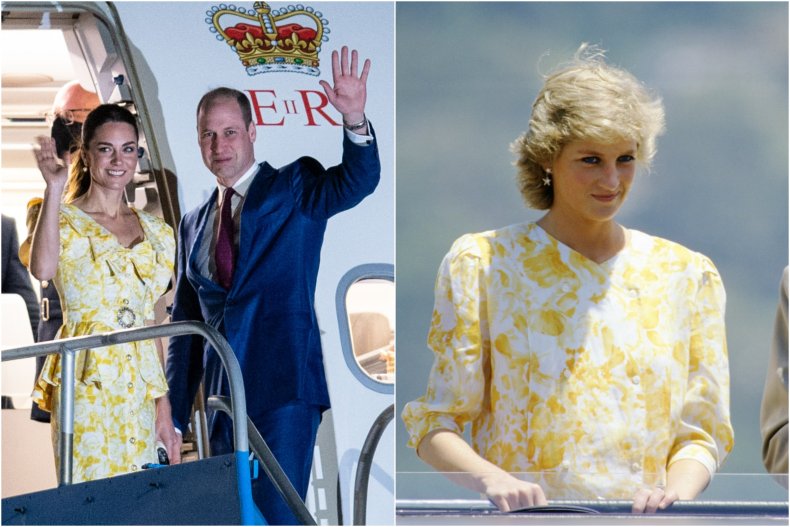 The tribute to Diana came only a day after Prince William evoked memories of family holidays with his mother in a speech given at the governor general's reception in Nassau.
Speaking to the assembled crowd William said: "This is not my first time in The Bahamas. I came here with my mother as a child. Snorkelling around the James Bond wrecks off Nassau left me with the most vivid memory of your beautiful blue waters. For a young boy, obsessed with 007, it was the best holiday ever."
Both William and Kate made Diana a part of a Caribbean tour that saw them visit Belize, Jamaica and the Bahamas over eight days. The tour wasn't without difficulties, with discussions in their host nations of removing the monarch as head of state and also multiple protests demanding that the royals apologise for their ancestors' role in slavery and engage in conversations about reparations.
Another issue that arose was the potential reaction in the Caribbean to claims made by Prince Harry and Meghan Markle in their bombshell 2021 interview with Oprah Winfrey that they had allegedly experienced racism at the hand of an unnamed member of the royal family.
William's mentioning of a fondly remembered holiday with his brother Harry and Diana to the Bahamas in 1993 wasn't the only reference to the Duke of Sussex paid during the tour. On a visit to a Garifuna festival in Belize where the royals were encouraged to let loose and dance, William was quoted in People as saying that "Harry's not self-conscious" when it comes to dancing.
For her part, Kate's way of including her mother-in-law in her day-to-day life is often through subtle nods in her fashion or by wearing pieces of jewelry that had formed part of the late princess's collection.
On her arrival at the first stop of the tour, in Belize, Kate wore a set of diamond and sapphire jewels that reportedly belonged to Diana, and on a visit to a military ceremony in Jamaica, the Duchess wore a diamond and pearl bracelet that Diana wore from the late 1980s until her death.
Kate's yellow Bahamas farewell dress isn't the first Alessandra Rich design that the duchess has worn—she owns at least five others, including a blue and white spotted day dress with statement white collar also owned by Meghan Markle's Suits co-star Abigail Spencer, who wore it to her friend's Windsor Castle wedding in 2018.
William and Kate's royal Caribbean tour formed a part of the Platinum Jubilee celebrations for Queen Elizabeth II and ended on Saturday evening in the Bahamas.