Jewelry forms a part of the working uniform for royal women and has done so for centuries. In the modern age, fantastical displays of conspicuous wealth in the form of glittering diamonds and endless ropes of pearls are inappropriate.
Modern princesses use their jewelry in a way that can pay homage to people or places, commemorate events or simply mark a sentimental attachment. No princess utilized her jewels to this end better than Princess Diana and she set an example which is being followed by her daughter-in-law Kate Middleton today.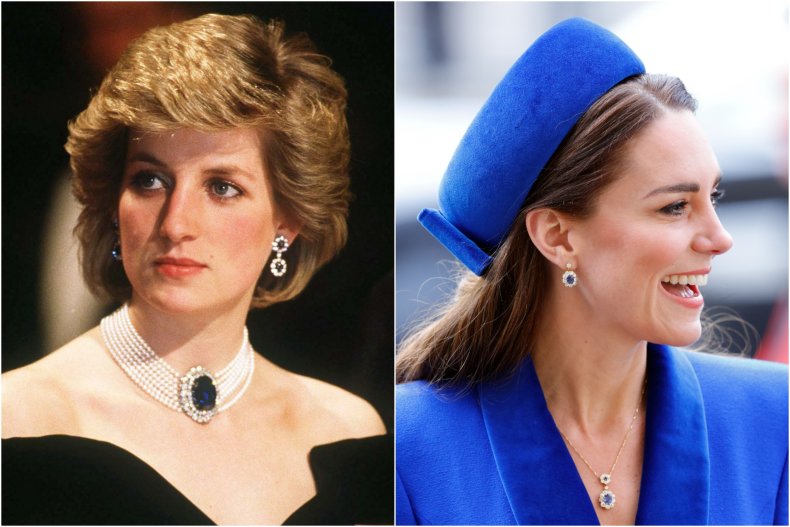 At the Commonwealth Day service at Westminster Abbey on Monday, Kate wore a collection of small sapphire and diamond jewels in the form of a necklace pendant and earrings. The set is said to have been a wedding gift from Prince William and comprised of pieces formerly in the collection of his mother. The earrings had, according to reports, originally been Diana's double-drop sapphire earrings which she wore regularly from her marriage until the end of her life. Kate dons the earrings altered as single studs with a pendant.
Kate wearing this set generated headlines after the service as it was noted she wore them to meet Ukrainian President Volodymyr Zelensky and his wife, Olena, at Buckingham Palace in 2020.
Kate has been seen to show her support for Ukraine numerous times since the invasion of the country by Russia on February 24. This subtle homage paid through jewelry is typical of Kate's use of soft power to convey a message, the very same power that became synonymous with Diana.
Like Diana, Kate's signature jewels have become her sapphires. A lover of the color blue from clothes to interiors, Kate was given Diana's sapphire and diamond engagement ring by William when he proposed.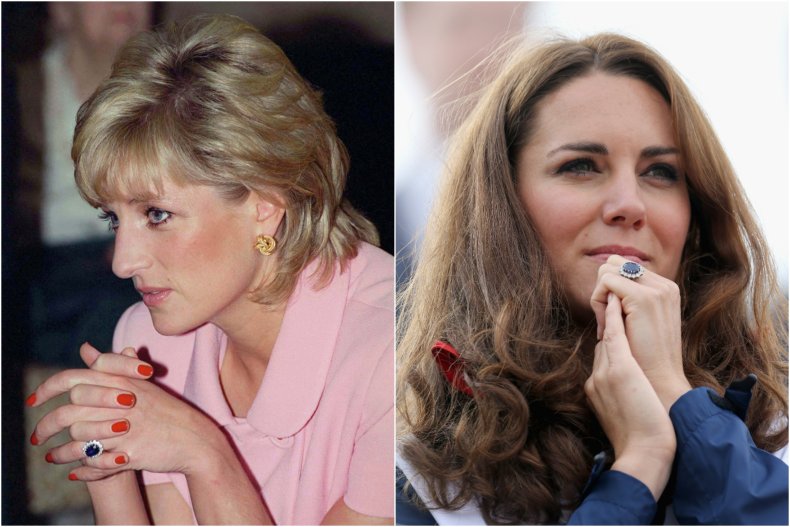 The ring was one of Diana's most prized possessions and on the day that her divorce was announced Diana was spotted still wearing the ring—reportedly reluctant to take it off as it meant so much to her.
Diana attached sentiment to her jewels that far outweighed their intrinsic value. Second to her engagement ring, Diana's most valued piece was a simple charm bracelet, which had been given to her as a present by Prince Charles. Each year, Charles would add a charm to the bracelet for their anniversary including a solid gold W and H for their two sons, a pair of ballet slippers and a gold X to mark 10 years of marriage. Diana wore the bracelet privately until her divorce.
Kate uses jewels much in the same way, to show an outward sign of affect for those whom they represent. One of Kate's most treasured pieces is a simple gold chain necklace with three charms bearing the initials of her three children: George, 8, Charlotte, 6, and Louis, 3.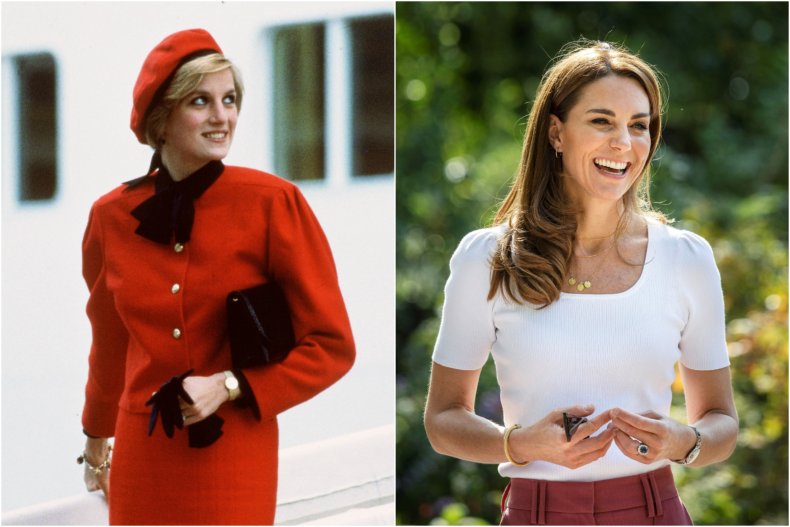 Though today, the memorialized image of Diana is of the simple and down-to-earth princess, she importantly knew how and when to create impact. One of the key ways she did this was through her jewelry.
As a member of the royal family, Diana was given many jewels by her husband, his family and other royal families around the world. When she needed to create the imperial image of a princess at an important state occasion or a royal charity event, Diana leant back on the majesty of a tiara to help her.
Throughout her married life, Diana had two tiaras at her disposal. One was a wedding present from the queen and the other, belonging to her own family, was loaned to her by her father.
When Earl Spencer died and his son, Diana's brother, inherited the title he reportedly asked for the tiara to be returned. And, when Diana's divorce was finalized, she was compelled to return the queen's tiara as it had also been a loan. It was reported at the time however, that the queen would loan Diana a tiara when she attended royal events after the divorce.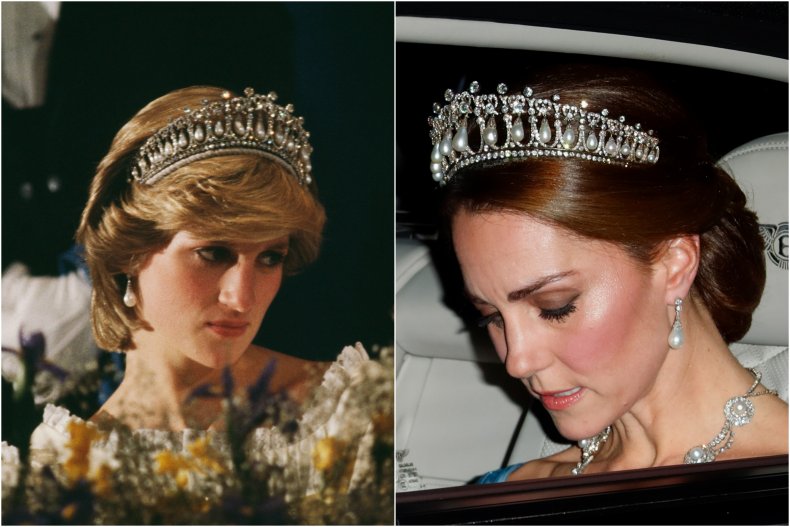 Kate rarely has to wear a tiara, but when she does, it appears as a touching tribute to Diana and the masterful way she utilized her jewels throughout her married life.
In 2015, Kate wore the diamond and pearl tiara, which had been the queen's wedding present to Diana, while attending a Buckingham Palace reception. The piece of jewelry hadn't been seen since Diana's death.
Over the decade of her royal life, Kate has learned from, utilized and paid tribute to Diana in a multitude of ways, none so touching as by keeping her mother-in-law, through jewelry, close to her heart, her head and her hand.