Kate Middleton's BAFTA Gloves Were Risky but 'Avant-Garde': 'Fashion Icon'
Kate Middleton made a show-stopping appearance on the BAFTA red carpet Sunday night alongside Prince William. The royal wore a classic princess-like evening gown with a polarizing avant-garde twist. It cemented her status as an "enduring international fashion icon," an expert told Newsweek.
Britain's new Princess of Wales attended the 76th British Academy Film Awards after a two-year absence, alongside BAFTA president William at London's Royal Festival Hall.
After nominated stars Angela Bassett, Austin Butler and Michelle Yeoh made their red-carpet appearances, William and Kate entered. The princess had on an altered version of the Alexander McQueen white floor-length evening gown she wore to the event in 2019.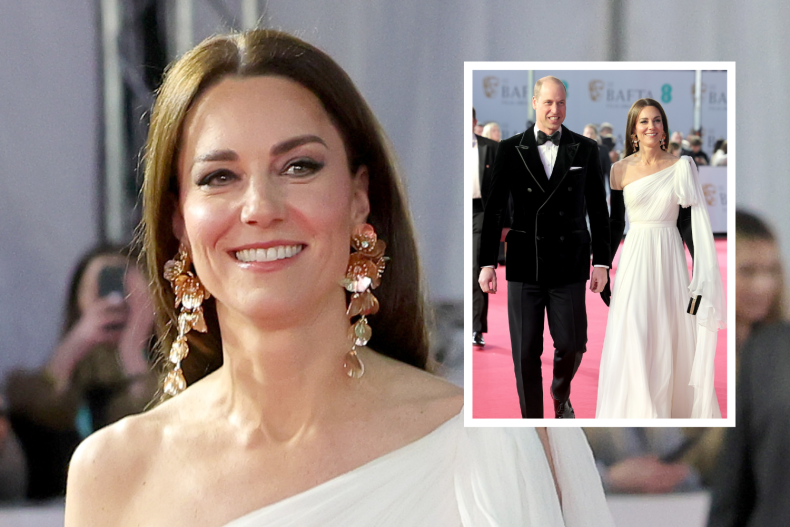 Kate's dress, with layers of diaphanous chiffon pleated asymmetrically on the bodice, featured a trailing bow detail at the shoulder, where, in 2019, a rosette arrangement had been applied.
The royal modernized the classic look with a pair of statement black opera gloves. They were accompanied by a pair of $30 oversized earrings from the fashion retailer Zara.
The overall look, combining traditional royal style with an updated modern twist, secures Kate's fashion-icon status, according to royal fashion expert and celebrity stylist, Miranda Holder. She told Newsweek that the princess had managed to update what could have been a "very soft and feminine look into something far more sultry."
The gloves, however, may have proved a rare fashion risk too far for the usually staid princess. Australian author Danielle Binks was among the many Twitter users who voiced their views on the statement, pointedly stating their belief that it "ages" the royal.
"Look, Kate is undeniably *stunning* - so who is dressing her in this confused, fuddy-duddy way?! Those gloves are atrocious! This whole outfit ages her, it's so confused," Binks tweeted.
This view was not shared by Holder. "Kate positively floated down the red carpet in a dreamy white Alexander McQueen creation," she said, though she added that the gown "held little surprises in terms of silhouette."
"Kate was true to form, accentuating her slender waist with a belt, the softly billowing A line balancing out her slightly broader shoulders, and all the 'fashion action' happening on her top half as usual," Holder added.
"For this occasion, the princess selected a striking asymmetrical shape, showing off her delicate décolletage, her hair simply swept neatly off her shoulders for full effect. This is, however, where the 'traditional' Kate Middleton ended."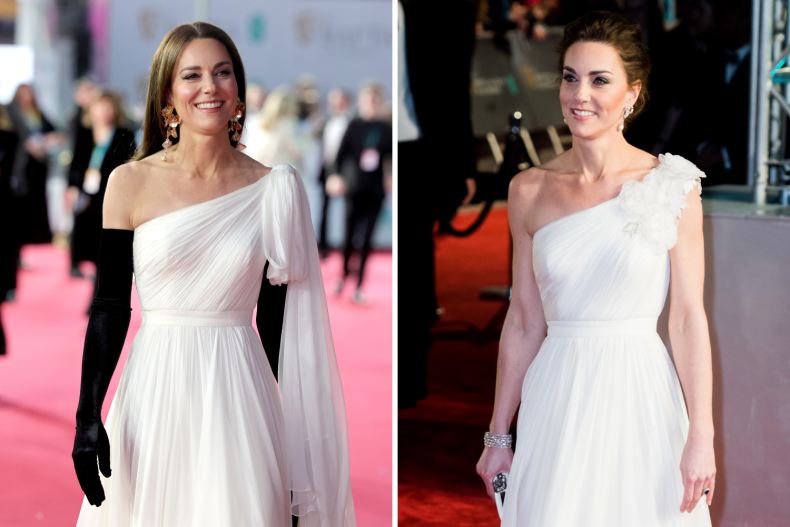 For Holder, it was the royal's choice of earrings that showed her flexibility when it comes to fashion, combining high- and low-budget pieces for an overall statement look.
"Proof once again that Kate's innate elegance has the power to make the most inexpensive of details look luxurious, and a genius move on the part of her stylist at keeping the princess's style just on the right side of attainable for her many fans," Holder said.
However, it was the decision to overhaul the frothy white chiffon look with the pair of long black gloves that had the most impact on the red carpet, according to Holder.
"These not only elevated what could have been a very soft and feminine look into something far more sultry, the monochrome effect perfectly complementing the all-black outfit of Prince William as they walked past the rows of paparazzi," said Holder, "but the decision to employ one of the more avant-garde trends from the fashion world (opera gloves, despite being all over the runways, have not really filtered down to the mainstream) firmly reinforces Kate's status as an enduring international fashion icon." Holder added: "With perfect timing, as this season of London Fashion Week draws to a close."
This is not the first time that Kate has worn McQueen to the BAFTAs. It appears to be her go-to label for the event, wearing the fashion house's creations four out of the five times she has attended.
The princess has a long-established relationship with the house and its lead designer Sarah Burton, who was entrusted with creating her wedding dress in 2011.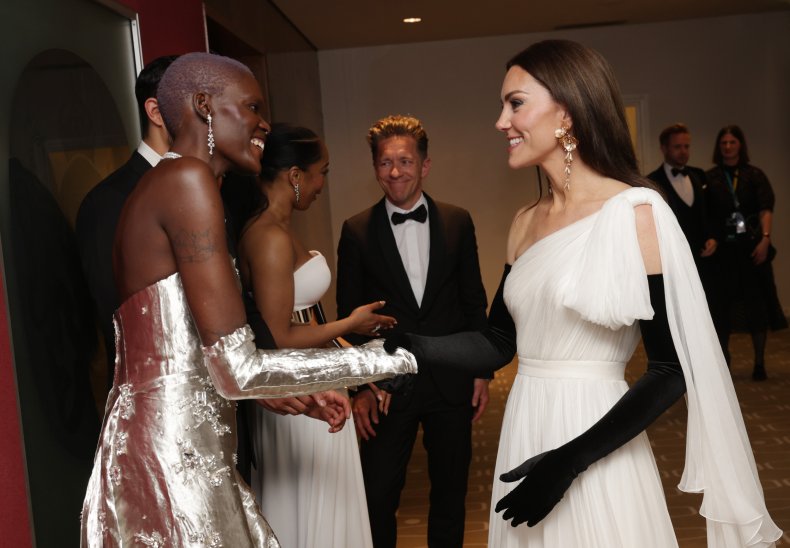 With her high-fashion 2023 BAFTA look, Kate also paired a black velvet Jimmy Choo clutch bag and a pair of gold pumps from designer shoe brand Aquazzura, also a favourite brand of Meghan Markle.
William and Kate were present in the audience as All Quiet on the Western Front swept the most categories, winning seven awards. The Banshees of Inisherin and Elvis both won four awards each.
During the ceremony, Dame Helen Mirren paid a special tribute to Queen Elizabeth II, who died in September at the age of 96.
James Crawford-Smith is Newsweek's royal reporter based in London. You can find him on Twitter at @jrcrawfordsmith and read his stories on Newsweek's The Royals Facebook page.
Do you have a question about King Charles III, William and Kate, Meghan and Harry or their family that you would like our experienced royal correspondents to answer? Email royals@newsweek.com. We'd love to hear from you.