Kate Middleton's Showstopping BAFTA Red Carpet Fashion Moments
Kate Middleton, Britain's new Princess of Wales, has deployed a number of dazzling red carpet gowns over the course of her royal career for a range of important occasions, from film premieres to awards ceremonies and beyond.
A fashion highlight in the princess' diary over recent years has been the annual British Academy Film Awards (BAFTAs), of which her husband, Prince William, has been president since 2010.
Kate began attending the awards show with William in 2017, though one of her first red carpet engagements after marrying into the royal family in 2011, was to a BAFTA event in Hollywood.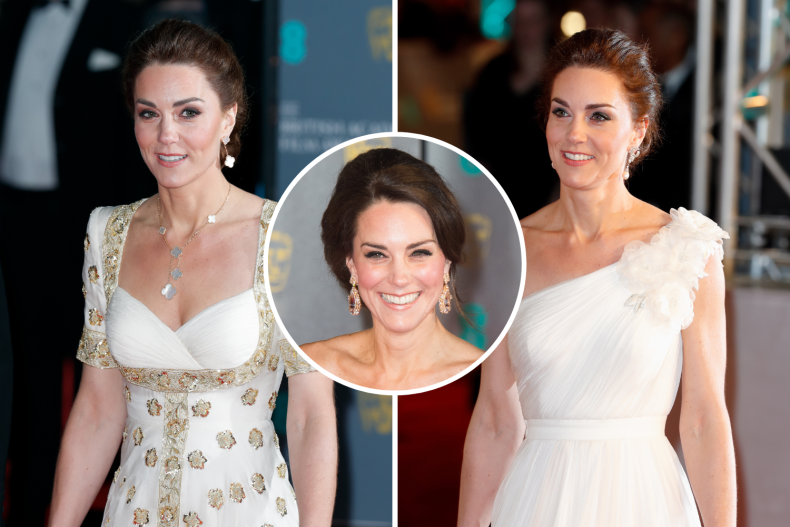 For the ceremonies, Kate has relied on her most trusted designers to create showstopping looks, sometimes re-wearing pieces created for other high-profile events.
Both William and Kate did not attend the BAFTAs in either 2021 or 2022.
Their 2021 appearance was cancelled following the death of Prince Philip, the Duke of Edinburgh who passed one day before.
The couple did not attend the 2022 ceremony owing to (what at the time was described as) "diary constraints." The date of the ceremony came in the weeks before William and Kate were due to embark on their tour of the Caribbean.
Here, Newsweek looks at five of Kate Middleton's top BAFTA red carpet fashion moments as we look ahead to the 2023 ceremony.
2011
After marrying in April 2011, William and Kate made their first overseas visit to Canada in July. On their return, the couple stopped for a short visit in California where they attended a number of charity events, including a BAFTA reception in Hollywood.
For the event, Kate wore a Grecian draped evening gown designed Sarah Burton for Alexander McQueen who was also responsible for her wedding dress.
The gown certainly had red carpet appeal for Kate who re-wore it to the Earthshot Prize awards ceremony a decade later in 2021.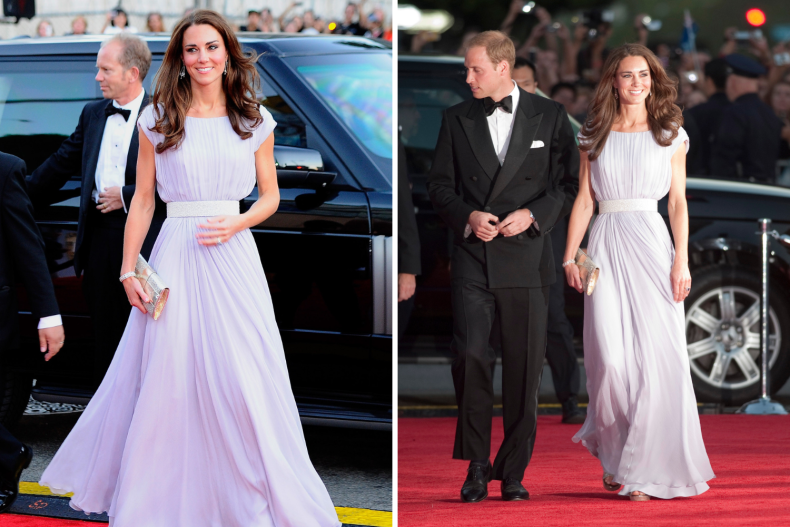 2017
For the 2017 BAFTAs, Kate and Prince William walked the red carpet at the Royal Albert Hall as stars including Viola Davis, Amy Adams and Emma Stone gathered to see who had won the evenings coveted statues.
Kate debuted a custom version of an Alexander McQueen evening gown from their Fall collection, the tiered violet jacquard dress. The princess' version of the gown featured slip-shoulder straps and a modified neckline.
To accompany her look, Kate wore her hair up and accessorized with large statement earrings and a royal heirloom bracelet loaned by Queen Elizabeth II, that had been a wedding present from her husband Prince Philip in 1947.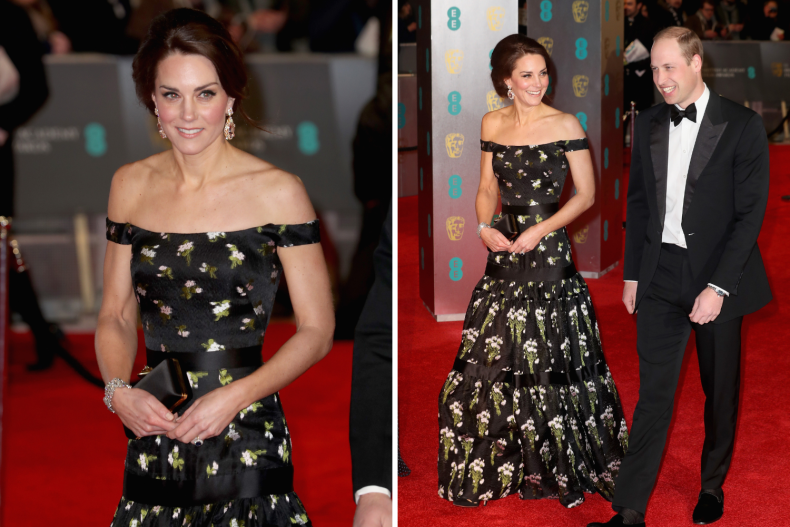 2018
In 2018, Kate caused a stir with her red carpet look for the BAFTAs by wearing a dark green off the shoulder evening gown.
For the 2018 awards season many female nominees and attendees chose to wear black as a statement in support of the #MeToo movement.
By not wearing black (though the dress did feature a wide black waistband) Kate was criticized by some commentators for not being demonstratively supportive of women's issues, others supported her for not weighing in on such a sensitive issue as a member of the royal family.
Kate was expecting her third child at the time of the awards and so the gown designed by Jenny Packham featured an empire waistline and was accessorized with a suite of diamond and emerald jewelry.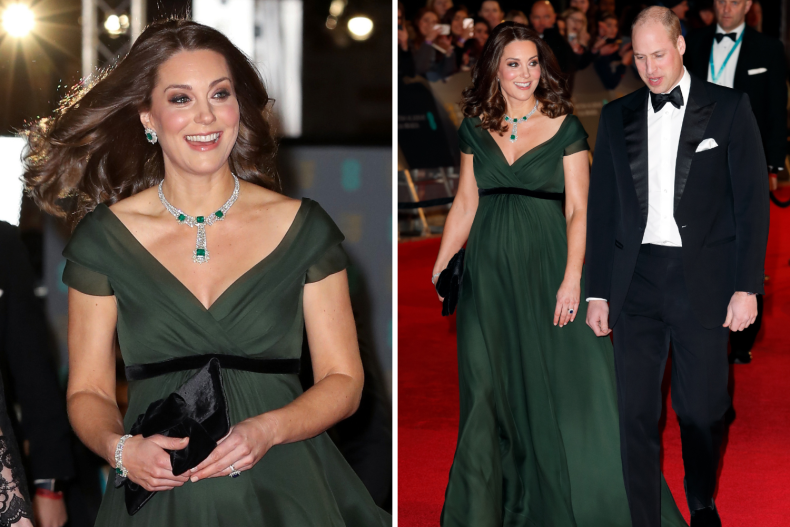 2019
For the 2019 BAFTA's Kate again relied on the design talents of Sarah Burton for Alexander McQueen, wearing an asymmetric evening gown of layered white silk chiffon.
The royal wore her hair up which highlighted a glittering pair of pearl and diamond earrings which had formerly belonged to Princess Diana.
The pair has become one of Kate's favorite in the years since their 2017 debut, most recently being worn to the state banquet for President Cyril Ramaphosa of South Africa at Buckingham Palace in November.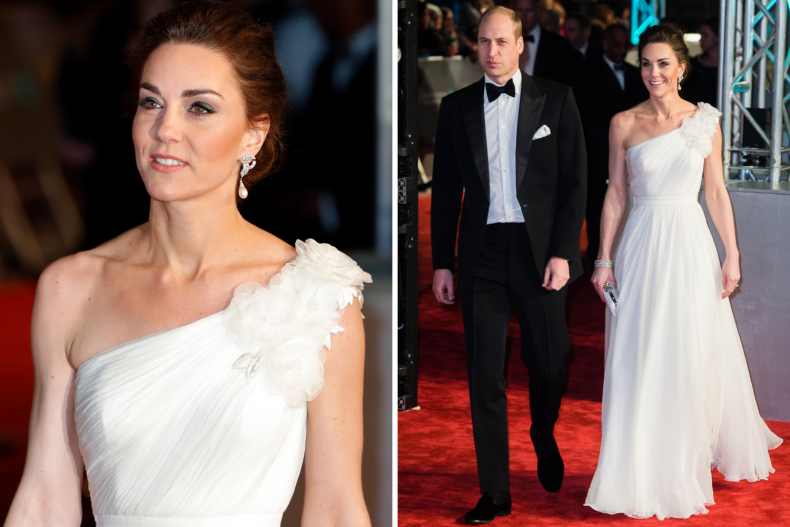 2020
The 2020 BAFTA awards saw Kate re-wearing another design by Alexander McQueen, in the form of a white evening gown embroidered in gold which was created for a visit to Malaysia in 2012.
The embroidery featured hibiscus flower motifs which paid homage to the hibiscus being the national flower of Malaysia.
To accessorize her look, Kate wore a suite of Van Cleef and Arpels Alhambra jewelry which is a favorite style of her step-mother-in-law, Queen Camilla.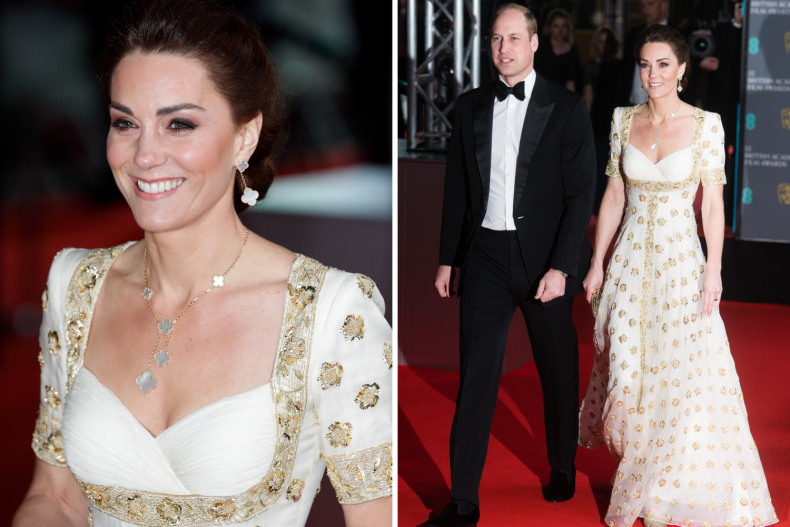 James Crawford-Smith is Newsweek's royal reporter based in London. You can find him on Twitter at @jrcrawfordsmith and read his stories on Newsweek's The Royals Facebook page.
Do you have a question about King Charles III, William and Kate, Meghan and Harry or their family that you would like our experienced royal correspondents to answer? Email royals@newsweek.com. We'd love to hear from you.