Kate Middleton's Butt Pat With Prince William Debated: 'Silly Comments'
Kate Middleton patted Prince William on the butt during the BAFTAs, sparking debate online about what triggered the public display of affection.
The Princess of Wales appeared to attempt to hold her husband's hand unsuccessfully moments before giving William a playful slap on the bum.
A video has since gone viral attempting to debunk the suggestion "she was trying to hold his hand but he rejected her."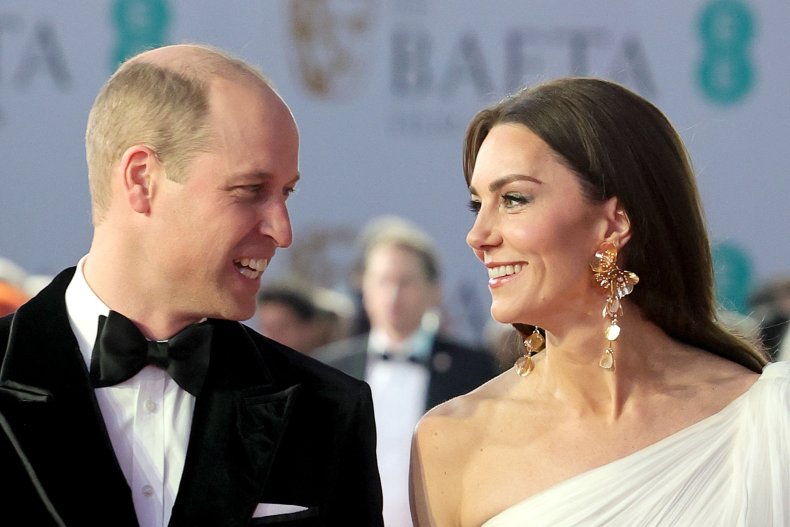 The post, viewed 1.6 million times and liked almost 90k times, showed another angle in which it was easier to see that William took his hand away to wave to the crowd.
Text imposed on the video suggests that William "didn't notice that Kate was talking to him," while Kate was "trying to pat Will" on the arm to get his attention.
The clip was posted with the message: "Debunking those silly comments, I had enough!"
One comment, liked more than 3,500 times, read: "These people just wants to bring them down. They are a lovely couple!"
Another TikTok account wrote: "He didn't reject her, he went to wave at someone at the same moment you can see it plain as day."
The couple had already walked the red carpet in front of the world's media and were caught in an unguarded moment.
They were at the Royal Festival Hall in London, on February 19, because William is president of BAFTA, Britain's answer to the Oscars.
During the ceremony, William appeared visibly moved by a tribute to Queen Elizabeth II given by Helen Mirren.
The star, who played the late monarch in the 2006 film The Queen, told guests: "Cinema at its best does what Her Majesty did effortlessly—bring us together and unite us through a story. Your Majesty, you were our nation's leading star.
"On behalf of BAFTA, thank you for all that you have done for our film and television industry."
She added: "BAFTA's relationship with Her Majesty was longstanding and BAFTA would not be what it is today without her loyal support."
Jack Royston is chief royal correspondent at Newsweek based in London. You can find him on Twitter at @jack_royston and read his stories on Newsweek's The Royals Facebook page.
Do you have a question about King Charles III, William and Kate, Meghan and Harry, or their family that you would like our experienced royal correspondents to answer? Email royals@newsweek.com. We'd love to hear from you.