Kate Middleton Cheekily Pats William's Butt After Meghan Markle Hug Jabs
Kate Middleton patted Prince William on the butt during an unguarded moment at Sunday's BAFTA Film Awards in London.
The Princess of Wales tried to hold her husband's hand, only to find William reluctant to reciprocate during a candid moment at the Royal Festival Hall in London on February 19.
The future king earned a pat on the butt for his troubles, and the footage has since gone viral.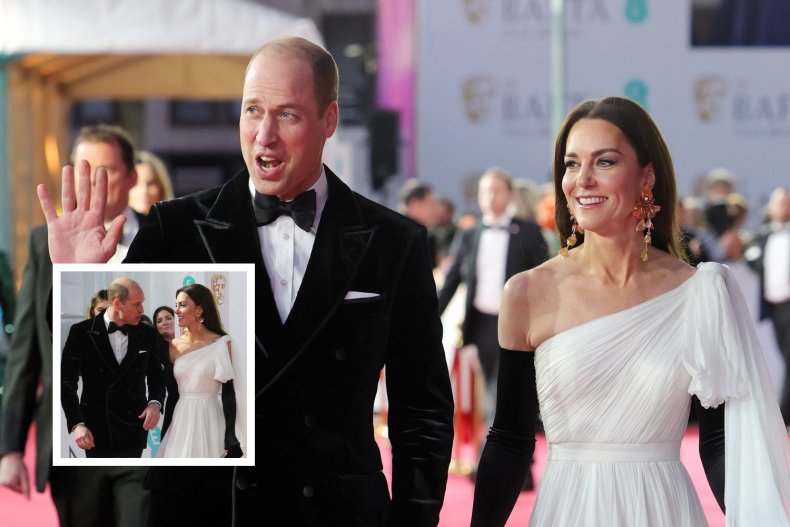 Fashion blogger Molly Elizabeth posted the clip to Twitter, and it has since been viewed more than 200,000 times. She wrote: "Not princess kate tapping william on the a*** (a**) in front of the world."
It comes two months after Meghan said William and Kate found it "jarring" that she was a "hugger" during their first meeting.
The Prince and Princess of Wales were formal behind closed doors, according to the duchess in the Netflix series Harry & Meghan, broadcast in December.
"Even when Will and Kate came over, and I met her for the first time," Meghan said, "they came over for dinner, I remember I was in ripped jeans and I was barefoot.
"Like I was a hugger, I've always been a hugger. I didn't realize that that is really jarring for a lot of Brits," said the duchess. "I guess I started to understand really quickly that the formality on the outside carried through on the inside."
Harry's book Spare also painted the royals as physically distant. The prince said his father, King Charles III, did not hug him after breaking the news that Harry's mother, Princess Diana, had died in a 1997 Paris car crash.
"What I do remember with startling clarity is that I didn't cry," the memoir reads. "Not one tear. Pa didn't hug me. He wasn't great at showing emotions under normal circumstances. How could he be expected to show them in such a crisis?
"But his hand did fall once more on my knee and he said: 'It's going to be OK.' That was quite a lot for him. Fatherly, hopeful, kind. And so very untrue."
However William and Kate interact behind palace walls, at the BAFTA Film Awards they smiled, held hands and showed they were comfortable being tactile with each other in public.
Kate wore a white toga-style Alexander McQueen gown with a floor-length skirt and black opera gloves. These caught the eye of royal watchers because of the stark contrast in color.
Jack Royston is chief royal correspondent at Newsweek based in London. You can find him on Twitter at @jack_royston and read his stories on Newsweek's The Royals Facebook page.
Do you have a question about King Charles III, William and Kate, Meghan and Harry, or their family that you would like our experienced royal correspondents to answer? Email royals@newsweek.com. We'd love to hear from you.