Kate Middleton Receiving Curtsies at Royal Events Becomes Viral Hit
Clips of Kate Middleton receiving curtsies from members of the public and officials while on royal engagements have gone viral after being uploaded to the social media platform TikTok.
Traditionally, royal women would be greeted by female members of the public with curtsies as a show of deference, however, in modern Britain there is no requirement or explicit expectation that this should take place, with some willingly choosing to perform the gesture.
Royal curtsies have been pulled into public focus in recent months after Kate's sister-in-law, Meghan Markle, described her first impression on being asked to curtsy to her then-boyfriend Prince Harry's grandmother, the queen, as a "joke."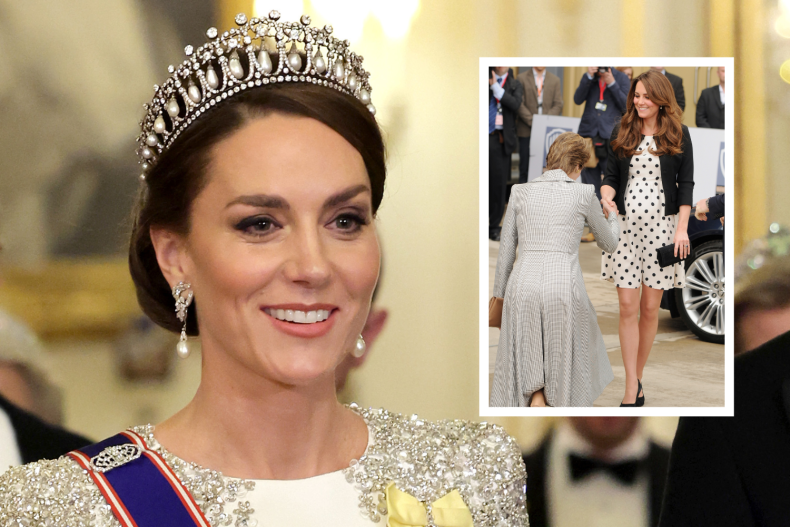 "I remember in the car driving up, and he [Harry] said, 'You know how to curtsy right?' [...] And I just thought it was a joke," she said in the Netflix docuseries Harry & Meghan released in December 2022.
This earned Meghan criticism for appearing to be disrespectful of British customs or the queen herself, despite regularly performing deferential curtsies to the monarch throughout her marriage.
Since Meghan's Netflix comments, which were accompanied by a re-enactment of what was likened to a medieval-times style bow, a number of video clips relating to royal curtsies have gone viral, from the duchess' own to those of Princess Diana and Kate Middleton.
In the most recent video, uploaded to TikTok by user royal_secrets24, Kate is seen as the person being curtsied to rather than curtsying herself, which she did regularly to Queen Elizabeth II and now to King Charles III and Queen Camilla.
The events showcased in the video, which has been viewed over 400,000 times and received in excess of 39,000 likes, span the years since the royal's wedding in 2011.
When Kate married Prince William on April 29, 2011 she took on his courtesy titles, becoming at the point of saying her vows, Her Royal Highness The Duchess of Cambridge.
As a member of the royal family, Kate was thereafter elevated to a position where people may curtsy to her, though she would still have to curtsy to the monarch. This stayed the same even when King Charles made William and Kate the new Prince and Princess of Wales after the death of the queen in September 2022.
A number of TikTok users have taken the opportunity to praise Kate in the comments section of the viral video.
"She deserves it. We respect and love her," said one user.
"I would definitely curtsy to Kate if I met her," said another, with a further comment reading: "She is the future queen after all."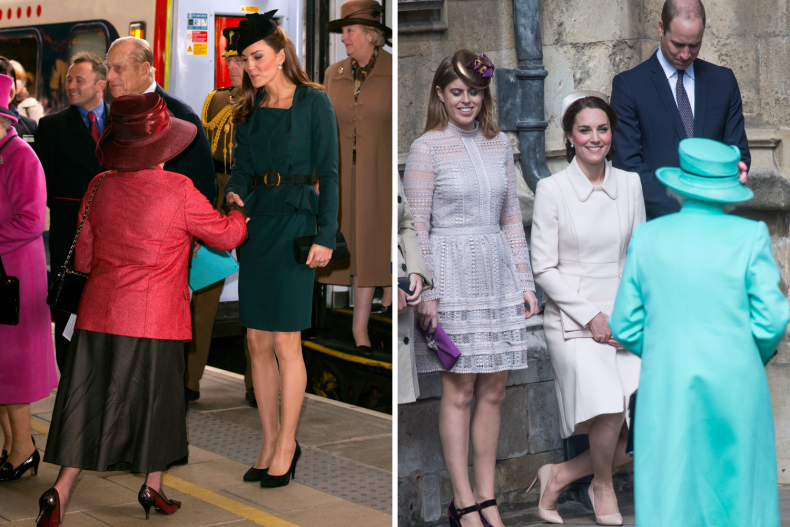 Kate has made a number of her own public curtsies in recent months, particularly at events commemorating the death of Queen Elizabeth.
The public saw the new Princess of Wales curtsy to her father-in-law, King Charles, and her stepmother-in-law, Queen Camilla, at the "Together at Christmas" carol concert she hosted at Westminster Abbey in December.
James Crawford-Smith is Newsweek's Royal Reporter based in London. You can find him on Twitter at @jrcrawfordsmith and read his stories on Newsweek's The Royals Facebook page.
Do you have a question about King Charles III, William and Kate, Meghan and Harry or their family that you would like our experienced royal correspondents to answer? Email royals@newsweek.com. We'd love to hear from you.