Meghan Markle's Funeral Curtsy Gives Fans 'Chills' in Viral Video
Meghan Markle has received praise online after a clip of her making a final curtsy to Queen Elizabeth II during her state funeral in September 2022 was uploaded to social media.
Viewed over one million times in 72 hours, the clip, showing the duchess perform a deep curtsy as the queen's coffin left Westminster Abbey, has gone viral after a curtsy controversy arose from Meghan and Prince Harry's Netflix docuseries, in which she described how she thought being asked to curtsy to her then-boyfriend's grandmother was a "joke."
Meghan's curtsy at the state funeral was made alongside other senior female members of the late monarch's family including the new Queen Camilla, Kate Middleton, Sophie, Countess of Wessex and Princess Charlotte.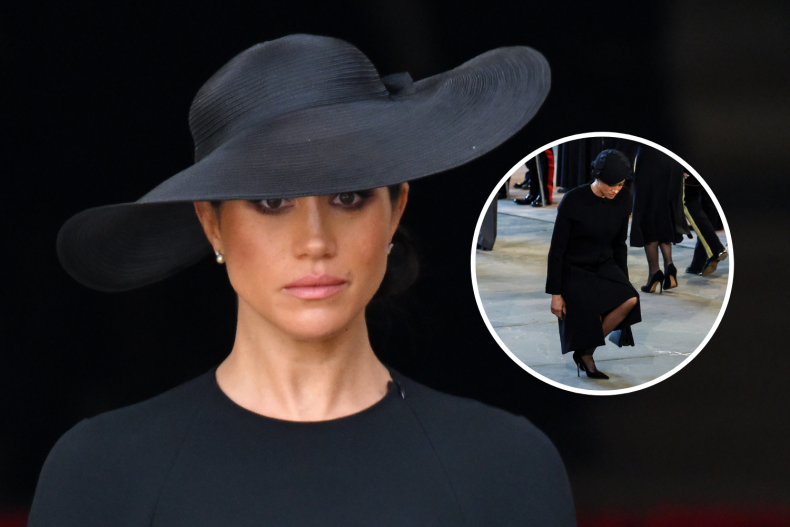 This was the fifth major public curtsy made by Meghan to Queen Elizabeth, the first being given on Christmas Day in 2017. Prior to the funeral, the most significant curtsy offered by the royal was made on her wedding day to Prince Harry in 2018.
Traditionally, all royal brides who have the monarch present at their marriage ceremonies offer a curtsy after saying their vows and signing the official register. Meghan's curtsy was made at St George's Chapel, Windsor.
The TikTok video that has gone viral was posted by the account inroyalnews, with the caption: "The Duchess of Sussex performed the highest act of deference to her queen."
A number of commenters have praised Meghan for this action, noting how deep she made the gesture, as a mark of her respect.
"That curtsy was phenomenal and clearly done with so much love and respect," wrote one user.
"Her curtsy gives me chills it's so elegant," said another, with a further user adding: "I have always heard the deeper the curtsy the deeper the respect."
Attention has been drawn to the success of Meghan's public curtsies after she described an awkward attempt when she was first introduced to Elizabeth, during the early days of her relationship with Harry.
"I remember in the car driving up, and he [Harry] said, 'You know how to curtsy right?' [...] And I just thought it was a joke," Meghan said in the bombshell filled Netflix docuseries Harry & Meghan, before performing what she described as a medieval-times style deep bow.
This comment earned the royal criticism from some who claimed her comments were disrespectful towards British customs or even to the queen herself.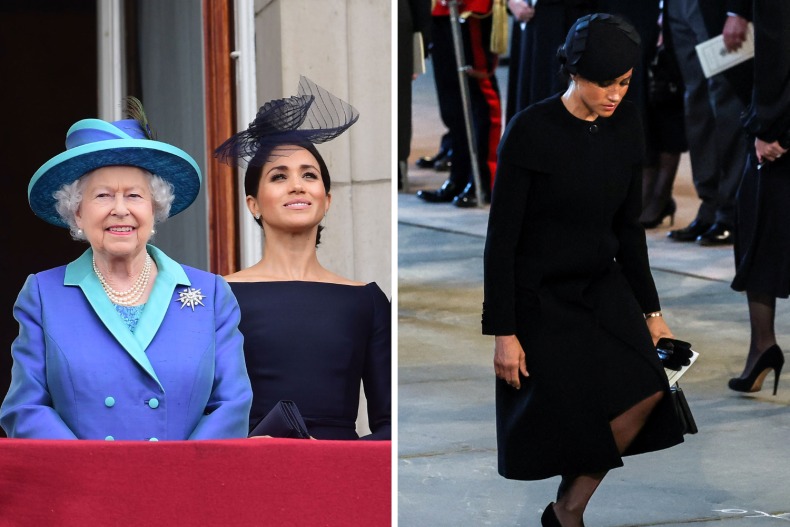 Curtsying is a formal gesture of respect and reverence offered by members of the royal family to the monarch. While this gesture is observed within the royal family and royal households, there is no expectation for members of the public to bow or curtsy to royalty, though some willingly choose to do so.
Though Meghan's recollection of her first royal curtsy was tinged with the sense of awkwardness, Harry remembered the event in his record breaking memoir, Spare, slightly differently.
Recounting Meghan's first interaction with his grandmother, the prince wrote: "We entered the large front sitting room and there she was. Granny. The monarch. Queen Elizabeth II. Standing in the middle of the room. She turned slightly. Meg went straight to her and dropped a deep, flawless curtsy."
After their brief meeting, Harry wrote that the guests also at the meeting—which included Sarah "Fergie" Ferguson and Princess Eugenie—"complimented Meg on her curtsy. So good! So deep!"
Since Queen Elizabeth's death, Meghan has not had occasion to make a public curtsy to the new monarch, her father-in-law, King Charles III. If the duchess and Harry attend his coronation on May 6, it is likely royal fans will see the gesture made then.
James Crawford-Smith is Newsweek's royal reporter based in London. You can find him on Twitter at @jrcrawfordsmith and read his stories on Newsweek's The Royals Facebook page.
Do you have a question about King Charles III, William and Kate, Meghan and Harry, or their family that you would like our experienced royal correspondents to answer? Email royals@newsweek.com. We'd love to hear from you.