How Diana and Fergie Had Friendship Meghan Markle Never Had With Kate
Lady Diana Spencer and Sarah Ferguson were two women born outside the royal family who married sons of Queen Elizabeth II. Diana's role from 1981 to 1996 was to act and behave as a future queen would. Sarah's (nicknamed Fergie) role between 1986 and 1996 was to take up royal duties as the wife of the "spare" to the throne.
Both women were subjected to intense media scrutiny of their public and private lives and at times they were pitted against one another but, for many years, they maintained a genuine friendship, even as their marriages failed.
Two decades later, Kate Middleton and Meghan Markle were similarly two women born outside the royal family, who married sons of King Charles III. Kate's role from 2011 has been to act and behave as a future queen. Meghan's role, until 2020, was to take up royal duties as the wife of a "spare".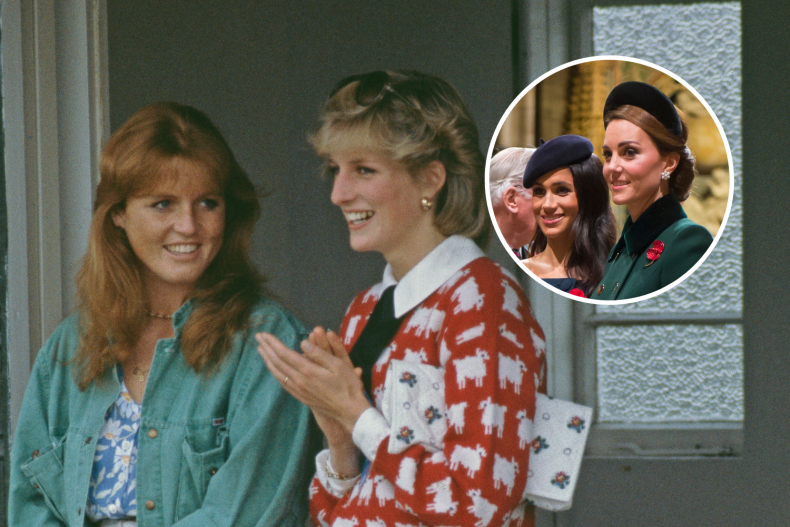 Despite the two sisters-in-law being photographed smiling side-by-side at events and media commentary about their supposed "friendship" prior to 2020, in a 2021 interview with Oprah Winfrey, Meghan explained that when it came to her relationship with Kate "it's nothing like what it looks like."
Where Diana and Fergie were friends, it has become clear through memoirs, docuseries and interviews that Meghan and Kate are not.
When Diana Met Fergie
Diana and Fergie began their friendship shortly before the former's engagement to Prince Charles in 1981.
A daughter of the aristocratic Spencer family, Diana grew up on the Sandringham estate around members of the royal family and supposedly met Fergie while they were young.
Fergie was the daughter of Major Ronald Ferguson, a polo manager first to Prince Philip and then to Prince Charles. His family were well known to the royals, including Andrew with whom the young Sarah was photographed at polo events.
Diana connected with Fergie when she was dating Prince Charles. She told her biographer Andrew Morton: "I met Fergie when Charles was getting near me and she kept rearing her head for some reason and she seemed to know all about the royal set-up, things like that. She just sort of encouraged it. I don't know, she just suddenly appeared and she sat in the front pew of our wedding—and everything like that."
After her marriage, Diana is said to have encouraged her new friend and her brother-in-law, Andrew, in getting together. The couple began dating shortly afterwards and married in 1986, a period that was later revealed to have been where difficulties in Diana's own marriage were arising.
Tina Brown, in her book The Diana Chronicles, wrote that according to a guest at the pre-wedding ball of Fergie and Andrew, Diana was heard to say how pleased she was to have Fergie as a "mate" joining the family.
Soon after their marriages, both Diana and Fergie had children. Diana, two boys, William and Harry. And Fergie, two girls, Beatrice and Eugenie.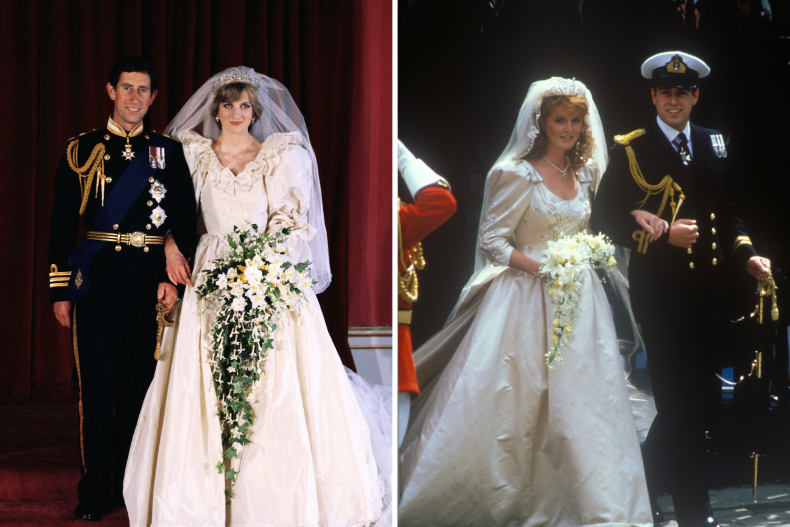 Difficult Years
By the late 1980s, the marriages of Charles and Diana and Fergie and Andrew were breaking down and in 1992 both couples announced that they were formally separating with no plans to divorce.
In this time, both sisters-in-law had become regular targets in the press, with Diana's mental health as frequently discussed and debated as Fergie's weight. After her pregnancies Fergie was labelled the "Duchess of Pork" for her appearance, a cruel twist on her Duchess of York title.
In 2022 the duchess said that Diana was the only person who knew exactly what it was like to be in her position during those years and that they comforted each other.
"She and I were the only two who really understood what it was like back in the '80s," she told Metro. "The pressure was ferocious and yet together, the two of us were powerful. Not powerful in the sense of strength or importance, but in the love we had for each other, and the way we helped each other cope. Nobody else is left who understands those days."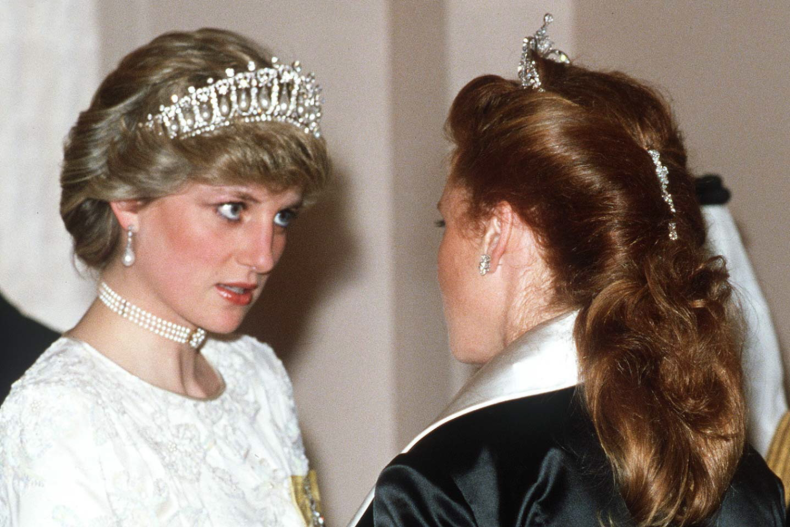 Divorce and Falling-Out
In 1996, both Diana and Fergie formally ended their marriages, earning themselves unique positions in the orbit of the royal family. They were non-royal women who married royal men and became HRH (Her Royal Highness) with public roles. Where, after divorce, would this leave them?
It was decided that they would both lose the HRH style but keep, so long as they did not remarry, their courtesy titles. Fergie was still Duchess of York, and Diana, Princess of Wales (though changed from The Princess of Wales to Diana, Princess of Wales).
Fergie decided to work the media circuit. She wrote a tell-all memoir and promoted it with a never-before-done royal interview with Oprah Winfrey.
Diana decided to maintain her public role as a humanitarian ambassador.
It was while Fergie was promoting her memoir My Story, that she is reported to have fallen out with Diana. The princess allegedly took umbrage with Fergie's claim that she contracted plantar warts after wearing Diana's hand-me-down shoes. She is also said to have objected to her former sister-in-law mentioning her in interviews promoting the book.
The pair were not speaking when Diana died in an August 1997 Paris car crash. Fergie attended her Westminster Abbey funeral, and told Harpers Bazaar in 2018:
"The saddest thing, at the end, we hadn't spoken for a year, though I never knew the reason, except that once Diana got something in her head....I tried, wrote letters, thinking whatever happened didn't matter, let's sort it out. And I knew she'd come back. In fact, the day before she died she rang a friend of mine and said, 'Where's that Red? I want to talk to her.'"
Meghan and Kate
Unlike Diana and Fergie, Meghan Markle and Kate Middleton did not know each other before they married into the royal family.
Kate began dating Prince William while they were studying at St. Andrew's University in 2001 and married a decade later in 2011.
Meghan Markle met Prince Harry in the summer of 2016 and married in the spring of 2018.
In the Netflix docuseries Harry & Meghan, Meghan recounted her first meeting with Kate and being somewhat shocked at the formality that existed within the royal family, even behind closed doors.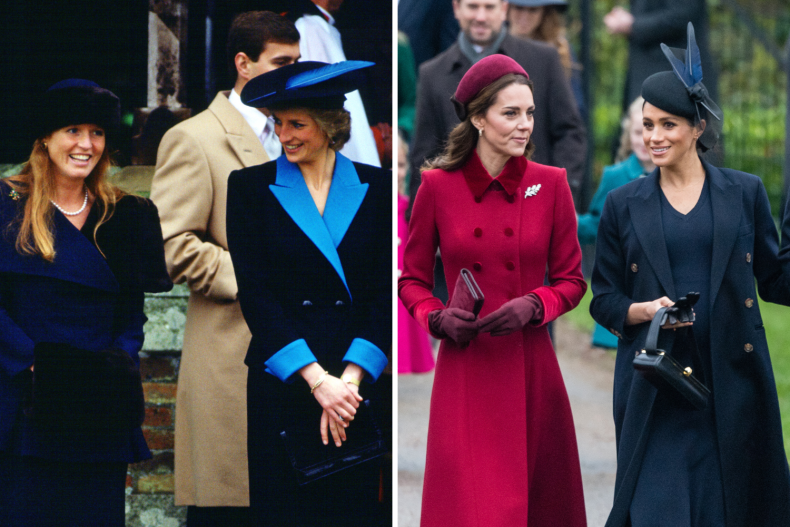 Since their marriages, and the revelations that there have been widening fractures between the Waleses and Sussexes in recent years, it has become clear that Meghan and Kate, though perhaps unique in sharing the other's position as outsiders marrying the sons of Princess Diana, have not developed a close friendship and, in the press, have often been pitted against one another.
Speaking to Oprah Winfrey in 2021, Meghan explained: "I think so much of what I have seen play out is this idea of polarity...if you love me, you don't have to hate her. And if you love her, you don't need to hate me."
For her part, Kate has said very little about Meghan in public, and has never discussed their relationship with the press.
James Crawford-Smith is Newsweek's royal reporter based in London. You can find him on Twitter at @jrcrawfordsmith and read his stories on Newsweek's The Royals Facebook page.
Do you have a question about King Charles III, William and Kate, Meghan and Harry or their family that you would like our experienced royal correspondents to answer? Email royals@newsweek.com. We'd love to hear from you.