Kate Middleton Is Meghan Markle 'Without the Messianic Complex'—Biographer
Kate Middleton has been described as "Meghan Markle without the messianic complex" by a former palace staffer, in a new biography charting the highs and lows of royal life.
Kate is "thoroughly modern and can be a tease," according to the new book Gilded Youth by Tom Quinn, though she was considered a suitable fit for Prince William by members of the royal family because she is unlikely to "embarrass" them.
According to Quinn, who has written extensively about life behind palace doors, Kate's attitude to royal life ultimately contrasted with sister-in-law Meghan, with whom she did not always see eye-to-eye.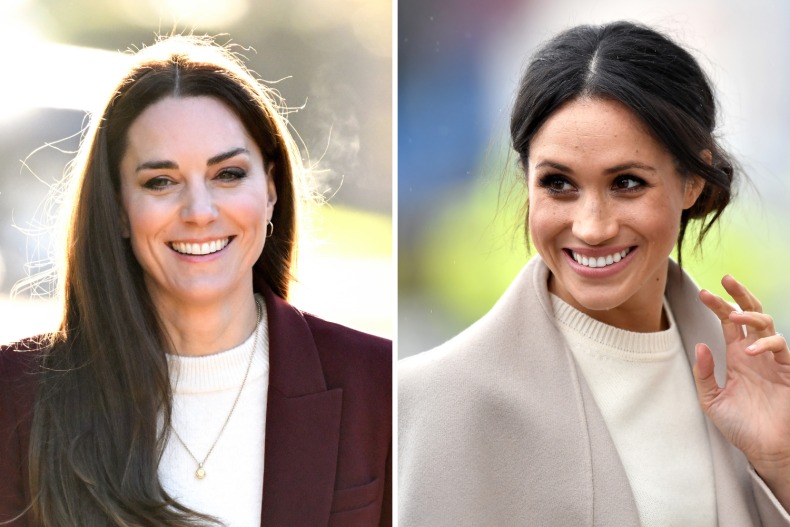 Citing a Kensington Palace staffer who knew both Kate and Meghan, Quinn recounts that the royal sisters-in-law had a different approach when dealing with condescending members of the court.
"[Meghan] quickly realised that she was treated by the royal establishment and the aristocratic advisers in a slightly condescending way because she was not a blood
royal," the staffer claimed.
"Kate had to put up with the same thing, but she was better at dealing with it because she does not have Meghan's messianic tendencies and she used charm and patience to get people on her side rather than trying to hector them into being nice to her."
This "messianic" (marked by idealism and an aggressive crusading spirit) tendency was just one of the many differences between Kate and Meghan, though, according to the author, many underestimate the princess' strength of will at their peril.
"Kate then is a moderniser but a moderniser who treads warily," he writes.
"Unlike Meghan Markle, she has a very precisely tuned sense of how far she can go and when it is best not to fight back against 'the Firm.'"
Kate has faced her share of tension with the royal family, though she was quickly considered to be a safe pair of hands in which to entrust royal status and secrets, in part, owing to her background.
"The royal family sensed that in Kate they had found someone who was very unlikely deliberately to embarrass them," Quinn writes. "Upwardly mobile like her parents, Kate was never going to do anything other than adopt the ways of the royal family."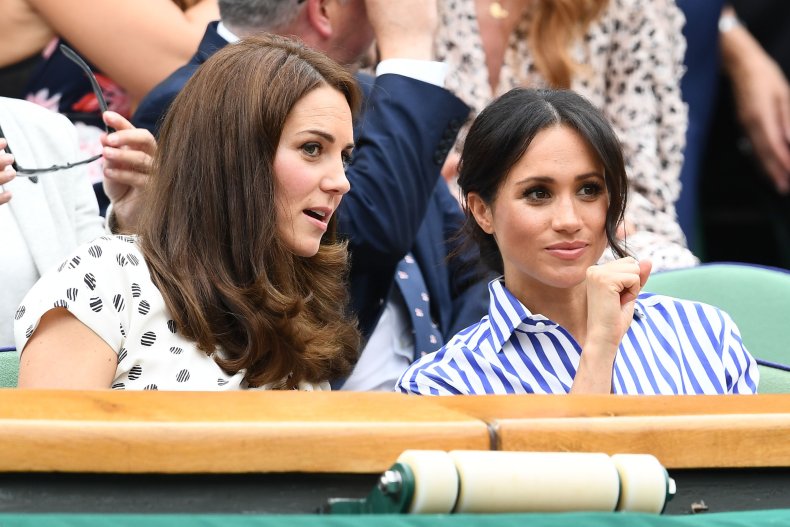 The princess' relationship with Meghan Markle has been widely discussed and dissected in recent years, most recently by Meghan and Harry themselves in their multi-million-dollar media projects.
Reports of a royal rift emerged in 2019 when British media outlets first published accounts that Meghan had made Kate cry before her royal wedding the year before. This Meghan since denied in her interview with Oprah Winfrey.
In the couple's Netflix docuseries Harry & Meghan, the duchess described meeting Kate for the first time and how her future-sister-in-law was not overly receptive to being hugged.
"Even when Will and Kate came over and I met her for the first time, they came over for dinner and I was in ripped jeans and I was barefoot. It's like I was a hugger, I've always been a hugger. I didn't realize that that is really jarring for a lot of Brits," she said before expressing surprise that the formality the royals displayed in public continued in private.
Harry referenced the many differences between his wife and Kate in his bombshell memoir Spare, which was published in January.
According to the prince, the pair never bonded in the way he had hoped, citing a number of small incidents that illustrated this, such as Kate being concerned Meghan wanted to use her fashion contacts, and Kate appearing put-off when Meghan asked to borrow her lip gloss.
Kensington Palace, acting for Kate, has not made any official response to Harry or Meghan's claims and has rarely spoken about the couple in public.
Newsweek approached Kensington Palace and representatives of Meghan Markle for comment.
Gilded Youth: An Intimate History of Growing Up in the Royal Family by Tom Quinn is published in Britain by Backbite Publishing from February 28.
James Crawford-Smith is Newsweek's royal reporter based in London. You can find him on Twitter at @jrcrawfordsmith and read his stories on Newsweek's The Royals Facebook page.
Do you have a question about King Charles III, William and Kate, Meghan and Harry, or their family that you would like our experienced royal correspondents to answer? Email royals@newsweek.com. We'd love to hear from you.