Meghan Markle and Kate Middleton's Body Language in Clip Debated by Fans
Footage of Meghan Markle and Kate Middleton attending the annual Wimbledon tennis championship together in 2018 has gone viral as fans have analyzed their body language following revelations about their relationship in media projects released by the duchess and Prince Harry.
Meghan attended the tennis tournament with Kate twice, in 2018 and 2019. The Princess of Wales is the president of the All England Lawn Tennis Club (AELTC) and in this capacity attends the championships on a number of days and presents prizes to the men's and women's singles champions.
Meghan, who is close friends with tennis great Serena Williams, is a major fan of the sport and attended Wimbledon matches before she met Harry during her days as an actress on the legal drama Suits.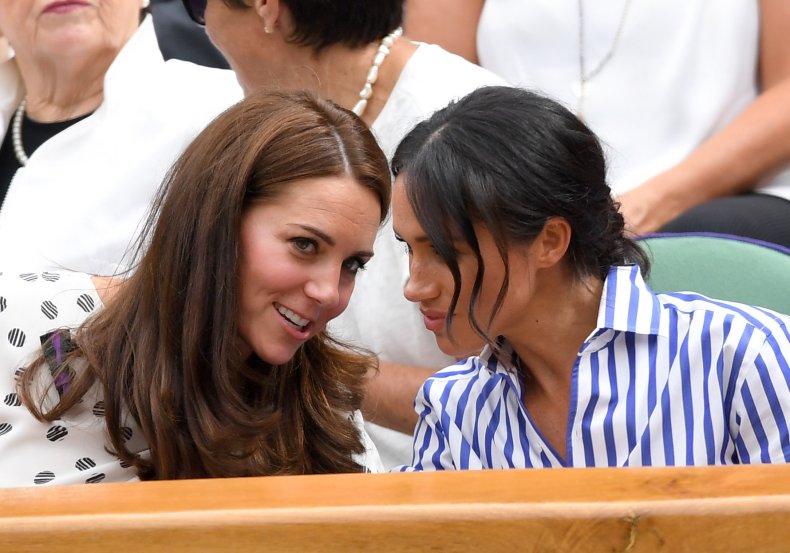 Uploaded to TikTok by user middleagemashup, a clip of the royal sisters-in-law attending the women's singles final between Serena Williams and Angelique Kerber has been viewed over 100,000 times and received over 3,000 likes as of press time.
The video sparked a number of comments analyzing the royals' body language and relationship since it has become clear in the years after the footage was taken that Meghan and Kate were not on overly friendly terms.
"Meghan didn't like [being] 2nd to Kate she hated the [fact] Kate is a senior and has to fall behind," wrote one user.
Another disagreed, writing: "The way Meghan always puts Kate in front is so cute. She actually followed the protocol and seems very calm about it."
"I'm sad. They would've been our fav duo but unfortunately the media pitted them against each other," said one poster, with further comment adding: "They could've been such good friends. it almost looked like they were enjoying each others company."
Oprah Interview
Speculation over a potential rift between Meghan and Kate began to circulate in late 2019 when British newspapers first published claims that Meghan had made Kate cry before the 2018 royal wedding.
These reports grew and were addressed by Meghan in her 2021 interview with Oprah Winfrey, where she spoke at length about her relationship with Kate publicly for the first time. Of the stories about making Kate cry Meghan discounted them, saying that in fact Kate had been the one to make her cry but she had apologized and forgiven her.
Continuing to ask Meghan about her reception by the royals, Winfrey asked: "Did you feel welcomed by everyone? It seemed like you and Kate  at the Wimbledon game where you were going to watch a friend play tennis...Was it what it looked like? You are two sisters-in-law out there in the world, getting to know each other. Was she helping you, embracing you into the family, helping you adjust?"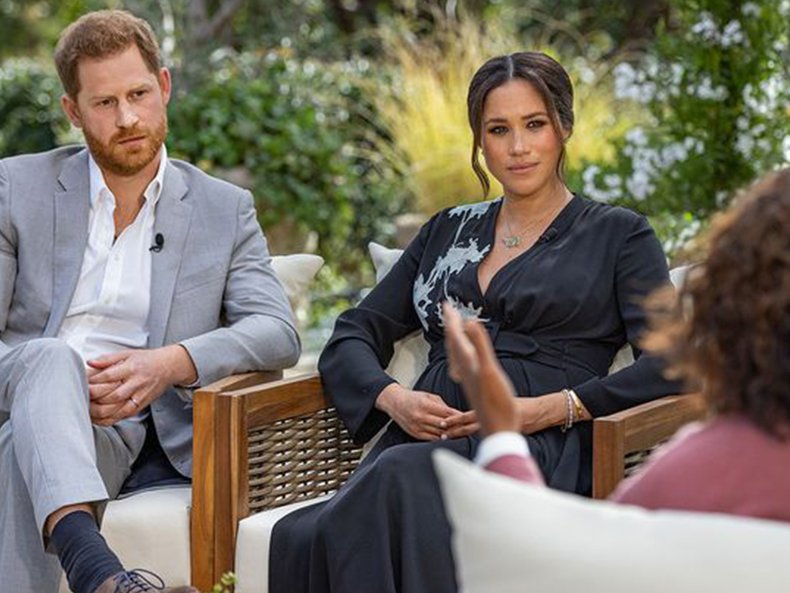 Meghan responded: "My understanding and my experience of the past four years is, it's nothing like what it looks like. It's nothing like what it looks like."
Netflix Docuseries
The next time Meghan spoke publicly about Kate and her relationship with the princess was during the bombshell Netflix docuseries Harry & Meghan, released globally in December.
Speaking about the first time she was introduced to Kate and Prince William, Meghan voiced surprise that the formality that appeared to exist in public carried through into their private lives.
"It's so funny if I look back at it now because now I know so much and I'm so glad I didn't then. Because I could just authentically be myself without so much preparedness," Meghan said of meeting her future in-laws.
"Even when Will and Kate came over and I met her for the first time, they came over for dinner and I was in ripped jeans and I was barefoot. It's like I was a hugger, I've always been a hugger. I didn't realize that that is really jarring for a lot of Brits," she said.
"I guess I started to understand very quickly that the formality on the outside carried through to the inside, that there is a forward-facing way of being and then you close the door, and you go 'Oh...ok we can relax now.' But that formality carries over on both sides and that was surprising to me."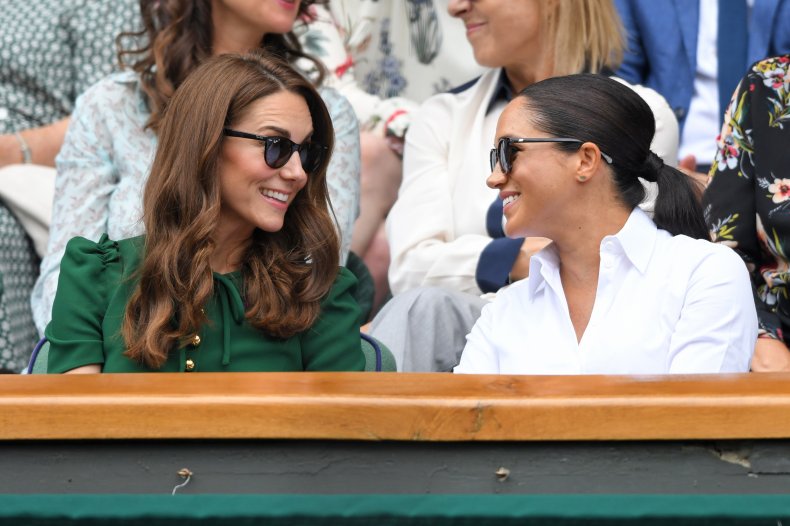 Spare
Perhaps the greatest insight into Meghan and Kate's relationship was provided by Prince Harry in his record-breaking memoir Spare, released in January.
Billed as a "raw" and "unflinching" account of his life story, the prince also used the book to settle scores with the media, offering an alternate view to established media narratives and contextualizing relationships between royal family members, including Meghan and Kate.
According to Harry, Kate and Meghan clashed at a number of events, including at a royal charity forum where Kate reacted awkwardly when Meghan asked to borrow her lip gloss.
One stand-out interaction between the sisters-in-law recounted by Harry saw Kate express her anger at Meghan's suggestion that she had been forgetful before the royal wedding owing to her "baby brain." Kate had given birth to Prince Louis less than a month before the big day.
"Kate looked out into the garden, gripping the edges of the leather so tightly
that her fingers were white, and said she was owed an apology," Harry wrote of a post-wedding summit between William, Kate, Meghan and himself.
"Meg asked: 'For what?'"
"'You hurt my feelings, Meghan,'" was Kate's alleged response, adding: "'You talked about my hormones. We're not close enough for you to talk about my hormones!'"
Harry wrote that the interaction ended with William coming to his wife's defense calling Meghan's choice of words "rude," and Meghan telling him to "take your finger out of my face."
Kensington Palace, the office acting for William and Kate, have not commented on Harry and Meghan's docuseries or the Spare memoir.
For her part, Kate has spoken only rarely about Meghan in public, and has never discussed the nature of their relationship openly.
James Crawford-Smith is Newsweek's royal reporter based in London. You can find him on Twitter at @jrcrawfordsmith and read his stories on Newsweek's The Royals Facebook page.
Do you have a question about King Charles III, William and Kate, Meghan and Harry, or their family that you would like our experienced royal correspondents to answer? Email royals@newsweek.com. We'd love to hear from you.