Serena Williams Calls Meghan Markle a 'Dear Friend' After Podcast Interview
Serena Williams praised Meghan Markle as a "dear friend" in an Instagram post on Tuesday to promote the first episode of the Duchess of Sussex's podcast.
The tennis star shared a photograph of herself and her daughter Olympia with Meghan. The caption read: "I loved talking about so many important topics with my dear friend Meghan as her first guest on #archetypes for @spotify! It's out now and worth the listen, especially if you're ambitious."
Meghan has said her Archetypes podcast, which dropped its first episode on Tuesday, will "dissect, explore and subvert the labels that try to hold women back."
The affectionate friendship between the two women was apparent during Williams' guest slot on the podcast, despite claims from a royal biographer that the tennis star had "denied" Meghan was a friend.
Tom Bower, the self-described "monarchist" biographer, wrote that Vanity Fair interviewer Sam Kashner had spoken to Meghan for a 2016 profile and later approached a number of the then actress' friends to ask for quotes.
"Over the next few days he called those who Meghan had recommended as her friends," Bower wrote in Revenge: Meghan, Harry and the War Between the Windsors.
"Serena Williams denied she was Meghan's friend but just an acquaintance. She gave him an enigmatic quote: 'You've got to be who you are, Meghan. You can't hide.'"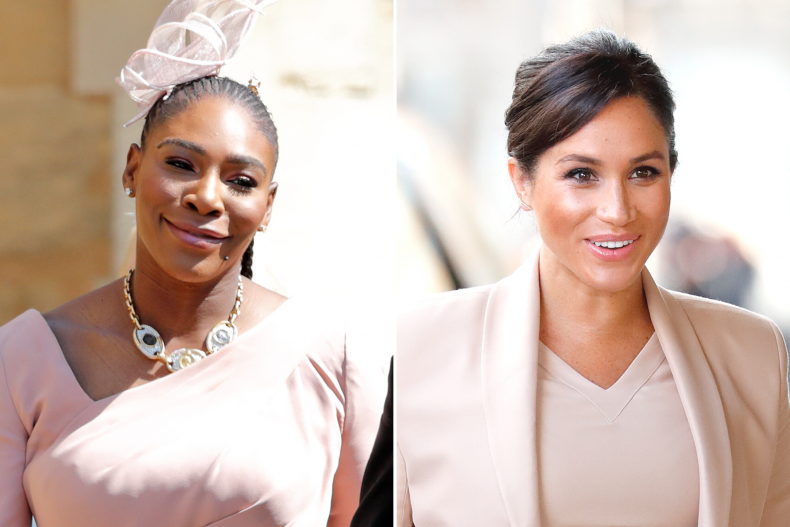 The pair's friendship was seen in the summer of 2016, however, when Meghan sat in the players' box on Center Court for one of Williams' matches at Wimbledon. During the same trip to Europe, Meghan first met Prince Harry.
In 2018 Williams was a guest at their wedding, which she discussed in her recent Vogue interview.
Looking at a photograph of herself and husband Alexis Ohanian outside St George's Chapel in Windsor, the sports star said: "I love this image—this is at the royal wedding when my friend Meghan married Harry."
The athlete then discussed her wish to wear braids to the wedding. "So all night they were braiding my hair," she said. "It was two girls or three girls braiding my hair and I was so tired...It was a very long process but it was so worth it."
The first episode of Meghan's Archetypes podcast considered the word "ambitious" and how the label is applied to women in a detrimental way.
"I don't remember ever personally feeling the negative connotation behind the word ambitious until I started dating my now husband," she said. "And apparently ambition is … a terrible, terrible thing for a woman—that is, according to some."
The royal went on to describe Williams as a woman who "embodies the spirit of ambition," discussing her decision to step away from tennis, motherhood and the expectations placed on her as a successful "ambitious" black woman.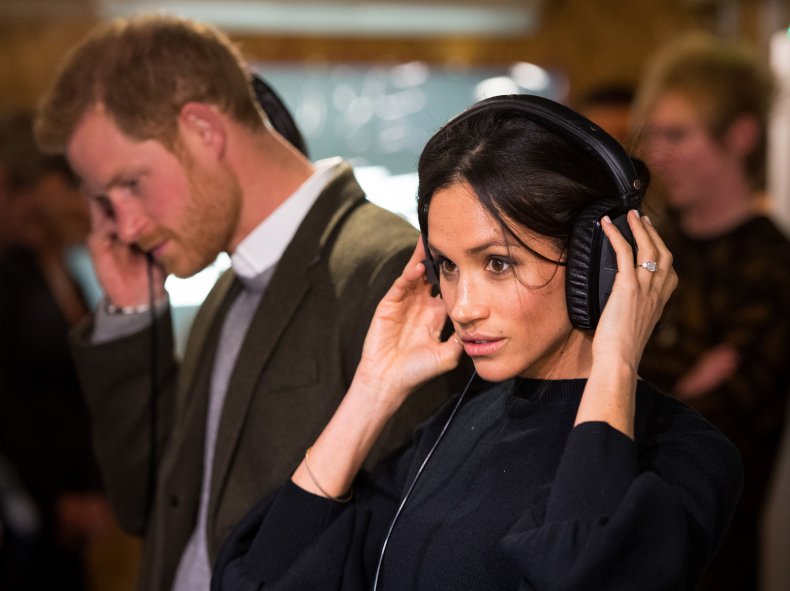 Throughout the episode, listeners were given glimpses inside the private world of Meghan and Harry as the duchess mentioned a visit made by Williams to their home during which the three discussed the tennis star's decision to retire.
Harry also made a cameo appearance, dropping in to compliment Williams on her hairstyle and encourage her to visit the couple soon.
"How you doing?...I like what you've done with your hair! That's a great vibe," the prince said, before urging her to "come and see us."
Archetypes marks Meghan's first significant solo output with Spotify after the couple signed a multi-million-dollar content creation deal with the streaming giant in 2020.
Episodes of Archetypes are scheduled for weekly release and Meghan has revealed that her second guest will be Mariah Carey.