Meghan and Harry Biography Dispute Flares as Author Rebuts Complaint
A Prince Harry and Meghan Markle biographer has become locked in a war of words with one of his interviewees after being accused of failing to convey "respect for Meghan Markle."
Tom Bower's book, Revenge: Meghan, Harry and the War Between the Windsors, describes how a cover interview Meghan gave Vanity Fair in 2017 triggered palace fury and led the duchess and her representatives to complain.
The author of the piece, contributing editor Sam Kashner, is quoted saying: "She complained because she wasn't presented in the way she wanted. She demanded that the media do what she expects. I felt manipulated."
However, the Vanity Fair journalist wrote to U.K. newspaper The Times, which published extracts from the book, to challenge Bower's representation.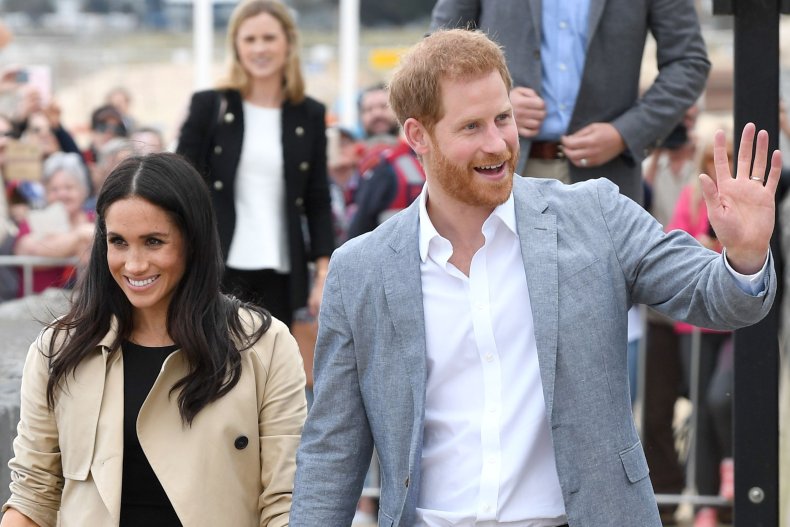 A War of Words Over Tom Bower's Revenge
Kashner wrote: "I'm afraid Tom Bower didn't convey my admiration and respect for Meghan Markle in the excerpt from his new book in The Times on Saturday. ("Writer 'felt manipulated' by Meghan"). I found Ms. Markle to be exceptionally warm and gracious and admired her intelligence and her remarkable courage, as I still do."
Bower, however, told Newsweek he briefed Kashner on the contents ahead of publication.
"During a long telephone conversation with Sam Kashner on May 31, I read out to him all the quotations I had used of his interview with me for my book—and also conveyed to him much of the chapter. He did not make a single objection or correction," he said.
Meghan Markle Interview Sparked Palace Fury
Kashner interviewed Meghan for Vanity Fair in 2017 months before her engagement with Harry was to be announced that November.
The cover story was headlined "She's Just Wild About Harry" while one quote, in particular, sparked a wave of follow-up news stories. Meghan said: "At the end of the day, I think it's really simple. We're two people who are really happy and in love."
Bower wrote that Harry had asked not to be named in the interview, which was supposed to focus on her philanthropy and role in the legal drama Suits.
"The front-cover photograph of Meghan was covered by the headline 'She's Just Wild about Harry.' Meghan's unprecedented brazenness took Buckingham Palace by surprise and electrified the British media," the book read.
"The interview triggered sensational reactions: Meghan had used her relationship to promote herself. The Hollywoodisation of the royal family had sealed Meghan's fate as Harry's fiancée. Within hours, Meghan called [her PR representatives] Ken Sunshine and [Keleigh] Thomas Morgan.
"Hysterically, she described Buckingham Palace's fury at 'Wild about Harry.' [Hollywood PR agency] Sunshine Sachs, said Meghan, should have ensured that her comments about Harry were removed. Why wasn't the focus on her philanthropy and activism?"
Meghan Markle's Feminist Campaign at Age 11
Revenge also stated that Vanity Fair fact-checkers had removed an account Meghan gave of campaigning aged 11 to change a sexist dish soap advertising campaign by Procter & Gamble.
The book read: "She was equally furious that her battle with P&G was omitted. Kashner resisted revealing that Vanity Fair's fact checkers had raised questions about its accuracy and, after consulting P&G and advertising historians, had concluded they could not prove the whole story.
"They could also find no evidence, as Meghan claimed, that she received a reply from [Hillary] Clinton. Unknown to Kashner, Thomas Markle knew Clinton and P&G had not replied to Meghan. The success of her 'campaign' was fictitious, invented by an adoring father."
Kashner's letter to The Times read: "I regretted the oft published account of challenging Proctor & Gamble being edited out of my Vanity Fair article because I'd wanted to highlight her lifelong activism. The piece itself was quite laudatory."
He added: "A belated congratulations to Prince Harry for taking such an extraordinary woman as his bride. Theirs is clearly a love match, so maybe we should stop piling on and let the couple live their life in peace."
For more royal news and commentary check out Newsweek's The Royal Report podcast: