Meghan Markle 'Hated' Being Compared to 'Perfect' Kate and Was Envious—Book
Meghan Markle "hated the comparisons with uncomplaining Kate" Middleton and "appeared to be influenced by envy," a new royal biography claims.
The new book Revenge: Meghan, Harry and the war between the Windsors describes how Prince Harry's "contempt" for Prince William and Kate Middleton had "some equivalence" with Meghan's feelings towards her own family, notorious for their hostile interviews.
Author Tom Bower wrote Meghan was envious of Kate and hated being compared to her sister-in-law, who "appeared to be perfect."
The book also described how "Charles and perhaps also the Queen" were irritated by Meghan's excuses for not patching up her fraught relationship with father Thomas Markle.
Charles' wife Camilla "could see through the American actress's coquettish smiles and tactile performance" and "found it hard to believe that Meghan would sacrifice her independence to serve silently as a team player," according to the book.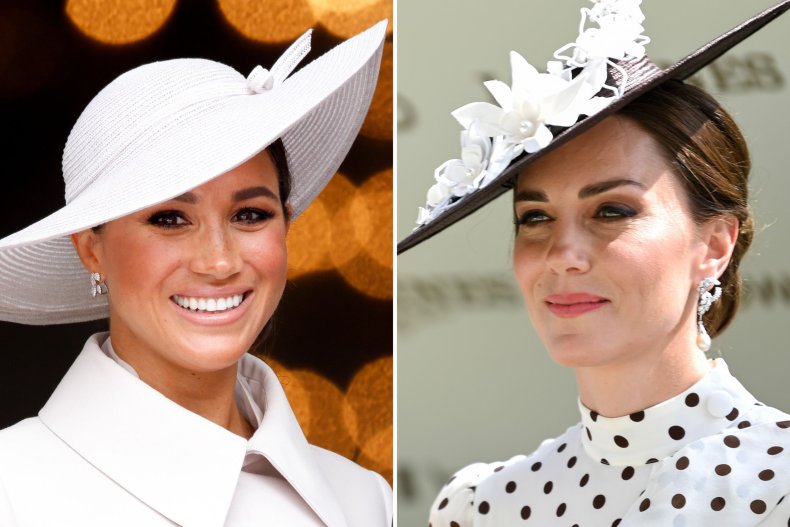 Prince Harry and Meghan Markle's Attitudes to Prince William and Kate Middleton
An extract serialized in U.K. broadsheet The Times read: "No other member of the royal family had suffered as much embarrassment from their own family as Meghan.
"There was some equivalence in Meghan's contempt for her half-siblings, Samantha and Thomas, and now Harry's for Kate and William, in particular.
"The Cambridges, she believed, were failing to offer the recognition and generosity she deserved. She hated the comparisons with uncomplaining Kate. Effortlessly, the Cambridges appeared to be perfect. Meghan appeared to be influenced by envy of Kate. In turn, the future queen regarded her neighbour as dismissive."
Meghan and Kate's most famous dispute came at a bridesmaid's dress fitting before the 2018 royal wedding when the media initially reported Meghan had made Kate cry.
Meghan told Oprah Winfrey in her March 2021 interview that "the reverse happened" and she cried before Kate had later apologized.
The duchess also discussed more general comparisons drawn between the two princesses in her Oprah Winfrey interview and said: "They [the media] really seemed to want a narrative of a hero and a villain."
Bower's book deals not only with tensions between the Sussexes and the Cambridges but also the wider royal family.
Harry, Meghan and Tension With the Royals Over Thomas Markle
The biography described how Prince Charles "and perhaps also the Queen" were "irritated" by Meghan's explanations for a feud with her father.
The royals urged Meghan to put a stop to critical interviews given by Thomas Markle in the summer after her May 2018 royal wedding.
The pair fell out after he posed for paparazzi pictures for money shortly before the ceremony at St. George's Chapel in Windsor Castle.
In the months afterwards, Thomas Markle did a series of hostile interviews, including one on ITV's Good Morning Britain, in July, 2018, in which he said: "I'd hate to die without speaking to Meghan again."
That same month, Harry and Meghan went to see Prince Charles and Camilla, the Duchess of Cornwall, at the Castle of Mey, in Scotland.
Bower wrote: "The visit was used to brief the media that Charles had become attached to Meghan and admired her interest in history and furniture.
"Unspoken was Charles's bewilderment about the American. He had never really understood her or what she wanted.
"That week, his irritation about Thomas Markle's TV appearances, especially his criticism of the royal family, came to a head. 'Can't she just go and see him and make this stop?' Charles 'berated' Harry.
"Charles could not understand Harry's 'explanations'. Harry did not tell his father about Thomas's fury at being ignored by his daughter.
"Instead, Harry explained that Meghan refused to telephone Thomas Markle because she suspected that 'his phone was [not] in his possession' and 'his email account was compromised.'"
The royal stand-off was first described in court documents that emerged from Meghan's privacy lawsuit over a letter she sent her father, which was published by The Mail on Sunday.
The documents, seen by Newsweek, made it clear Prince Charles was one of those involved but a second royal family member who telephoned Castle Mey to take part in the discussion was not named in the paperwork.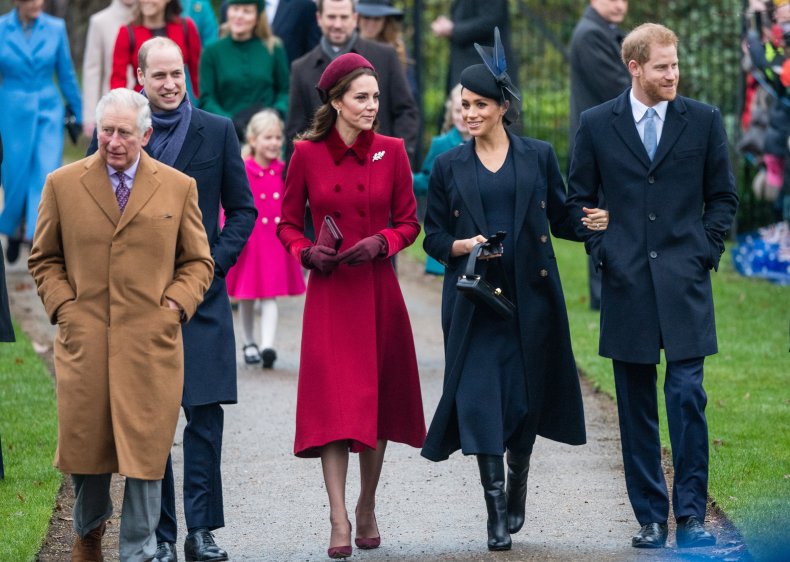 Bower suggested, however, that it was Queen Elizabeth II: "Meghan's excuses irritated Charles and perhaps also the Queen. The monarch must have found it hard to believe that Meghan could not resolve her differences with Thomas Markle.
"She joined Charles in a conference call with Meghan and Harry. At the outset, Charles and his mother urged Meghan to fly to America for a reconciliation. Meghan rejected the suggestion."
"Meghan seemed isolated, vulnerable and stifled by convention," Bower wrote. "Apparently unwilling to accept that, unlike Hollywood, no one was counting the box office receipts of the crowds she attracted, she was waging a struggle for which she was not suited.
"Scornful of the Palace's explanation that attacking the media would rebound on her, she adopted Hollywood's rulebook and took the initiative."
A witness statement Meghan submitted to the Court of Appeal, seen by Newsweek, offers an explanation: "It had been suggested by the Duke of Cambridge's Private Secretary (at the time), and senior members of the family that I personally arrange to fly out to see my father and speak with him in person.
"It seemed to me, however, that, even had I wanted to, it was completely unrealistic to think that I could fly discreetly to Mexico, arrive unannounced on his doorstep (as I had no secure means of communication with my father), to a location and residence I had never visited or known, in a small border town that had been descended upon by the press, and somehow hope to speak privately to my father without causing a frenzy of media attention and intrusion that could bring yet more embarrassment to the Royal Family."
Her description of the meeting at the Castle of Mey read: "While my husband and I were sitting with Senior Member B, I was told that Senior Member A was on the telephone and wished to speak to me.
"The telephone was passed to me and we had a discussion about the situation in the presence of Senior Member B and my husband.
"Once the call ended, we continued discussions with Senior Member B, and it was only after these discussions, and in accordance with the advice that I received from the two senior family members, I decided, that I would write a letter to my father."
Meghan Markle and Camilla, the Duchess of Cornwall
The book also offers a description of Meghan's relationship with Camilla, who it suggests had early reservations about the newest member of the family.
Bower described how Meghan, as a "hard-working American graduate and feminist," was brought up very differently to Camilla, who came from a "class-ridden hunting world galloping across the English shires, invariably under leaden skies."
Revenge reads: "The stark differences between the Cotswolds and California aroused Camilla's sense that Meghan was an adventuress from Los Angeles.
"Unlike Charles, Camilla could see through the American actress's coquettish smiles and tactile performance.
"During her life-long experience of England's county set, Camilla had occasionally spotted self-important adventuresses.
"They were the sort she might call 'a minx.' She found it hard to believe that Meghan would sacrifice her independence to serve silently as a team player. But Camilla remained tight-lipped."