Queen Said 'Thank Goodness' Meghan Missed Philip's Funeral, Book Claims
Queen Elizabeth II was relieved Meghan Markle missed Prince Philip's funeral, according to a new biography that has been disputed by a palace insider.
Tom Bower's long anticipated book Revenge: Meghan, Harry and the War Between the Windsors stated that the monarch told her trusted aides "thank goodness Meghan is not coming."
The biography also said Harry was nervous during the service because only he knew of "his damnation" of the royals in an upcoming Apple TV documentary that was at the time just weeks away.
A source close to the queen told Newsweek it was "unlikely" the monarch would have been focusing on anything other than Prince Philip in the time before the funeral, on April 17, 2021. Buckingham Palace declined to comment.
"In Windsor Castle the Queen was preparing to face the public on one of the saddest days of her life," an extract serialized in U.K. broadsheet The Times read. "Philip had been her rock for the previous 70 years. To comply with Covid restrictions she would grieve alone inside the chapel.
"'Thank goodness Meghan is not coming,' the monarch said in a clear voice to her trusted aides.
"Harry's presence remained a problem. As a private citizen stripped of his military titles he could not dress in uniform. To minimize the embarrassment for both Harry and Andrew, who was mired in allegations of sexual sleaze, all the male members of the royal family dressed in morning suits."
Prince Andrew has denied all claims against him.
The funeral was Harry's first return to Britain since quitting royal duties in 2020 but the duchess stayed at home as she was seven months pregnant with their second child, Lilibet Mountbatten-Windsor.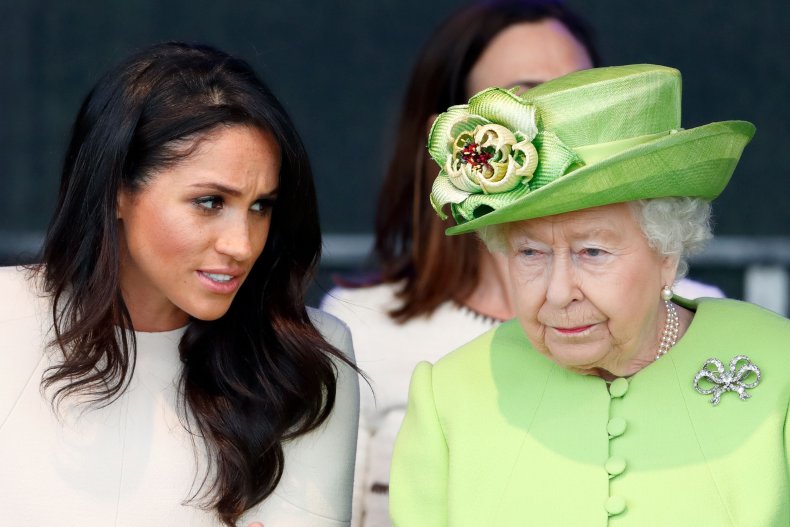 However, Meghan handwrote a card for the wreath that Prince Harry laid during the scaled-down coronavirus-compliant ceremony at St George's Chapel, Windsor Castle.
The funeral came a month after Meghan and Harry's Oprah Winfrey interview, in March 2021, in which the duchess said an unnamed royal expressed concern about how dark her unborn child's skin might be.
It also accused the institution of indifference towards Meghan's suicidal feelings at a time when she was under pressure from negative media coverage.
However, another Harry interview was just weeks away.
The duke had recorded another series of interviews with Oprah's production company Harpo as part of their Apple TV series The Me You Can't See, which aired in May 2021.
Bower wrote: "During that short procession many watched whether Harry signaled any regret towards his family.
"Some interpreted his sideways glance towards William as the outsider's unease. No one grasped the truth about Harry's nervousness.
"In four weeks' time his Apple TV series about mental health would be broadcast. Transmission had been delayed until after the funeral.
"Looking at his family standing in St George's Chapel, Harry must have known that his damnation of them in the Apple TV series would widen the rift. Sitting alone and isolated, the 94-year-old monarch's grief was concealed behind a black mask.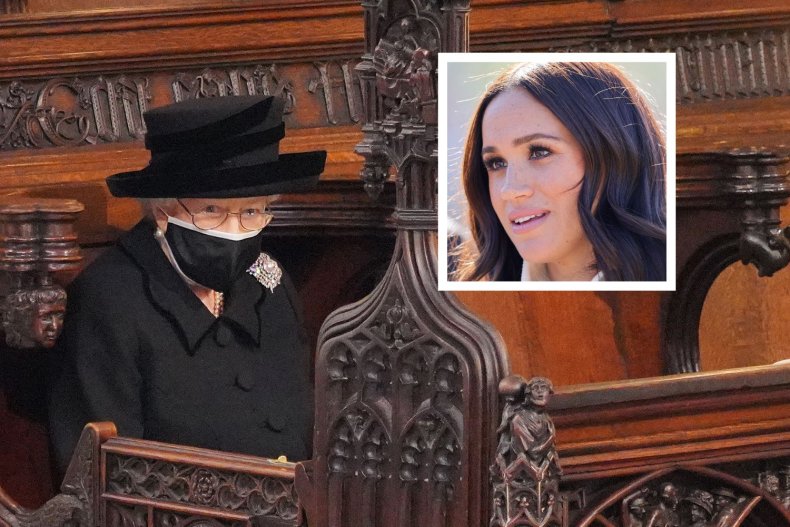 "Everyone was moved by her dignity. William looked tense, Kate serene, Charles visibly anguished. Only Harry's expression defied accurate reporting. Flapping his order of service against his thighs as he left the chapel, he was clearly impatient."
In The Me You Can't See, Harry accused his family of "total neglect" over his pleas for help dealing with negative media coverage.
He said: "I thought my family would help but every single ask, request, warning, whatever it is, got met with total silence or total neglect.
"We spent four years trying to make it work. We did everything that we possibly could to stay there and carry on doing the role and doing the job, but Meghan was struggling."
Bower wrote: "Buckingham Palace finally understood very precisely on May 14 that the Sussexes were beyond control. Apple TV released Harry's broadside, called The Me You Can't See.
"In it Harry denounced William, whom he had previously praised as the only person he 'could trust,' and dishonored Charles, whom he had previously thanked for being so 'kind,' for causing a cycle of 'genetic pain'."
That same month, in May 2021, Harry also appeared on the Armchair Expert podcast with Dax Shepard where he said he experienced "genetic pain" from his royal upbringing, suggesting Charles had passed on the grief of his own childhood.
Revenge reads: "The palace struggled to understand why Harry should publicly criticise the Queen and his dead grandfather for their upbringing of Charles."
It added: "The gulf between the Windsors and Harry was widening."
Bower is known in the U.K. for his critical biographies of the rich and famous and after the Rebel Prince book on Prince Charles, one reviewer described him as the "undisputed Witchfinder General of contemporary biographers."
When contacted by Newsweek Harry and Meghan's team declined to comment.
For more royal news and commentary check out Newsweek's The Royal Report podcast: