Serena Williams Reaffirms Meghan Markle Friendship After Biography Claim
Serena Williams has reaffirmed her friendship with Meghan Markle during an interview with Vogue marking her appearance on the fashion bible's September issue cover.
The interview follows the release of a bombshell biography that claimed Williams denied having a friendship with Meghan to a Vanity Fair journalist in the months before she married Prince Harry.
Williams's interview was released as she made the announcement that she intends to retire from professional tennis after this year's U.S. open, which begins on August 29.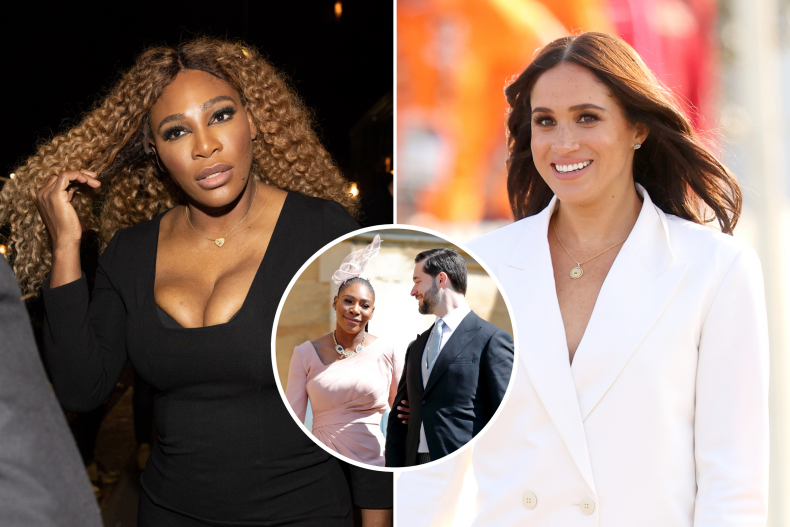 Williams and Meghan have been associated in the public eye since the former Suits actress's relationship with Prince Harry was revealed in late 2016.
It was during a visit to Britain that same year that the actress and the prince were reported to have had their first date and also during that trip that Meghan attended the Wimbledon tennis championships, where she watched Williams play.
The tennis star and husband Alexis Ohanian were guests at the 2018 royal wedding hosted at St George's Chapel in the precinct of Windsor Castle. Williams was given one of the most prominent seats during the service, sitting alongside other celebrity friends of the bride including Oprah Winfrey, and directly facing members of the royal family.
In a video for Vogue's YouTube channel released alongside her September issue cover, Williams discussed 22 of her most famous fashion moments—one of which was the Versace dress worn to Meghan and Harry's wedding.
"I love this image, this is at the royal wedding when my friend Meghan married Harry," the sports star said.
"What's so iconic about this is I was like 'royal wedding—I'm definitely wearing braids,'" she continued.
"So all night they were braiding my hair. It was two girls or three girls braiding my hair and I was so tired...It was a very long process but it was so worth it."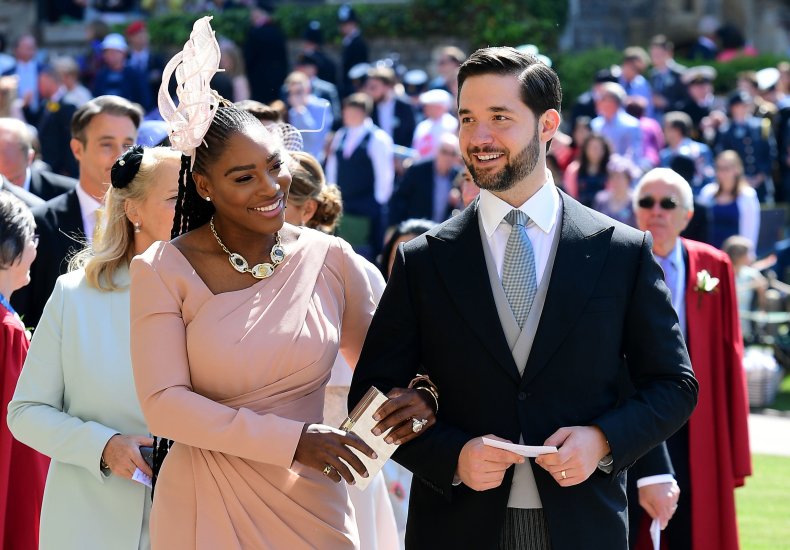 The association between Meghan and Williams before she married Harry was examined by biographer Tom Bower in his recent and highly critical biography of the Sussexes titled Revenge: Meghan, Harry and the war between the Windsors.
The book made a number of bombshell claims, which were widely discussed upon its publication in Britain last month, including that Queen Elizabeth II said "thank goodness Meghan is not coming" to close aides in the lead up to Prince Philip's 2021 funeral and that Camilla, Duchess of Cornwall, joked about Harry and Meghan's future children having a "ginger afro."
Buckingham Palace and representatives for Meghan and Harry have so far refused to make any official comment on the book or its numerous claims.
One of these claims was that Williams "denied" that she was friends with Meghan, saying she was only an "acquaintance" when approached by Vanity Fair journalist Sam Kashner in 2017 while he was writing a profile on Meghan after her relationship with Harry was made public.
Bower wrote of Kashner that: "Over the next few days he called those who Meghan had recommended as her friends. Serena Williams denied she was Meghan's friend but just an acquaintance. She gave him an enigmatic quote: 'You've got to be who you are, Meghan. You can't hide.'"
Despite this, Bower doesn't dispute that Meghan and Williams had a relationship.
The pair had reportedly met in 2014 at a charity football match. "We hit it off immediately, taking pictures, laughing and chatting—not about tennis or acting, but about good old-fashioned girly stuff," the future-royal reportedly posted on her lifestyle blog The Tig about Williams.
Since Revenge's publication, Kashner has voiced disappointment that his respect and admiration for Meghan wasn't conveyed in Bower's text.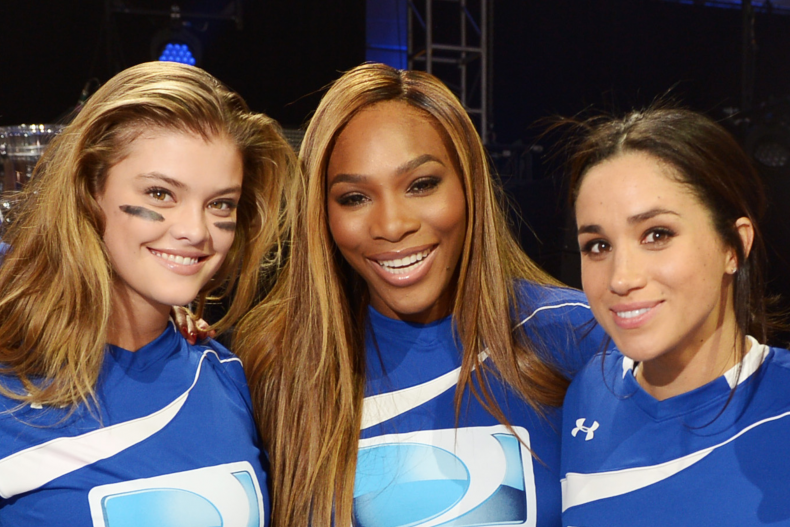 To what extent the royal and the tennis star shared a friendship before the former's marriage has been overshadowed by the closeness they have displayed since the royal wedding in 2018.
Williams is reported to have hosted Meghan's baby shower in New York in 2019 ahead of the birth of her first child, Archie Harrison Mountbatten Windsor. The tennis star also came to the royal's defense after the broadcast of her interview with Oprah Winfrey in 2021.
On Meghan's discussion with Winfrey, Williams posted a message of support to Twitter.
"Meghan Markle, my selfless friend, lives her life — and leads by example — with empathy and compassion," she wrote. "She teaches me every day what it means to be truly noble. Her words illustrate the pain and cruelty she's experienced."
"I know first hand the sexism and racism institutions and the media use to vilify women and people of color to minimize us, to break us down and demonize us," the star continued. "We must recognize our obligation to decry malicious, unfounded gossip and tabloid journalism.
"The mental health consequences of systemic oppression and victimization are devastating, isolating and all too often lethal."
After stepping down as working members of the royal family, Harry and Meghan moved to Los Angeles where they lived close to Williams, before buying a family home in Montecito.
Newsweek approached representatives of Serena Williams for comment.